Rachel Maddow is an award-winning American journalist, she hosts a self-titled news and opinion television program, The Rachel Maddow Show, on MSNBC. This liberal news anchor cum political commentator is known for her strong opinions. She is the first openly gay person to win an international Rhodes Scholarship. Also, she is the first lesbian to host a major primetime news program.
Maddow was born Rachel Anne Maddow, one of two children to Elaine (nee Gosse) and Robert B. Maddow on April 1, 1973, in Castro Valley, California. Her father was a US Air Force captain turned lawyer while her mother was a school program administrator. She is of Polish, Russian, Dutch, English, and Irish ancestry.
As a child, Maddow was very athletic and had hoped to make a profession out of it. She attended Castro Valley High School where she participated on their volleyball, basketball, and swimming teams. She, however, did not pursue that dream as she went on to study Public Policy at Stanford University, graduating in 1994. Maddow would later do her post-graduate studies at the University of Oxford as a Rhodes Scholar, earning a Doctor of Philosophy (DPhil) in Politics in 2001.
Rachel Maddow Salary and Net Worth
The multiple Emmy Award-winning media personality is among the highest paid people on television with an annual salary of $7 million. It is no surprise that MSNBC was willing to pay her that much as her show is almost single-handedly responsible for boosting the networks' ratings with around one million viewers.
Rachel Maddow is further said to have an estimated net worth of $20 million. Thanks to not just her television gig but also her other works that include writing. She is a New York Times best-selling author for the book "Drift: The Unmooring of American Military Power."
Read Also: Who Is Shannon Bream Of Fox News? Her husband, Children, Net Worth
Is She Gay or Lesbian?
Rachel Maddow is openly gay. The charismatic television show host came out as gay a couple of decades ago as a freshman at Stanford University. She did so in an interview with the university student newspaper alongside a friend, Saydeah Howard, who was also coming out at that same time. The interview became famous at the time with the tagline: "the only two gay freshmen on campus".
It was reported that Maddow had initially revealed her sexual orientation in her dorm through a public letter posted in the bathroom stalls after hearing some homophobic comments. After receiving positive feedback and encouragement from other students for her boldness in publicly embracing who she was, she went on to announce it to the whole school. In the interview, Maddow revealed that she has had positive romantic relationships with men in the past but that did not do much to change who she truly was.
Maddow further revealed that her parents did not know about her sexual orientation before the interview was done and only found out after an anonymous person posted the article to them. Her "very Catholic" parents were at the time ashamed of their daughter but have since come around to become very supportive of her choice.
Wife or Girlfriend, Who Is Her Partner?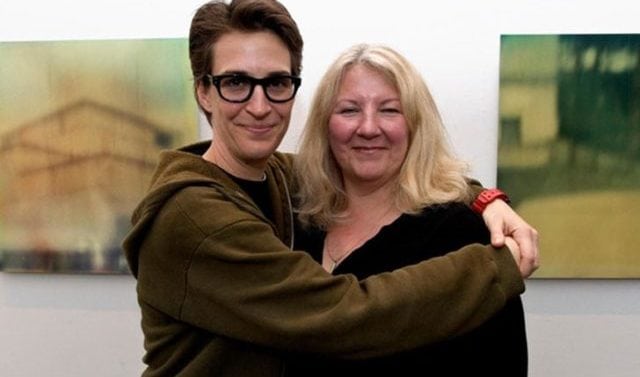 Rachel Maddow is not married but has however been in a longterm relationship with artist and photographer Susan Mikula. The pair met in 1998 when Mikula hired Maddow, who was at the time working on her doctoral dissertation on AIDS policies, to work on her 2-acre pre-Civil War farmhouse in Berkshires, Western Massachusetts.
The couple was said to have immediately hit it off and after a year and a half of dating, they moved in together. Maddow and Mikula currently share a West Village apartment in New York City and usually visit the farmhouse on the weekends.
Susan Mikula, who was born sometime in 1958 in New Jersey, United States, is a self-taught photographer who is known for her usage of old Polaroid cameras. Her works have been displayed in solo and group exhibitions all across the United States. She was most recently contracted to work in the U.S. Consulate in Mexico by the Art in Embassies program. She has further published a number of books featuring a compilation of her works.