Everyone would jump at the offer of an unlimited data package, and South Africa's Rain recognizes this fact. The luxury of having unlimited data for you to browse the internet is an exciting proposition for any individual as there are a thousand and one things to do on the internet. However, because one is constantly worrying about exhausting their data volume, this puts a restriction on these activities.
This is why Rain has a range of unlimited plans that customers can choose from to enjoy unrestricted access to the world of the internet. Rain's goal is to offer South Africans a choice of affordable unlimited plans, and this was further accelerated given the COVID-19 pandemic with a lot of people struggling financially.
What Data Packages Does Rain South Africa Offer?
Unlimited 4G Data Plan – All Devices
In March 2020, Rain announced the launch of the most affordable unlimited 4G offering in the country. The package would cost R479 per month – an amount that would usually fetch only 10GB of data on both MTN and Vodacom. With this new package, users could experience excellent download speed at 10Mbps along with basic quality video streaming capabilities (up to 360p).
The beauty of the new product is its suitability with any 4G/LTE device which could be a router, mobile phone, tablet, or even a Mi-Fi device. It enables South Africans to connect and carry out their day-to-day activities on whatever platform.
Activities such as working, remote learning, online shopping, streaming movies or series, and staying in touch with friends on social media can continue with little to no stress. This 4G offering is available in all South African metropolitan areas and coverage continues to expand daily.
Unlimited 4G Data Plan – Mobile Phones Only
In October 2020, Rain took things a step further by announcing a new unlimited 4G plan that was exclusive to mobile phones alone. This service was priced at R379 per month and is structured on a month-to-month contract. With this new service, you could subscribe to an unlimited package for just your phone and enjoy that service for a month.
However, it also came with certain restrictions. The streaming service will only provide a streaming resolution of up to 360p. Also, your mobile phone will not be accepted as a mobile hotspot. Lastly, the service is only available on 4G mobile phones. Regardless, it represents serious progress towards getting more unlimited plans that are affordable and effective for all customers.
More Details On Rain South Africa's Available Unlimited Plan Packages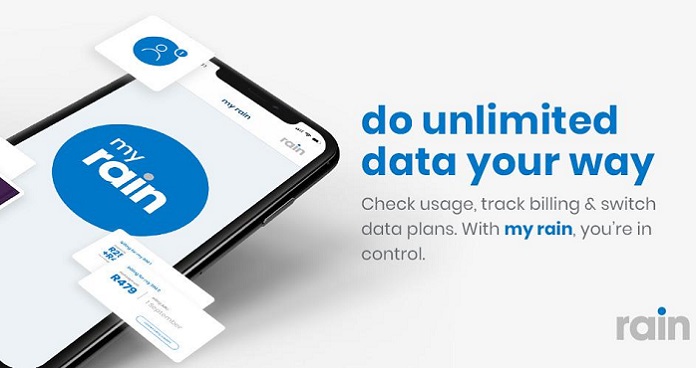 Now that you are aware of how these unlimited plans were launched, it is time to take a look at Rain's unlimited plan packages in 2020.
Unlimited 4G for Any Device
Features of the unlimited 4G for any device data plan include:
Unlimited data
Peak speed of up to 10Mbps
Basic streaming resolution capped at 360p
Can be used in any 4G enabled device, e.g. Routers, Mi-Fi, mobile phones, etc.
It costs R479 per month on a month-to-month contract
Unlimited 4G for Mobile Phones Data Plan
Unlimited data
Capped basic streaming resolution of 360p
Can only be used on 4G enabled phones
Phone cannot be used as a mobile hotspot
Only data calls are allowed
This plan costs R379 per month on a month-to-month contract
19 Hours Unlimited Off-Peak for Any Device Data Plan
The unlimited off-peak data plan for any device is the oldest unlimited data plan offered by Rain South Africa. It was already available before both unlimited plans mentioned earlier.
This plan involves having access to unlimited data for 19 hours. The hours involved are 11pm – 6pm the next day. During the peak hours of 6pm to 11pm, you are charged R50 for every gigabyte (GB) you consume. You can, however, set your GB limit and pay for what you have used only until your off-peak hours kick in. Features of this plan include:
19 hours unlimited off-peak data every day for a month
Off-peak hours entail 11pm – 6pm the next day
R50 per gig charged for peak hours (6pm – 11pm)
Ability to set your monthly peak spend gig limit
It can be used on any 4G enabled device, e.g. routers, phones, Mi-Fi, etc.
Internet speed and streaming quality may vary as a result of Rain's network management policy or the strain on the network at that time.
This plan costs R250 per month on a month-to-month contract
Comparison of the Three Unlimited Data Packages from Rain SA
The table below is an overview of Rain South Africa's current unlimited data plan so you can see the similarities and differences between these packages. Specific parameters have been chosen, and the features of each package regarding those parameters are mentioned. We have done this to help customers make better decisions when it comes to choosing a data plan.
| | | | |
| --- | --- | --- | --- |
| Package | Unlimited for Phones | Unlimited for Any Device | Unlimited Off-Peak |
| Data | All-day | All-day | From 11 pm to 6 pm |
| Maximum Speed | Unlimited | 10Mbps | Unlimited |
| Streaming Resolution | Up to 360p | Up to 360p | Unlimited |
| Hotspots Supported | No | Yes | Yes |
| Devices Supported | Only 4G phones | Any 4G enabled device | Any 4G enabled device |
| Monthly Price | R379 per month | R479 per month | R250 per month |
From the table, you can make a decision based on what parameter you value the most. If you enjoy unrestrained streaming quality, then the Unlimited Off-Peak offers that. However, suppose you are a big fan of internet speed above other things, you will love the unlimited internet speed of the Unlimited for Phones data package.
How to Purchase Any of Rain's Unlimited Data Packages
Rain South Africa offers a unique method of purchasing these data plans. Unlike other network operators where you have access to a USSD code or via an app, buying a data package on Rain is like online shopping. You have to purchase the Rain sim that comes with the plan you wish to subscribe to. Follow the steps below:
Visit the Rain website at rain.co.za
Once on the website, scroll down to the 'rain shop'
After the page loads, scroll through for the unlimited plan you wish to purchase
Once you find it, add it to your cart.
Ensure to customize the name of the sim, set your spend limit, and decide if you also want the unlimited off-peak activated or not. Proceed to select checkout.
Provide your delivery address once you are directed to the delivery page
After confirming your delivery details, you are directed to a page to create your Rain profile. Fill in the required information.
Once your details are confirmed, you are directed to the payment page. Pay with your credit/debit card.
When payment is confirmed, your order will be placed. Expect it to be delivered within five business days. Your order number is what you will use to track the order via your Rain dashboard.