Raina Patricia is a stunning woman who is most popular for being the wife of the present head coach of the Detroit Lions of the National Football League (NFL) and she appears to be enjoying the perks that come with her husband's new position. She has been a very supportive spouse, especially when it comes to holding down the home front for her very busy husband. Raina is a devoted mother to their three children.
With her stunning beauty, it doesn't come as a surprise that she has been a model in some fashion shows. Let's explore details about Matt Patricia's wife below.
Biography of Raina Patricia
The beautiful Raina was born Raina Griglelvick on the 15th of September 1978 in New England, United States. She is from Foxboro but her childhood days were spent in Rhode Island and she attended Cumberland high school and graduated in 1996. She proceeded to Bryant University where she graduated from in 2000.
Despite being married to someone who is constantly in the limelight due to what he does, Raina Patricia has been careful about sharing the intimate details of her early life with the media. Details about her early life, family, and work experience if she has any isn't known. She does have a brother named Scot with whom she reportedly visited Reykjavik, the capital and largest city of Iceland.
After a long relationship, she married Matt Patricia in 2009 in an intimate ceremony at Aruba. They presently have 2 sons (Dominic and Dante) and a daughter (Giamina).
Raina Patricia's husband Matt Patricia is a force to reckon with when it comes to coaching in the NFL. Before his present position as head coach of the Detroit Lions, he had gathered years of experience under his belt. His first job in the NFL was with the New England Patriots in 2004. He first worked as an Offensive assistant in 2004 before he became an assistant offensive line coach in 2005. By 2006 Matt had been promoted to the position of a Linebackers coach and worked in this position from 2006 to 2010. He then became a Safeties coach in 2011. In 2012, he became the defensive coordinator and held this position until 2017. He then moved to Detroit's Lion as the Head Coach in 2018.
Raina's profession before she married Matt is unknown but she hasn't let having a family hold her back from actualizing some of her life goals. In 2013, Raina Patricia was in a fashion show in Boston – Luxe Boutiques LLC Fall Fashion Show as a model. The show took place in Taj Hotel and was photographed by Russ Mezikofsky.
The couple has had to relocate a couple of times over the years due to her husband's career. They own a house in Wrentham, Massachusetts very close to Foxborough. They have since relocated to Michigan since Matt's took up his new position in 2018.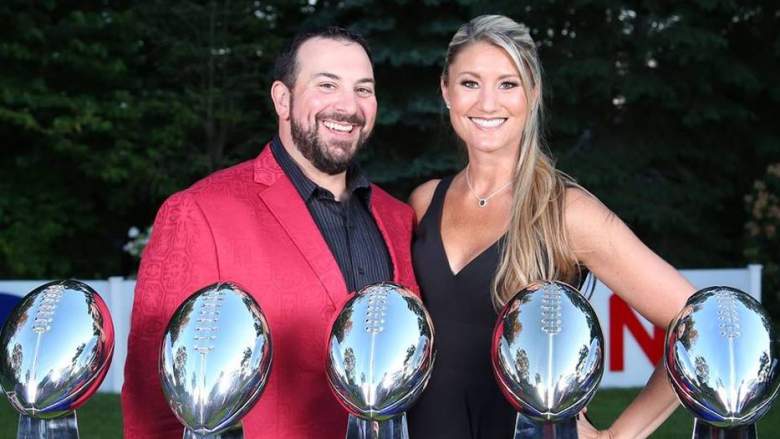 Other Facts You Need To Know About Matt Patricia's Wife
1. Raina Patricia is a very supportive wife. It is obvious that she is very invested in the life she shares with her husband. She is always at hand to show support while his team is playing. She is also seen attending events and parties with him.
2. She is an active member of the Patriots Women's Association while they were there. She did lots of charity work with the group. Raina was part of a group that visited The Women's Lunch Place, Boston where they promoted "Celebrate Volunteerism", shared toiletries and served lunch.
3. Raina works hard and plays harder. She makes time for her girls and is close friends with other WAGS. Raina Patricia is particularly close to Linda Holliday (Bill Belichick's girlfriend) as they constantly share pictures of each other on their social media pages.
Read Also: Did Terri Irwin Remarry? Everything About Steve Irwin's Wife
4. Her husband is quite a family man who is very romantic and considerate towards his wife. While the press wasn't present at that time, he was said to have knelt down and proposed to Raina years ago at the Gillette Stadium. Matt once revealed in an interview that he has had to shave his beard sometimes during offseasons because she asked him to. How sweet!
5. She is a huge fan of Jimmy Buffet (the famous musician). Raina Patricia has attended some of his concerts with her husband and it looked like she had a good time from the pictures that were posted online.
6. Raina Patricia is quite active on social media. She has an account on Instagram and Facebook where she constantly shares cute pictures of herself and her family.