Having spent over three decades in the movie industry, Karate Kid star, Ralph Macchio is no doubt one of the most admired actors in the movie industry. He grew up on set and has continued to pin down a lot of successes in most of his movies. Today, Hollywood could boast of him as one of the gleaming stars the movie industry has ever groomed, and as expected, the mere mention of the talented actor's name sparks more than enough curiosity among fans and the viewing public.
Ralph Macchio Has His Roots In Naples, Italy
Born as Ralph George Macchio Jr. on the 4th of November, 1961, the veteran entertainer has his place of birth recorded as Huntington, New York. He is one of the three children belonging to the family of Ralph Macchio, Sr. (father) – a rancher who is of Italian and Greek descent. Ralph's mum is an Italian woman named Rosalie. The actor stated in a 1980 screen test that the Macchio family hails from Naples.
As a growing child, Ralph Macchio loved to tap dance. But it would appear that that talent was not strong enough to follow as a career path. However, by the time he clocked 16, the tap dancer's interest already moved to the acting profession. He graduated from Half Hollow Hills West Hill School in 1979, and as a child who loved to dance, the actor also attended the June Claire School of Dance in Babylon, Long Island.
He Was Introduced to Acting By An Agent That Was Meant To Teach Him Dancing
Stepping into the acting world for Ralph Macchio was a decision he was obliged to take as he was introduced to it by an agent who was supposed to tutor him on how to dance. The emerging entertainer started with attending a lot of acting auditions, where he got minor roles in television commercials, appearing in ads for Bubble Yum and Dr. Pepper.
The actor's onscreen debut was made in the 1980 film, Up in the Academy, and soon, he became one of the favorite teen stars in his time, playing the role of Jeremy Andretti in the ABC drama television series, Eight is Enough. Following the end of the show, the actor became one of the pivot stars in the industry who appeared alongside Tom Cruise, Emilio Estevez, and Rob Lowe for the 1983 film, The Outsiders, an adaptation of S. E. Hinton's novel of the same name.
He Owes His International Recognition To the Film Karate Kid
The following year, Ralph Macchio landed his big break after he played as Daniel LaRusso in the movie, Karate Kid. That single role got him international recognition, and he also became a thought for discussion in many other upcoming roles. Subsequently, Ralph maintained the role in the movie sequels, Karate Kid Part II, and Karate Kid III. With the success of Karate Kid, Ralph Macchio became the brand face and cover of many teen magazines, and he also landed other roles in a few other movies.
Just like a gleaming star, Ralph kept at his works but also had a few struggles. Some of his 80s and 90s projects include Crossroads, where he starred as music student Eugene Martone in 1986, Cuba and His Teddy Bear on Broadway (1986), 1992 My Cousin Vinny as Billy Gambini, Naked in New York, playing a sexually confused Chris, and How to Succeed in Business Without Really Trying, the U.S. tour revival of the 1962 Tony Award-winning musical, where he depicted the lead character, J. Pierrepont Finch.
After he was cast as himself in the HBO series, Entourage, Ralph Macchio appeared in his first music video as Sweep the Leg, a song by No More Kings, playing a caricature of himself, as well as Daniel from The Karate Kid. He did a commercial for VitaminWater in 2008 alongside NASCAR driver Carl Edwards, and since October that year, Ralph has been appearing as a local politician Archie Rodriguez in several episodes of Ugly Betty, an ABC Network television series.
Funny or Die's online short film, Wax On, F*ck Off had him on set in June 2010, and barely three months later, on the 20th of September, Ralph Macchio portrayed the adult version of Carl Morelli in a staged reading of the play A Room of My Own written by Charles Messina and presented by the Bleecker Street Theater Company.
The Actor Experienced Another Level Of Success After Appearing on ABC Dancing Competition
Life was still a bit of a struggle for the actor by 2011 until his career took a beautiful turn after he competed in the twelfth season of the ABC dancing competition. During the show, Ralph Macchio emerged as the second runners-up after he was removed in the semi-finals. By 2012, he was already acting with celebrity actors like Jessica Biel, Anthony Hopkins, and many others on the set of the movie Hitchcock.
He also joined the cast of the hit comedy television series How I Met Your Mother. Ralph was cast as a co-star in the off-Broadway production of A Room of My Own from 2016. His other productions include He's Way More Famous Than You (2013), A Little Game (2014), Lost Cat Corona (2015), amongst others. One of his latest productions is the HBO series, The Deuce, which he concluded in 2019 and has shared the details with fans on Instagram. Ralph has also worked as a producer for the famous National Geographic Channel.
Currently, Ralph Macchio still maintains his role as Daniel LaRusso in the television sequel to the movie trilogy, Cobra Kai, aired on YouTube Premium. For the series, he also works alongside William Zabka, as the producer.
Read Also: Is Aaron Eckhart Married Or In A Relationship, Who Is His Wife Or Girlfriend?
Ralph Macchio's Marriage Has Endured For Over Three Decades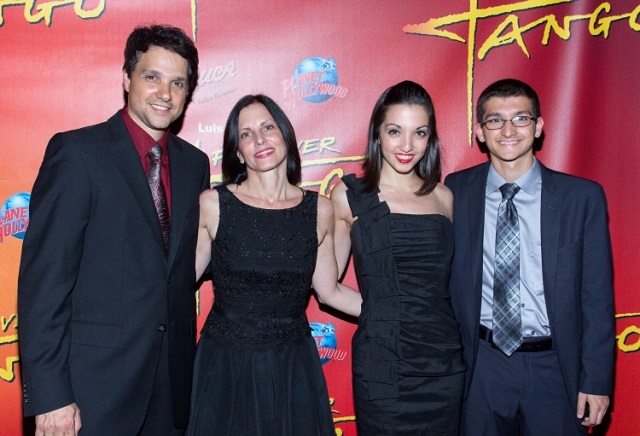 Macchio is a married man; he got married to his heartthrob, Phyllis Fierro, on April 5, 1987. The Karate Kid star is an early bloomer when it comes to marriage as he took the forever commitments with Phyllis Fierro when he was just 26. The two had known each other for a very long time as they were introduced by Phyllis granny when Ralph was just 15. The duo started their love journey since then and has been together ever since. Phyllis Fierro is not part of the glittering world of showbiz; she is involved in a normal career as a nurse.
Ralph Macchio and his wife share two kids, a daughter, Julia (born in 1992), and a son, Daniel (born in 1996). Julia has also trodden the path of her father career-wise and played a minor role in the 2013 movie, Girl Most Likely. Daniel also seems to tend towards creativity as he made a series of shorts films about safe driving for State Farm. Ralph Macchio's marriage has endured for over three decades and still counting. From what is perceivable, the couple's union is going to be the "until death do us part" type.