Randall Cobb, an American football player, began his professional career in 2011, playing for the Green Bay Packers of the National Football League (NFL) as a wide receiver. Before he went pro, the talented footballer had a notable college career at the University of Kentucky, graduating as one of the best football players in the history of the Kentucky Wildcats.
Born Randall Ladonald Cobb II, the footballer was raised alongside one sibling, his older brother named Michael Love. He got his high school education at Alcoa High School in Alcoa, Tennessee, and there, he played football, basketball and track and field, receiving letters in all the sports. With the Tornadoes football team, he played in multiple positions, including offense, defense, special teams and as a quarterback. He was given a "Mr. Football" trophy from the Tennessee Secondary School Athletic Association and was an All-District basketball player in his junior year. He was equally a track star in the school.
Randall continued with football at the University of Kentucky, playing for the Wildcats. He played 11 games in his freshman year as a quarterback, starting four of the games. The young star was also named to the SEC All-Freshmen team. As a freshman, he recorded 11 touchdowns – 2 passing, 2 receiving, and 7 rushing.
In his sophomore season (2009), he made 15 touchdowns — 4 receiving, 1 returning, and 10 rushing while playing mainly as a wide receiver in addition to the offense and special teams. He finished his junior season with 1,017 receiving yards, 7 receiving touchdowns, 424 rushing yards, 5 rushing touchdowns, 58 passing yards, and 3 passing touchdowns.
Having made a decision to forgo his senior season, Randall Cobb declared for the NFL Draft after his junior season and was selected by the Green Bay Packers during the 2011 NFL Draft. He was picked in the second round and was the 64th overall player selected in that year.
He made his professional debut on September 8, 2011, in the team's opening game of the season against the New Orleans Saints, becoming the very first person born in the 1990s to play in the NFL.
Randall Cobb's Salary
The NFL player sealed a 4-year deal worth $40,000,000 with the Green Bay Packers, including a $13,000,000 signing bonus, $13,000,000 guaranteed, and an average annual salary of $10,000,000. With this, his 2018 base salary will be $8.6 million while his roster bonus will be $468,750. He will also cash in a workout bonus of $400,000 and a signing bonus of $3,250,000. This brings his 2018 cap hit to $12,718,750 and his dead cap value to $12,250,000.
Is He Married? 
Randall Cobb is married to Aiyda Cobb (née Ghahramani), a Washington DC-based attorney. She was a student at Rutgers State University where she ran track and field before attending law school at the University of Hampshire School of Law.
See Also: Jaylon Smith Brother, Girlfriend, Weight, Height, Bio, NFL Career
The duo reportedly met in 2011 at an EA Sports event held at Manhattan hotspot Lavo and according to Aiyda, it was love at first sight. At the time, Randall was about to round off his studies from the University of Kentuck where he graduated with a major in Community Communications and Leadership Development and join the 2011 NFL draft while Aiyda was preparing to attend law school.
Even though it was love at first sight for the couple, they did not date but remained just friends until 2014. After dating for two years, Randall popped the question and they got engaged in the spring of 2016. The following year, on April 15, 2017, the lovers became husband and wife after saying "I Do"  in a lavish ceremony held at The Pierre, a hotel by Central Park in New York City.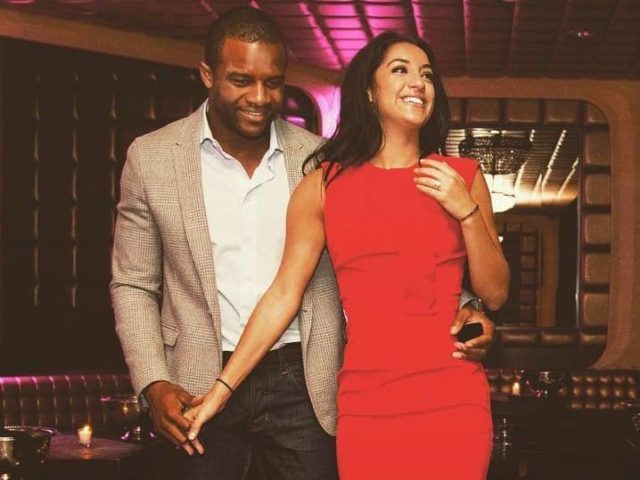 The couple welcomed their first child, a son named Caspian Cyrus Cobb on 10th August 2018.
Born in 1989, Aiyda Ghahramani Cobb has an Iranian descent. She is the second child and only daughter of Bahanor and Shahla. She bagged a Bachelor of Science degree from Rutgers, The State University of New Jersey-New Brunswick in 2011 and subsequently got her Doctor of Jurisprudence degree from the University of New Hampshire School of Law in 2014. She has been an attorney with the  Washington based firm since 2014.
Meet His Parents
The wide receiver was born on August 22nd, 1990, in Maryville, Tennessee, to Tina Cobb and Randall Cobb Sr. His mother was a shining star in track and field while she was in high school but did not take athletics further than that. She took a job at the Denso car parts factory in Maryville, Tennessee, where she met her husband.
Apart from working at Denso, Randall's father also did several menial jobs, including installing ceramic tile floors, mowing lawns and plowing snow, to support his family.
As a child, Randall Cobb's family moved around a lot, living in seven different houses before he clocked 14.
Height and Body Measurements
The Green Bay Packers' player stands at a height of 5 feet 8 inches (178 cm) and has a body weight of 87 kg (192 lb). He also has an arm length and hand width of 31 inches and 9 3/8 inches respectively.