The Bible is the most ancient book in existence, believed to have been passed down from one generation to the other. The Bible contains the word of God, which is believed by Christians to possess divine powers and Christians are expected to live according to the dictates of the Bible. The Bible is divided into two major sections, which are the new testament and the old testament. There are about 23,145 verses in the Old Testament and 7,957 verses in the New Testament and each of these verses contains words from God that can change lives. Of course, everything is in the book, but these verses are specially selected to serve as a guide to the book of life generally. They are simply random Bible verses for you to meditate on daily. Have a quick glance below:
Note that these random Bible verses are taken from the King James Version (KJV) of the Bible except it is indicated otherwise.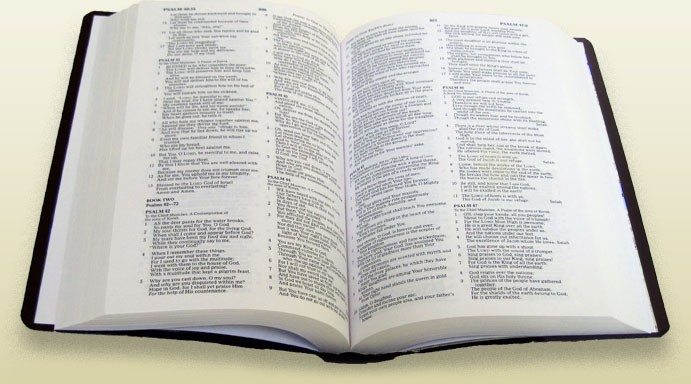 1. Mark 11:25 – And when ye stand praying, forgive, if ye have aught against any: that your Father also which is in heaven may forgive you your trespasses.
2. 1 Corinthians 10:13 – There hath no temptation taken you but such as is common to man: but God [is] faithful, who will not suffer you to be tempted above that ye are able; but will with the temptation also make a way to escape, that ye may be able to bear [it].
3. 1 John 1:9 – If we confess our sins, he is faithful and just to forgive us [our] sins, and to cleanse us from all unrighteousness.
4. Romans 3:23 – For all have sinned, and come short of the glory of God;
5. Matthew 26:28 – For this is my blood of the new testament, which is shed for many for the remission of sins.
6. Matthew 7:21-23 – Not every one that saith unto me, Lord, Lord, shall enter into the kingdom of heaven; but he that doeth the will of my Father which is in heaven.
7. Matthew 6:24 – No man can serve two masters: for either he will hate the one, and love the other; or else he will hold to the one, and despise the other. Ye cannot serve God and mammon.
8. Matthew 6:12 – And forgive us our debts, as we forgive our debtors.
9. Proverbs 3:5 – Trust in the LORD with all thine heart; and lean not unto thine own understanding.
10. Ephesians 2:8 – For by grace are ye saved through faith; and that not of yourselves: [it is] the gift of God
11. 2 Corinthians 5:7 – (For we walk by faith, not by sight
12. Jeremiah 1:8 "Do not be afraid of them, for I am with you and will rescue you," declares the LORD. (NIV)
13. Lamentations 3:25 The LORD is good to those whose hope is in him, to the one who seeks him; (NIV)
14. Micah 7:7 But as for me, I watch in hope for the LORD, I wait for God my Savior; my God will hear me. (NIV)
15. Matthew 5:4 Blessed are those who mourn, for they will be comforted. (NIV)
16. Matthew 7:7 – Ask, and it shall be given you; seek, and ye shall find; knock, and it shall be opened unto you:
17. James 4:3 – Ye ask, and receive not, because ye ask amiss, that ye may consume [it] upon your lusts.
18. Matthew 7:7-11 – Ask, and it shall be given you; seek, and ye shall find; knock, and it shall be opened unto you:
19. Matthew 7:1-29 – Judge not, that ye be not judged.
20. Ephesians 2:8-9 – For by grace are ye saved through faith; and that not of yourselves: [it is] the gift of God
21. Hebrews 11:1 – Now faith is the substance of things hoped for, the evidence of things not seen.
22. Psalms 40:4 – Blessed [is] that man who maketh the LORD his trust, and respecteth not the proud, nor such as turn aside to lies.
23. James 1:3 – Knowing [this], that the trying of your faith worketh patience.
24. 2 Corinthians 12:9 – And he said unto me, My grace is sufficient for thee: for my strength is made perfect in weakness. Most gladly, therefore, will I rather glory in my infirmities, that the power of Christ may rest upon me.
25. Ephesians 2:8-9 – For by grace are ye saved through faith; and that not of yourselves: [it is] the gift of God
26. James 4:6 – But he giveth more grace. Wherefore he saith, God resisteth the proud, but giveth grace unto the humble.
27. Ephesians 2:8 – For by grace are ye saved through faith; and that not of yourselves: [it is] the gift of God
28. Romans 6:16 – Know ye not, that to whom ye yield yourselves servants to obey, his servants ye are to whom ye obey; whether of sin unto death or of obedience unto righteousness?
29. Romans 3:20-24 – Therefore by the deeds of the law there shall no flesh be justified in his sight: for by the law [is] the knowledge of sin.
30. Matthew 5:45 – That ye may be the children of your Father which is in heaven: for he maketh his sun to rise on the evil and on the good, and sendeth rain on the just and on the unjust.
31. Hebrews 4:16 – Let us, therefore, come boldly unto the throne of grace, that we may obtain mercy, and find grace to help in time of need.
32. James 5:16 – Confess [your] faults one to another, and pray one for another, that ye may be healed. The effectual fervent prayer of a righteous man availeth much.
33. James 2:8 – If ye fulfil the royal law according to the scripture, Thou shalt love thy neighbour as thyself, ye do well:
34. Acts 22:16 – And now why tarriest thou? arise, and be baptized, and wash away thy sins, calling on the name of the Lord.
35. Acts 10:43 – To him give all the prophets witness, that through his name whosoever believeth in him shall receive remission of sins.
36. Galatians 3:27 – For as many of you as have been baptized into Christ have put on Christ.
37. 2 Corinthians 7:1 – Having therefore these promises, dearly beloved, let us cleanse ourselves from all filthiness of the flesh and spirit, perfecting holiness in the fear of God.
38. 2 Corinthians 5:17 – Therefore if any man [be] in Christ, [he is] a new creature: old things are passed away; behold, all things are become new.
39.John 16:1-33 – These things have I spoken unto you, that ye should not be offended.
40. Matthew 7:23 – And then will I profess unto them, I never knew you: depart from me, ye that work iniquity.
41. Amos 4:1-13 – Hear this word, ye kine of Bashan, that [are] in the mountain of Samaria, which oppress the poor, which crush the needy, which say to their masters, Bring, and let us drink.
42. 2 Timothy 3:16 – All scripture [is] given by inspiration of God, and [is] profitable for doctrine, for reproof, for correction, for instruction in righteousness
43. James 2:24 – Ye see then how that by works a man is justified, and not by faith only.
44. Hebrews 13:5 – [Let your] conversation [be] without covetousness; [and be] content with such things as ye have: for he hath said, I will never leave thee, nor forsake thee.
45. John 3:36 – He that believeth on the Son hath everlasting life: and he that believeth not the Son shall not see life; but the wrath of God abideth on him.
46. 1 Timothy 4:10 – For therefore we both labour and suffer reproach, because we trust in the living God, who is the Saviour of all men, specially of those that believe.
47. John 3:16 – For God so loved the world, that he gave his only begotten Son, that whosoever believeth in him should not perish, but have everlasting life.
48. Luke 1:1-80 – Forasmuch as many have taken in hand to set forth in order a declaration of those things which are most surely believed among us,
49. Jude 1:4 – For there are certain men crept in unawares, who were before of old ordained to this condemnation, ungodly men, turning the grace of our God into lasciviousness, and denying the only Lord God, and our Lord Jesus Christ.
50. Ephesians 4:32 – And be ye kind one to another, tenderhearted, forgiving one another, even as God for Christ's sake hath forgiven you.
51. Romans 6:23 – For the wages of sin [is] death; but the gift of God [is] eternal life through Jesus Christ our Lord.
52. Romans 6:4 – Therefore we are buried with him by baptism into death: that like as Christ was raised up from the dead by the glory of the Father, even so we also should walk in newness of life.
53. John 13:34 – A new commandment I give unto you, That ye love one another; as I have loved you, that ye also love one another.
54. John 3:16 – For God so loved the world, that he gave his only begotten Son, that whosoever believeth in him should not perish, but have everlasting life.
55. Luke 7:50 – And he said to the woman, Thy faith hath saved thee; go in peace.
56. Mark 11:23 – For verily I say unto you, That whosoever shall say unto this mountain, Be thou removed, and be thou cast into the sea; and shall not doubt in his heart, but shall believe that those things which he saith shall come to pass; he shall have whatsoever he saith.
57. Matthew 9:29 – Then touched he their eyes, saying, According to your faith be it unto you.
58. Mark 9:24 – And straightway the father of the child cried out, and said with tears, Lord, I believe; help thou mine unbelief.
59. Romans 15:13 May the God of hope fill you with all joy and peace as you trust in him, so that you may overflow with hope by the power of the Holy Spirit. (NIV)
60. 2 Corinthians 1:3-4 Praise be to the God and Father of our Lord Jesus Christ, the Father of compassion and the God of all comfort, who comforts us in all our troubles, so that we can comfort those in any trouble with the comfort we ourselves receive from God. (NIV)
61. Hebrews 13:6 So we say with confidence, "The Lord is my helper; I will not be afraid. What can mere mortals do to me?" (NIV)
62. Psalm 71:5 For you have been my hope, Sovereign LORD, my confidence since my youth. (NIV)
63. Psalm 86:17 Give me a sign of your goodness, that my enemies may see it and be put to shame, for you, LORD, have helped me and comforted me. (NIV)
64. Psalm 119:76 May your unfailing love be my comfort, according to your promise to your servant. (NIV)
65. Proverbs 3:24 When you lie down, you will not be afraid; when you lie down, your sleep will be sweet. (NIV)
66. Mark 11:24 – Therefore I say unto you, What things soever ye desire, when ye pray, believe that ye receive [them], and ye shall have [them].
67. Hebrews 11:1-39 – Now faith is the substance of things hoped for, the evidence of things not seen.
68. Matthew 9:22 – But Jesus turned him about, and when he saw her, he said, Daughter, be of good comfort; thy faith hath made thee whole. And the woman was made whole from that hour.
69. 1 John 5:14 – And this is the confidence that we have in him, that, if we ask any thing according to his will, he heareth us:
70. Philippians 4:13 – I can do all things through Christ which strengtheneth me.
71. Luke 12:7 Indeed, the very hairs of your head are all numbered. Don't be afraid; you are worth more than many sparrows. (NIV)
72. John 14:1 Do not let your hearts be troubled. You believe in God; believe also in me. (NIV)
73. John 14:27 Peace I leave with you; my peace I give you. I do not give to you as the world gives. Do not let your hearts be troubled and do not be afraid. (NIV)
74. John 16:7 Nevertheless, I tell you the truth: it is to your advantage that I go away, for if I do not go away, the Helper will not come to you. But if I go, I will send him to you. (NIV)
75. Acts 2:1-47 – And when the day of Pentecost was fully come, they were all with one accord in one place.
76. Matthew 18:21-22 – Then came Peter to him, and said, Lord, how oft shall my brother sin against me, and I forgive him? till seven times?
77. Matthew 6:14-15 – For if ye forgive men their trespasses, your heavenly Father will also forgive you
78. 1 John 1:8 – If we say that we have no sin, we deceive ourselves, and the truth is not in us.
79. Acts 2:1-47 – And when the day of Pentecost was fully come, they were all with one accord in one place. (Read More…)
80. 1 Peter 5:5 – Likewise, ye younger, submit yourselves unto the elder. Yea, all [of you] be subject one to another, and be clothed with humility: for God resisteth the proud, and giveth grace to the humble.
81. 1 Peter 3:7 – Likewise, ye husbands, dwell with [them] according to knowledge, giving honour unto the wife, as unto the weaker vessel, and as being heirs together of the grace of life; that your prayers be not hindered.
82. 1 Corinthians 12:9 – To another faith by the same Spirit; to another the gifts of healing by the same Spirit;
83. Colossians 4:2-6 – Continue in prayer, and watch in the same with thanksgiving
84. 2 Timothy 4:22 – The Lord Jesus Christ [be] with thy spirit. Grace [be] with you. Amen. ([The second [epistle] unto Timotheus, ordained the first bishop of the church of the Ephesians, was written from Rome, when Paul was brought before Nero the second time.])
85. Isaiah 40:31 – But they that wait upon the LORD shall renew [their] strength; they shall mount up with wings as eagles; they shall run, and not be weary; [and] they shall walk, and not faint.
85. Hebrews 5:9 – And being made perfect, he became the author of eternal salvation unto all them that obey him;
86. Ephesians 2:1-22 – And you [hath he quickened], who were dead in trespasses and sins
87. Romans 3:24 – Being justified freely by his grace through the redemption that is in Christ Jesus:
88. Colossians 2:2 – That their hearts might be comforted, being knit together in love, and unto all riches of the full assurance of understanding, to the acknowledgement of the mystery of God, and of the Father, and of Christ;
89. 1 Timothy 6:17 – Charge them that are rich in this world, that they be not high-minded, nor trust in uncertain riches, but in the living God, who giveth us richly all things to enjoy
90. Luke 11:13 – If ye then, being evil, know how to give good gifts unto your children: how much more shall [your] heavenly Father give the Holy Spirit to them that ask him?
91. Luke 11:1-54 – And it came to pass, that, as he was praying in a certain place, when he ceased, one of his disciples said unto him, Lord, teach us to pray, as John also taught his disciples.
92. Matthew 7:11 – If ye then, being evil, know how to give good gifts unto your children, how much more shall your Father which is in heaven give good things to them that ask him?
93. Romans 3:1-127 – What advantage then hath the Jew? or what profit [is there] of circumcision?
94. Numbers 6:25 – The LORD make his face shine upon thee, and be gracious unto thee:
95. Titus 1:1-16 – Paul, a servant of God, and an apostle of Jesus Christ, according to the faith of God's elect, and the acknowledging of the truth which is after godliness
96. Romans 6:2 – God forbid. How shall we, that are dead to sin, live any longer therein?
97. Hebrews 11:6 – But without faith [it is] impossible to please [him]: for he that cometh to God must believe that he is, and [that] he is a rewarder of them that diligently seek him.
98. 1 John 5:4 – For whatsoever is born of God overcometh the world: and this is the victory that overcometh the world, [even] our faith.
99. Mark 9:23 – Jesus said unto him, If thou canst believe, all things [are] possible to him that believeth.
100. Luke 17:6 – And the Lord said, If ye had faith as a grain of mustard seed, ye might say unto this sycamine tree, Be thou plucked up by the root, and be thou planted in the sea; and it should obey you.
Editor's Recommendations: