Ray Liotta is an American actor, film producer, and voice actor known for movies like Escape Plan, The Simpsons, Iceman, Killing Them Softly and many other movies. His acting prowess is often evident on sets and screens stemming from the fact that he has spent a lot of years honing his skills to build a successful acting career. Through it all, he has gained lots of public recognition and has also bagged a lot of accolades. He is a divorcee and a father, read on for more details.
Ray Liotta Biography (Age)
At birth, the star was named Raymond Julian Vicimarli on December 18, 1954, in Newark, New Jersey. He, however, has gained popularity as Raymond Allen Liotta. This is because he was adopted by Mary Liotta and Alfred Liotta when he was only six months old and was raised alongside his adopted sister, Linda Liotta. Ray is of Scottish heritage.
His adoptive father made ends meet as a personnel director, president of a local Democratic club and the owner of an auto-parts store while his mother is a township clerk. Ray had no knowledge of his biological parents, and it was not until the early 2000s that he was opportune to meet his biological mom. This meeting further revealed that he has a sister and six half-siblings. He was raised in the roman catholic faith.
Ray Liotta was a scholar at the Union High School in Union County New Jersey. Upon graduation in 1973, he went further to attain a bachelor's degree in fine arts from the University of Maimi. As a college student, he was active in the school theatre team and contributed to the production of movies like Sound of Music, Oklahoma, Dames at Sea, among others. He was also tutored by Robert Buckets Lowery during these periods. He later relocated to New York City with the sole intent of finding greener pastures in his acting career.
Career
On arrival to the big city of New York, Ray started out as a bartender at Shubert theatres. It was here that he was noticed and given his first set of minor roles in movies. He made his TV debut in the television drama series, Another World, starring as a recurring character from 1978 till 1981. Two years after, he landed a major role in the blockbuster movie, Sexual Assault. That role became the platform he used in majoring in action thriller movies and in 1986, he starred in Something Wild, a movie that resulted in his first Golden Globe Award nomination. Then, he featured in the 1989 soap opera, Field of Dreams.
Subsequently, Ray Liotta began to gain much more roles and as expected, he excelled in most of them. It began with the Goodfellas in the 1990s and followed through with different roles in films like Unlawful Entry, Cop Land, The Rat Pack, No Escape, Forever Mine to mention a few. During the early 2000s, he acted in an endless list of movies, made a stunning appearance in the movie Blow and played as Donald Carruthers in Smokin' Aces. Other of his movies include Battle in Seattle, Crossing Over, The Son of No One, Hero Wanted, The River Sorrow, Killing Them Softly, Breathless, The Iceman, Yellow, Broken Soldier, El Tonto just to mention a few. Most recently in 2016, Ray played a recurring act in the soap opera Shades of Blue.
Besides being the center of attraction on screen, Ray Liotta has also lent his voice to a few animated movies like in Abominable  Christmas, The Simpsons, The Making of the Mob, Family Guy, Frasier, and SpongeBob SquarePants.
Net Worth
Having featured in an endless list of movies and drama series, Ray Liotta has amassed an enormous amount of fortune from his acting escapades. His net worth which is pegged at $14 million is well deserving.
Is He Gay? 
Ever since Ray Liotta kissed a guy on the drama series, Shades of Blue where he plays the role of a bisexual police officer, his sexual orientation has been questioned. Despite playing the role perfectly, the actor has publicly stated how odd it felt to kiss someone of the same sex but made it clear that he has no issues with the LGBT community. That said, Liotta has had a flood line of different relationships with the opposite sex and his gay role is only on screen.
See Also: Who is John Allen Newman – Omarosa Manigault's Husband, Net Worth and Salary
Girlfriend, Wife, and Daughter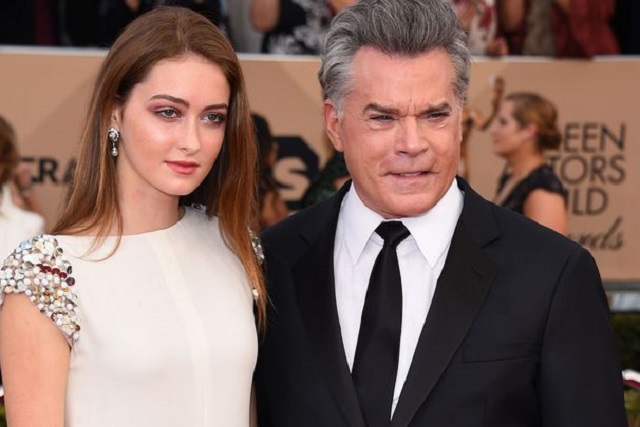 The actor's first marriage was with Michelle Grace. Michelle is the ex-wife of the MLB player Mark Grace and an American teacher. The two exchanged their marital vows in 1997 and by 2001, they couldn't bear themselves anymore and called it quits. They share a daughter named Karsen Liotta
Ray had lots of flings and relationships after his separation from Michelle but finally settled with Catherine Hickland. Like his first, they spent four years together before ending in a divorce. He was later rumored to being in relationships with Lady Gaga and Whoopi Goldberg as well as Silvia Lombardo.