Raymond Mnyamezeli Mlungisi Zondo (born 4 May 1960) is a South African Judge currently serving as the 5th Deputy Chief Justice of South Africa. The 63 years old Ixopo native is popularly known for his role in presiding over the Judicial Commission of Inquiry into allegations of state capture during the administration of Jacob Zuma.
Despite coming from a poor home, Zondo was able to make his way through primary school up to university with the help of well-wishers and the bursaries he received. Having studied Law up to master's level, he began his judicial career in 1997 and has managed a lot of positions in both private service and the public sector.
Profile Summary of Raymond Zondo
Full Name: Raymond Mnyamezeli Mlungisi Zondo
Date of Birth: May 4th, 1960
Place of Birth: Ixopo, Natal, South Africa
Age: 63 Years Old
Nationality: South African
Occupation: Deputy Chief Justice
Education: University of Zululand (BJuris), University of Natal (LLB), University of South Africa (LLM)
Marital Status: Married
Children: 4
Zondo Spent His Early Childhood In Ixopo
Although information about his background and family is quite sketchy, we do know that Zondo spent his early childhood growing up in Ixopo. We do not know the names of his parents but sources have it that his father was a laborer in Johannesburg while his mother worked as a nurse aid. He grew up with eight other siblings and is the third of his parent's eight children.
There is also little information about who his siblings are, what they do for a living, or even where they are now. However, there is one of them who is identified as Advocate Mxolisi Zondo, whom we know to be his younger brother. Sometime in 2019, Mxolisi was being accused of impropriety at the state capture commission of inquiry.
It is obvious that despite being such a successful public figure, Raymond Zondo has managed to keep a private life away from the scrutinizing eyes of the media. Although we all know that he is happily married, there is little information out there about his wife and children. We only get to see the pictures of him and his wife splashed across social media sometimes, but her name or career is still a mystery to many of us.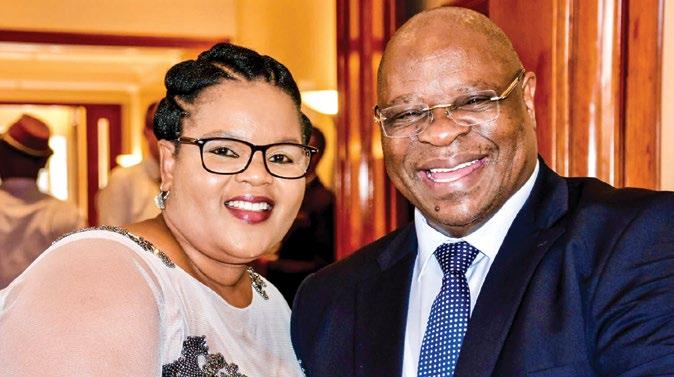 Raymond Zondo Has Three Master of Law Degrees
Zondo is well learned and has taken his time to achieve milestones in his education. Despite coming from a poor background, he was able to make his way through primary school up to university with the help of well-wishers and the bursaries he received. He matriculated from St Mary's Seminary, Ixopo before moving on to the university where he earned the following degrees:
LLB from the University of Zululand and the University of Natal
Master of Laws (LL.M.) in Labour Law from the University of South Africa
Master of Laws (LL.M.) in Commercial Law from the University of South Africa
Master of Laws (LL.M.) in Patent Law from the University of South Africa
Raymond Zondo started out his career as a clerk in a law firm that was being run by the late Mrs. Victoria Mxenge. After she was murdered, he moved on and offered his services to a couple of other private law firms before he was appointed attorney sometime in 1989. Almost a decade later, in 1997, he was appointed a judge.
Zondo's specialization in Labour Law definitely earned him a lot in his judicial career as he was once appointed Judge of the Labour Court of South Africa and later promoted to the position of Judge President of the Labour Law court of South Africa, a position which he held for about ten years (2000-2010). In 2010, he moved back to the Pretoria High Court.
Raymond then served as an acting judge of the constitutional court from November 2011 to May 2012 till the appointment was made permanent in September 2012, allowing him to be considered a key member. In 2017, he was appointed by former President Jacob Zuma as Deputy Chief Justice.
Although he has kept a whole lot of his private business away from the public, he and President Jacob Zuma who appointed him to his high profile position, fell out a couple of times. Zuma was having issues with the court and Zondo was accused of bending over backwards to tolerate Zuma's contempt of the court. The judge eventually decided to put a stop to the whole chaos and it was during these times that the public began to know certain things about Zondo. It was revealed that Zondo had a love child with Zuma's sister in law but he pointed out that they had a relationship a long time before Zuma met his wife.
All The Offices Raymond Zondo Has Occupied Since His Career Started To Date
Raymond Zondo's judicial career began in 1997. Below is a breakdown of the various offices he has occupied:
Judge of the Labour Court of South Africa – (November 1997-May 2000)
Judge President of the Labour Court of South Africa – (May 2000-May 2010)
Judge of the North Gauteng High Court – (May 1999-September 2012)
Judge of the Constitutional Court of South Africa – (September 1, 2012-Present)
Deputy Chief Justice – (June 2017-Present)
In addition to all these, Zondo was also an arbitrator and a mediator and before he attained his career in the judiciary, he was made to serve in two committees – "committee of inquiry regarding the prevention of public violence and intimidation" also known as the Goldstone Commission. This was way back in 1991 and 1992 and the commission was given the task of investigating the violence that happened in South Africa in the early 1990s.
In more recent news, Zondo has been given a 3-month extension to complete his state capture inquiry report. He was granted the extension after the Gauteng High Court in Pretoria agreed that not granting the extension would leave the country at a disadvantage. He had until October 30, 2021, to submit the report to President Cyril Ramphosa before the extension was granted.
According to news 24, "the long-awaited report was about the alleged capture of large chunks of government by private interests- at massive costs to the South African Economy." Reports have it that earlier during the week, Justice Minister Ronald Lamola had objected to the application for extension, siting that the 3-month extension was excessive, especially considering the financial implication it would have on his department.