Reba McEntire rose from releasing lackluster songs to making top chart climbers and even went on to become one of history's most famed country icons. Undisputedly considered a very successful female performer, the Grammy Award-winning singer has managed to retain her crown as the 'Queen of Country'. The fiery country singer and the multi-talented superstar has been making waves in the music scene for over four decades which has earned her the status of a legend on the music scene, and it goes without saying that both her personal and professional life have been under the radar of the media for over forty years
Reba McEntire Came From a Family of World Champion Steer Ropers
An Oklahoma native, Reba McEntire was born into a clan of champion steer ropers on 28th March 1955, in McAlester. Her father, Clark Vincent McEntire was a steer roper who won the World Champion steer roper for three times in 1957, 1958, and 1961. Reba's grandpa John Wesley McEntire was equally a champion steer ropers during his active days. The country singer's mom Jacqueline McEntire ended up in the mundane job of a schoolteacher after her dreams of becoming a country-music artist ended in futility. However, she tutored her children in the art of singing.
Reba McEntire was brought up in a family of four children – a brother Pake and a couple of sisters Alice and Susie. The only academic record we have about the singer is that she joined the Southeastern Oklahoma State University in 1974, with future plans of teaching in the elementary school. Reba graduated on December 16, 1976.
Her Mum's Influence Led the McEntire Siblings to Form Their Own Music Band
Reba's love for country music stems from her mother who also shared the same interest. Jacqueline exposed her children to music from an early age and nurtured their musical talents. On her own part, Reba McEntire put in extra effort by teaching herself how to play the guitar. On drives home from attending their dad's rodeos, the McEntire siblings would engage themselves in learning different songs as well as how to harmonize from their mum.
Reba and her siblings soon formed a music band – The Singing McEntire's where she was their songwriter and guitarist. It was then that Reba's song The Ballad of John McEntire was recorded and later released on the indie label Boss. The group which consisted of Reba, Pake, and Susie (their oldest sister Alice never participated) performed at rodeos and was quite a local sensation until Reba McEntire went off to college. Though they later disbanded, that was only the beginning of Reba's solo career.
While aware of her musical gifts, Reba had initially intended to take after her mother careerwise and continue singing as leisure. It was, therefore, no surprise when she went on to major in elementary education at the University.
Reba's Big Break; Her Performance of the National Anthem 
Also a passionate barrel racer, McEntire was first discovered in December 1974, at the National Finals Rodeo in Oklahoma City. Her awesome performance while singing the National Anthem caught the attention of country star Red Steagall. With Steagall's help, McEntire was given a bigger platform after she landed a deal with Mercury Records.
However, Reba's early songs failed to make the desired success. But her first breakthrough came in 1980 with the song You Lift Me Up (To Heaven), not only was it a major hit and top chart climber, it marked the beginning of her journey to being crowned 'Queen of Country'. McEntire's career picked momentum from then on as she did not rest on her laurels but produced hit after hit.
So Far, the Country Singer has Recorded not Less Than 80 Songs
Reba applied her experience of working on the cattle range into her music career which helped her successfully transcend gender-politics in an industry dominated by men. Throughout her career, McEntire has no less than 80 songs to her credit. A multiple Grammy Award winner, McEntire is a recipient of other accolades such as the Academy of Country Music (ACM) and Country Music Association (CMA) awards as well as the Kennedy Center Honors, among others.
Some of her notable works include her ninth studio album Whoever's in New England (1986) which earned Reba her first Grammy Award for best female country vocal performance. Also, the 1986 album What Am I Gonna Do About You won her the Entertainer of the Year award by the CMA. For four consecutive years (from 1984 to 1987), McEntire further cemented her status as an iconic singer as she was named the Best Female Vocalist of the Year by the CMA.
Her 1990 album Rumor Has It, was certified triple platinum. She is the only country female solo singer whose hit peaked at No. 1 for four straight decades (between 1980 to 2010). Reba McEntire has not relented in dishing out top-notch music, even her latest album Stronger Than The Truth released last April is already nominated for Best Country Album at the 2020 Grammy Awards.
The country crooner told GoodHousekeeping.com "It is the kind of country music that I grew up with," talking about her newest work Reba Said. "The songs that make you laugh, the ones that make you want to get up and dance, or the ones that make you cry. To me, that's a really good country song."
She Also has Film Credits
Most celebrities who are grounded in the music industry eventually delve into acting and Reba McEntire is no different from the rest. A woman of many talents, McEntire unexpectedly joined the acting scene with quite a good number of projects under her belt.
Besides having a handful of screen appearances to her credit, the country singer starred in a WB Network TV eponymous show, Reba which aired for six seasons. The popular show was a huge success as it won Reba McEntire a Golden Globe Award and also established her as a global household name. This feat alone shows that she is one who can excel in anything she puts her mind to. An exception may be, is her marriages.
Reba McEntire's Troubled Marriages
From the beginning, it has always been rare to see celebrities who are successful both professionally and at the home front, and the situation keeps worsening as time rolls by. We can say that Reba McEntire is one of the several who has passed through the difficulties inherent in dealing with failed marriages.
See Also: Is Kenny Chesney Gay, What Is His Net Worth, Who Is The Wife, Here Are All The Facts
Unlike her career, the singer has had a rocky marriage history as she has towed that lane twice. Her first attempt at matrimony was with Charlie Battles, a rancher and steer wrestling champion who was older than her by a decade and had a couple of children from his previous relationship. The couple tied the knot in 1976 but the union was shortlived as they divorced in 1987.
She Waited a Couple of Years Before Hooking up With Narvel Blackstock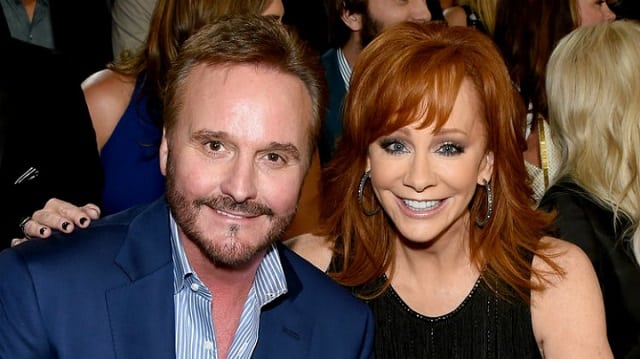 Two years later, she married Narvel Blackstock, a steel guitar player. Blackstock was not just Reba McEntire's husband but also her business partner and manager. Together, the couple had a son named Shelby McEntire Blackstock (born on February 23rd, 1990), and also raised three children Chassidy, Shawna, and Brandon from Blackstock's previous marriage. Sadly, after 26 long years together, they split in 2015.
Despite the pain and trauma, she suffered after the divorce, Reba McEntire seems more than ready to love again as she has recently been romantically linked to Skeeter Lasuzzo, a retired geologist, and photographer whom she met through her association with Kix Brooks. The pair who has been spotted enjoying quality time together on several occasions are apparently in a happier place, However, rumors of their breakup are already making the rounds but we don't know how true the speculations are.