Rebecca King-Crews is the wife of Terry Crews, the American actor, television host, and former football player. They met during their days in college and later got married on July 29th, 1989. Their union is blessed with five children.
Terry Crews is popularly known for his roles in the series The Expendables and Everybody Hates Chris, and also the sitcom Are We There Yet? Considering his achievements as an actor, comedian, and an artist, it may be surprising to learn that Terry Crews was once a National Football League (NFL) player.
He joined the league in 1991 after he was drafted by the Los Angeles Rams and after 6 years, he decided to retire to focus on building a career in acting. All these years, his wife, Rebecca King-Crews, who has a music career of her own, stood firmly beside him. Despite Rebecca King-Crews and Terry Crews' celebrity status, they have been able to maintain a stable family life for 30 years and still counting.
Though their marriage appears to be perfect and serves as an example to younger couples, the journey has not always been rosy. Keep reading to find out details about the couple from the time they met to their battles and victories over the years.
All You Need To Know About Rebecca King-Crews and Terry Crews Relationship
How They Met
Rebecca King-Crews and Terry Crews met during their days in college. In the 80s, Rebecca gained admission into Western Michigan University in Kalamazoo, Michigan, to study music and theater and within the same period, Terry was also a student in the same school, busy with his college football career. They became friends and according to Rebecca, it was not a case of love at first sight.
Speaking with Giuliana Rancic of E! News on the red carpet during the 2018 E! People's Choice Awards event, Rebecca revealed that Terry almost got stuck in the friend zone, adding that he was a little too nice. However, they eventually took their relationship to the next level.
Marriage
The duo later got married on July 29th, 1989, in Kalamazoo Michigan with Terry, who was 20 years old at the time, wearing a white suit and a flat top hair cut which was the fad at the time. Rebecca, on the other hand, wore a white flowing wedding dress with a Whitney Houston inspired headpiece and a short hair. The wedding was attended by family and friends. It has been three decades down the line and Rebecca King-Crews and Terry Crews are still standing strong, determined to keep their 'till death do us part' vows.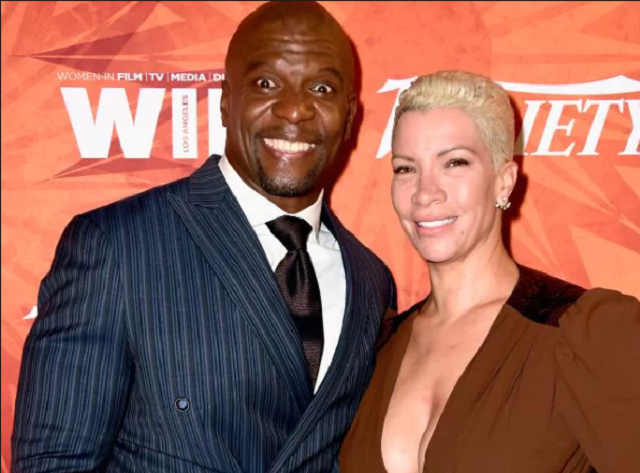 Terry's NFL Career
Two years after the duo got married, Terry was drafted into the NFL by the Los Angeles Rams during the 1991 draft. He was selected in the 11th round and during his professional football career which lasted for six years, the actor played for the San Diego Chargers, the Washington Redskins, and the Philadelphia Eagles in addition to the Rams.
He left the football scene in 1997 following his retirement and after deciding on an acting career, he moved to Los Angeles to pursue his longtime dream of working in the movie industry.
Building a Family
Within the following decades after their marriage, Terry and Rebecca had five children named Naomi, Azriel, Tera, Wynfrey, and Isaiah. In 2016, the power couple told the US Weekly that they would love to adopt a sixth child. The family starred in a reality TV show titled The Family Crews which began airing on BET in 2010. The show which mirrored the life of Terry, his wife, and his kids, had Rebecca serving as a producer even though she initially had some reservations about exposing her family to the world. However, for some unexplained reasons, the show ended in 2011.
Marital Issues
Terry told ABC in 2017 that after he left football, he fell into depression following a transition from being a popular football player to becoming an ordinary civilian. So even though his acting career took him to red carpet events where he was seen smiling for the cameras, he was never really happy.
Then, three years after his family's reality show was wrapped up, Terry released a book in 2013 titled Manhood: How to Be a Better Man — Or Just Live With One. In the book, he talked about his struggle with an addiction to pornography and how it nearly crashed his marriage. Opening up on the issue to his Facebook followers two years later, the Brooklyn Nine-Nine actor in a three-part video series entitled "Dirty Little Secret", spoke of how it held him bound for many years and he never told anyone, not even his wife.
He eventually came to his senses and decided to deal with the addiction after his wife threatened to leave the marriage. Terry, speaking on Dr. Phil, said he went to therapy and seeing his desire to change, Rebecca who had already left him, came back. According to Rebecca, it was not until three years later that she was able to trust her husband again and shelve her divorce considerations. Through it all, they both came out stronger and better.
Rebecca was also solidly behind her husband when he spoke up about being sexually assaulted by the head of the motion picture department of William Morris Endeavor (WME), Adam Venit, at a party in 2016. She was there for Terry until the two parties settled in September 2018.
Better Days Ahead
Having survived the storms that could have torn them apart if not for their dedication to each other, Rebecca King-Crews and Terry Crews appear to be happier now than ever and have some good thing coming their way. While Rebecca released her single, Destiny, in 2018, Terry is booked a new gig as the host of America's Got Talent: The Champions, as well as the host of America's Got Talent later in 2019. No matter the marital challenge they may face in the future, this power couple would most probably stick together.