Rebecca Romney is an American book dealer and evaluator who is currently affiliated to Honey & Wax Booksellers. She is best known as a Rare Book Specialist on History Channel's reality television series, Pawn Stars. Rebecca is also popular for being a former manager at Bauman Rare Books in Las Vegas. Her profession as a rare book specialist involves researching, cataloguing, buying and selling rare books.
Well, that's a glimpse at Rebecca Romney's professional life. There's a lot more to know about how she started her rare book career. Moreover, how much do you know about her personal life including her family and romantic relationship? Find out all you need to know in this article.
Rebecca Romney – Bio
She was born as Rebecca Angeline Engeat in 1985 in a town in Idaho, close to Las Vegas, Nevada, United States. While growing up, Rebecca, who comes from a family of scientists, developed a passion for historical books and languages. Her passion is, however, linked to the fact that her family, albeit being scientists, were also great readers, with her dad having deep interest in science fiction.
On completing her high school education, Rebecca Romney proceeded to the Brigham Young University, Provo, Utah where she earned a Bachelor's degree in Classics and Linguistics. On completing her studies, she moved over to Japan and took up an English teaching job for one year in order to practice her profession. She later furthered her education with a double major in Classical Studies and a minor in Philosophy. Rebecca Romney is also a graduate of the Colorado Antiquarian Book Seminar and Rare Book School. She currently serves on the Rare Book School Scholarship Committee.
Rare Books Career
On returning to Las Vegas, Romney didn't know exactly what to do. Eventually, the renowned Bauman Rare Books employed her late in 2007, ahead of the launch of their new gallery in Las Vegas. That was how Rebecca Romney ventured into the rare book business. She started off as a shop attendant and later rose to the rank of a manager in 2010. Her exposure at Bauman caused Rebecca to fall in love with rare books, and she describes it as her dream job.
In 2011, Rebecca started appearing on Pawn Stars, a Las Vegas-based reality show on History Channel where she features alongside other rare books evaluation experts. In 2014, Romney left Las Vegas for Philadelphia where she became part of the central administration and management of Bauman Rare Books. She worked there for the next two years, leaving in 2016.
On leaving Bauman, Rebecca Romney engaged in a number of projects, including producing and running a books podcast, the 'Biblioclast' alongside her husband. Later in the year, she joined Honey & Wax Booksellers based in Brooklyn, New York.
Her Husband
Rebecca Romney's husband is JP Romney, an American historical researcher and novelist. JP Romney, who is a history graduate, has authored a number of books including the young adult novel, The Monster on the Road Is Me. JP is biologically related to America's one-time Republican presidential candidate, Mitt Romney.
Rebecca currently lives with her husband in Philadelphia, Pennsylvania.
Other Facts You Need To Know About Rebecca Romney
1. Rebecca Romney Is The Only Regular Female Book Expert On Pawn Stars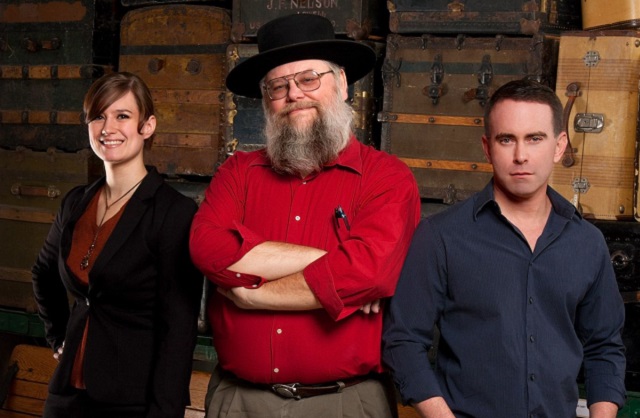 Rebecca joined the show in its 4th season. The show which started airing in 2009 is currently on its fifteenth season, with Rebecca appearing in over 60 of its episodes. Her show of great knowledge in books has made her one of the series' darlings.
2. She Also Speaks At Book Events 
Aside from featuring on Pawn Stars, Rebecca also speaks at events that have to do with history, book collection, literacy, and other book-related matters. She also created 'The Newsletter for Book Enthusiasts' late in 2017 through which she educates her subscribers on numerous bookish issues. She also makes contributions to the Bauman Rare Books blog.
3. Romney Is Fluent In Five Languages
As earlier pointed out, Rebecca is passionate about languages. In order for her to be able to read most books in their original languages, she went ahead to learn five different languages. And most interestingly, she did so all by herself. Presently, she can fluently read and speak English, French, Japanese, Latin and Greek.
4. She Has Authored A Book
In 2017, Rebecca Romney published Printer's Error: Irrelevant Stories from Book History with Harper Collins Publishers. Her husband, JP Romney assisted her in writing the book.
See also: Nikki Mudarris Bio, Net Worth, and 5 Interesting Facts You Need to Know
5. Body Measurements
There's no doubt about the fact that Rebecca Romney has got good looks. The young book specialist has a pretty face with black eyes and long brown hair that accentuates her beauty. She also has a slender and hourglass body figure measuring 33-24-34 inches for her bust, waist and hips respectively.