Social media has got all of us trying to make others envious of what our relationships should be with the hashtag relationship goals (#RelationshipGoals).
World leaders are no exception to this trend as many of them have been spotted severally taking out time from their busy and hectic schedules to spend time with their spouses, families and to even take pictures.
In the past, most of them were usually carried away with the hardships of running a country. It was always a story of work, work, work, and then a mistress from nowhere but that is gradually changing as many of them are seeing the need to put their spouses and families first.
We have taken out time to look at world leaders who have not failed to flaunt the love they share with their partners in public.
Barrack And Michelle Obama 
U.S former president Barrack Obama is the first on our list. His 8 years at the U.S White House has, changed that notion that all presidents should do is work, work, work and nothing but more work with no social life or time out with their spouses.
Barrack Obama championed the relationship goals idea and was spotted several times in public goofing around with the queen of his heart – Michelle Obama.
Despite their busy and tight schedule, the couple found time to share their love and this was and still remains an inspiration to many people.
Prince William And Kate 
Away from the royal life and all the paparazzi that comes with it, the Dutch and Dutchess of Cambridge find time to share the love and have fun together.
The couple who seem to be so much in love has been spotted together on several occasions celebrating the time of their life and having so much fun.
Justin And Sophie Trudeau
Canadia first couple can't get their hands off each other, even in public. Their display of love is something to envy. In the picture above, Justin was captured grabbing his wife's behind during a Press Gallery dinner in Quebec, Canada in 2016.
David And Samantha Cameron
Former U.K Prime Minister, David Cameron and his gorgeous wife Samatha Cameron are not left out of the list.
Nicolas And Cecilia Sarkozy
It would not be an accurate love and affection post without an entry from the French. Before their divorce, the couple was constantly seen in public sharing kisses together – this has left many wondering what actually went wrong between the once lovebirds or were the display of affection in public for the cameras?
Prince Albert And Princess Charlene
The Prince and Princess of Monaco are not left out – they share such glaring bond together.
Mauricio Macri And Juliana Awada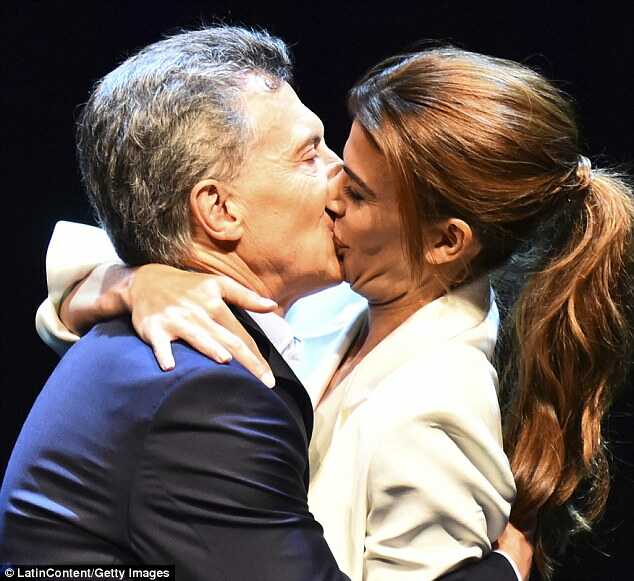 President of Argentina Mauricio Macri kisses his wife Juliana Awada after his swearing-in ceremony in December.
The couple has been in the international spotlight for their public displays of affection and revelations about their sex life. President Macri once admitted during an interview that his wife was insatiable in bed.
Mariano Rajoy And Elvira Fernandez
Spain's Prime Minister Mariano Rajoy kisses his wife Elvira Fernandez as they celebrate the results of their party during the national elections in Madrid, Spain.
King Philippe And Queen Mathilde
King Philippe of Belgium smothers his wife Queen Mathilde with kisses after delivering a speech from the balcony of the Royal Palace to thank the population on the day of his investiture.
Uhuru And Margaret Kenyatta
The only entry by an African leader comes from our very own Uhuru and Margaret Kenyatta. The two embody relationship goals with the way they support each other not to mention the fact he is always caught stealing glances at his wife.