2Baba's net worth is $37 million; Money he made as a legendary Nigerian musician, songwriter, record producer, entrepreneur, and philanthropist. He is known for releasing chart-topping songs like "African Queen," "If Love Is A Crime," "E Be Like Say," "See Me So," Gaga Shuffle," "Amaka," and many more.
As expected, 2Baba owes his great fortune to his music career. What comes from his music is boosted by other revenues from business, endorsements, and book sales. This allows him to spend big, lavishing a fortune on plush automobiles and luxurious mansions, with houses in both Nigeria and the United States of America.
2Baba's Net Worth is over $37 million
Innocent Idibia is among the top-earning afro hip hop stars in Nigeria and all of Africa. The latest estimation of his fortune pegged it at an astounding $37 million; this attests to the fact that the father of seven is right at the very peak of his career in show business. The popular vocalist, songwriter, music producer, and entrepreneur earns his keep from multiple sources, and from what is perceivable, he is still widening his horizon and might add more to his portfolio as time rolls by.
Sources of 2Baba's Net Worth include:
• Music
• Business
• Endorsement
• Books
• Awards
Major Source of 2Baba's Net Worth is his Music Career
Being one of the most sought-after musicians in Nigeria and beyond, the hip hop artist gets a lion's share of his total revenue from his music career. His career as a singer has seen him release a total of seven albums that sold above ten million copies on a global scale. His albums include;
• Face 2 Face -2004
• Grass to Grace – 2006
• The Unstoppable – 2009
• The Unstoppable International Edition – 2010
• Away and Beyond – 2012
• The Ascension -2014
• Warriors – 2020
When you convert the number of sold copies into money, the sum is quite overwhelming. The singer has also released several hit singles that keep the revenues flowing in. Besides, booking any of his artists does not come cheap at all.
The singer's music also opened other avenues of income such as mobile sources; this includes the likes of YouTube, spinlet, itunes, as well as Ring back tunes. Anybody who dreams of booking 2Face for a show must be ready to part with a fortune, ranging from three to five million.
These are the songs that made 2Baba popular
Immediately after the disbandment of Plantashun Boiz in 2004, 2Baba quickly went solo, releasing his debut album Face 2 Face on May 15, that year. The album became a major hit, selling millions of copies. The success of the singer's debut album was largely accrued to its lead song African Queen. The track has remained a hit to date and is still requested by many on television programs and radio shows. More so, African Queen's views on YouTube alone crossed the milestone of 10 million, and the track later became a soundtrack for the American movie Phat Girls. Patrice Evra of Manchester United further popularized it when he sang it as a tribute to his mum. Interestingly, Face 2 Face was what established 2Baba as a viable solo artist.
The singer's second album Grass 2 Grace had hits such as One Love, 4 Instance, and True Love. His 2009 album The Unstoppable, featured hits like Enter the Place. The Unstoppable International edition came with Only Me and Implication as it's hit tracks, sweeping awards at the 2010 Sound City Music Video Awards. My Rainbow, which became very popular, belongs to his Away and Beyond album. Four hit tracks came out of 2Baba's sixth studio album, The Ascension, they include; Let Somebody Love You, Ife Dinma, Diaspora Woman, and Go. The project made Innocent Idibia the first Nigerian artist whose album debuted on the Billboard World Album chart; it came at #12.
He Keeps Expanding His Business Acumen
2Baba has a good business head on his shoulders, some of the endeavors in his business portfolio include;
Hypertek Digital and Now Musik Record Labels
People who are opportune to know 2Baba consider him to be humble, down to earth, and cool-headed, but even with his cool-headedness, the Enter the Place singer harbors some cool business ideas. Though he started with Kennis Music, 2Baba launched his Hypertek Digital record label in 2006, which saw his departure from Kennis. Today, Hypertek Digital, which later became a subsidiary of the 960 Music Group, has signees like Dammy Krane, Victor Uwaifo, Rock Steady. 2Baba also owns the Now Musik record label.
960 Music Group
Efe Omorogbe co-founded the 960 Music Group in 2013, but the group enjoys funding from Rio Partners. 960 Music Group went down in history as the debut Nigerian Music Group to acquire multiple music labels and unite them under a single umbrella. The group is considered 'a new school' evolution of Music in the African continent. The artist management firm is active across Nigeria with a focus on providing diverse audio and video musical entertainment. 960 Music is made up of key people like Mark Red guard, Innocent Idibia, and Piriye Isokrari.
Rumour Night club
During the singer's early days in the music industry, his base was FESTAC town Lagos. However, he moved to the island after recording tremendous success in his career. It would interest fans to know that the Afro-pop hitmaker did not leave FESTAC completely, he actually left an imprint in the form of a night club called Rumour Night club. Over the years, the club became a big business concern as it grew into one of the best nightclubs in the country. The night club has since established a branch at Ikeja GRA.
Real Estate
The Nigerian music superstar is also into real estate. According to 2Baba, he does his property business with ease, acquiring houses on the go. The singer also keeps an open eye while driving around, and once he cites any nice property, he moves in to establish both availability and genuineness, and the paperwork follows.
Books
It would surprise fans to know that in addition to being a singer among other things, the Nigerian celebrity musician also has proficiency in writing. In fact, he has published his first book titled Very Good Bad Guy, and from the feelers we are getting, the publication is selling fast.
Endorsement Deals
The legendary musician started scoring lucrative deals as soon as he stepped into the limelight. As far back as 2005, an A-list company like Guinness already signed him on for an endorsement deal worth over 20 million naira. 2009 was when the singer became part of the Peace Summit as the Youth Ambassador, thanks to his contributions in the sphere of youth development in the country. In recognition of his efforts, the National Youth Council of Nigeria gave him a Youth Merit Award.
Also in 2009, NAFDAC (National Agency for Food and Drug Administration and Control) appointed him a brand ambassador, and in a bid to create awareness on the dangers of fake and sub-standard drug and food products in the country, he released the track Man Unkind.
More recently in 2019, Pazino Homes & Gardens appointed him their official Brand Ambassador. The Nigerian superstar also has other running endorsements for top-notch companies such as Airtel and Nigerian Breweries.
Highlights of 2Baba's Awards And Recognition
The singer has accumulated more awards than anybody can count. His accolades came to 70 at the last count, and they still keep pilling up. Below is the highlight of his numerous awards:
A. M.E.N Awards
• Best Video, 2004
• Best Male Vocalist, 2004
• Song of the Year, 2004
• Best New Act Male, 2004
Nigeria Entertainment Awards New York
• Best Album of the Year, 2004
• Song of the Year for African Queen, 2004
• Best Hip-hop & R&B Artiste, 2004
• Africa Breakthrough Artist of the Year, 2006
• Best Album of the Year, 2007
Channel O Music Video Awards
• Best Male Video, 2005
• Best African Act, 2005
• Best Male Video, 2005
• Best African Video of the Year, 2005
• Most Gifted West African Video, 2010
MTV Africa Music Awards
• Best R&B, 2009
• Best Male, 2009
• Best Video for the track Enter the Place 2009
• Best Male, 2010
• Artist of the Year, 2010
The Headies
• Hip-hop World Awards – Album of the Year 2011
• Hip-hop World Awards – Best R'n'B/Pop Album, 2011
• Best R'n'B Single for the track, Let Somebody Love You 2014
Sound City Awards
• Best Western, 2010
• Best Pop Video for the track Implication Sound 2010
MOBO Awards
• Nominated Best African Act, 2005
• Best African Act, 2007
Ben TV Awards
• Album of the Year for the track Ascension, 2014
• Best International Collaboration for the track Rainbow ft T-Pain, 2014
Awards from Obafemi Awolowo University
• Honorary Graduate (for Bachelor of Arts)
• Fellow of the School OF Music, 2019 (Music Department)
Here is a list of 2Baba's Awards
• Affinity Awards – Best Male Vocalist, 2002
• Excellence Recognition Awards – Music of the Year, 2004
• City People Awards for Excellence – Musician of the Year, 2004
• Black Heritage Awards for Excellence – Outstanding Musician of the Year, 2005
• Afro Nollywood Award – Best Musical Artiste, 2005
• Ghana Music Awards – African Song of the Year (for Non-Ghanaian), 2005
• Hip-hop Awards – Special Recognition, 2005
• G.C.E International Awards – Best Song of the Year, 2005
• The Future Awards – Musician of the Year, 2006
• Award for Excellence – Outstanding Contribution to the Entertainment Industry, 2004
• MTV Europe Music Awards – Best African Act, 2005
• Kora Awards – Best African Act, 2005
• World Music Awards, Monaco, Spain – Best Selling Nigeria Artist, 2008
• Hip-hop World Awards – Best R'n'B/Pop Album, 2008
• Australian African Awards – Best African Act, 2008
• Africa BET Awards – Best International Act, 2011
• New Champions for an Enduring Culture, 16th Edition of the yearly THISDAY Awards as presented by ex Gov. Arnold Schwarzenneger and former POTUS Bill Clinton
• National Institute of Marketing Of Nigeria – Honorary Fellow Award, 2019
How Does 2Baba Spend His Wealth?
Innocent Idibia's lifestyle is not far removed from that of other celebrities whose lives are soaked in luxury. The singer lives in only the best of mansions and splurges around town in the best of automobile brands. Being a man with the milk of human kindness, the legendary musician is neck-deep in philanthropy, pouring millions of naira into different charitable courses.
2Face Idibia's Mansions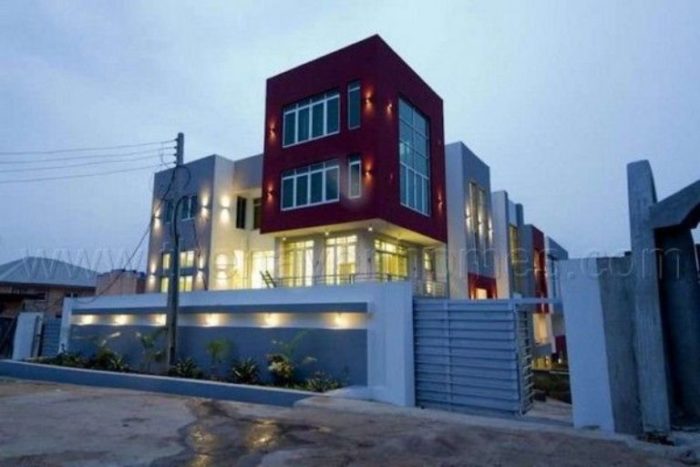 Banana Island is one of the known artificial islands around the Lagos region and is the venue for Haven Homes' architectural masterpieces. In recent times, the Island has become home to most Nigerian celebrities like movie stars, musicians, athletes, politicians, and more. 2Baba happens to be one of such celebrities who have made their home on the island.
The singer's mansion on the island has been described as legendary. Equipped with the latest amenities, the house is said to be one of the most beautiful around its location. In fact, 2Baba's house simply lights up the island.
Apart from his Banana Island home, the legendary singer also has another mansion in Lekki – another top spot in Lagos, sporting top-notch security and opulent real estate. There is also a house in Magodo Lagos, and of course, he has another one in Benue, which is where he comes from. 2Face also has a deluxe apartment in the United States.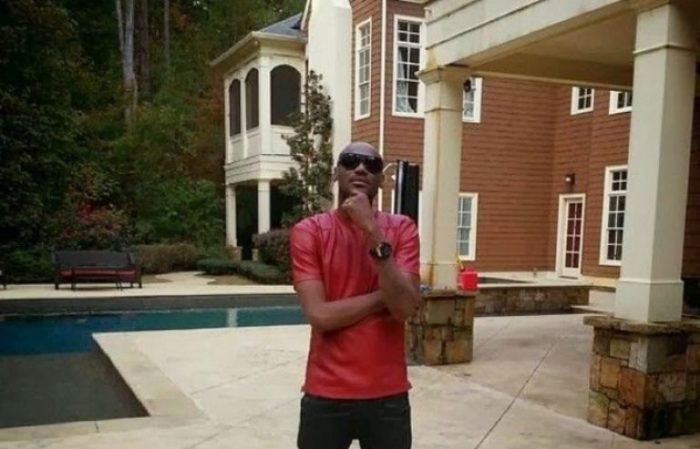 While he tries his best to keep all his mansions away from the prying eyes of the public, the music superstar is sometimes spotted as he spends time there with family and friends.
2Face has a lot of Luxurious Automobiles
2Baba is someone who is not averse to sharing a lot of things on social media, however, we have come to realize that he prefers to keep mute on the cars he has. However, sources have reported that his garage is full of plush sports cars, especially as he is a man who loves speed.
Chevrolet Corvette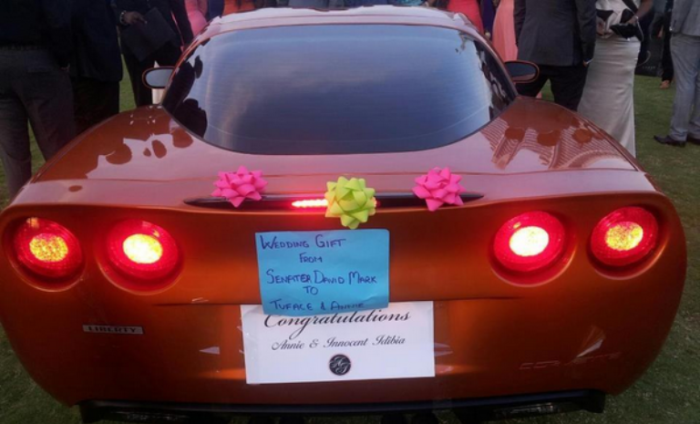 2Face is the proud owner of a Chevrolet Corvette, though he didn't buy the car. Perhaps, the reason why the public knows about this car is that it came as a wedding gift from the then Nigerian senate president, David Mark during the singer's wedding to Annie Macaulay. The yellow Chevrolet Corvette Coupe was said to be worth around $100k at that time. The luxury car is a coupe with a cool styling design. It originally came in a crystal red metallic tint coat; however, the color has long been changed by the couple.
Ferrari Coupe
Another of his car that is known to the public is a white Ferrari coupe and it was also a wedding gift to the bride and groom. 2Face's Ferrari is believed to be worth above ₦50 million.
Lincoln Navigator
We all know that Innocent Idibia was a former signee of Kennis Music. Following the success of his track African Queen, the record label gifted him with a Lincoln Navigator, which cost as at that time was estimated at ₦10 million. Reports said the plush automobile came complete with cutting-edge specs and the features include a parking assist or dual-zone automatic air-conditioner system. The car, reports said is most likely a rear-wheel-drive installed with a V8 engine and produces up to 300 hp at maximum.
Other Cars in 2Baba's Garage
Because he is averse to flaunting his car collections on social media, most of the singer's cars are not really known. The public now relies on rumors to ascertain the number and brands of cars he might have stashed away in his garage. We heard about a Mercedes Benz G-wagon estimated at ₦45 million, a ₦70 million worth Bently, and a ₦27 million Range Rover Sport SUV. Needless to mention, the Nigerian hip hop star bought at least one car for his parents.
List of 2Face's Cars at a glance:
Bently – ₦70 million
Ferrari coupe – ₦50 million
Mercedes Benz G-wagon – ₦45 million
Chevrolet Corvette – ₦29 million
Range Rover Sport SUV – ₦27 million
Lincoln Navigator – ₦10 million
Philanthropy
2Baba is one Nigerian artist that loves to lend a helping hand to the vulnerable in society. In a bid to serve humanity, the African Queen crooner launched 2Face Idibia Reach-Out Foundation. This charitable organization has smoothened the rough edges of many people's lives in the country through their activities.
2Baba's Case over Ownership of African Queen was Settled out of Court
2Baba and his former Plantashun Boiz band member Blackface has been involved in a raging feud over the ownership of the hit track African Queen and another track Let Somebody Love you. This feud led to Blackface calling 2Face out on several occasions, which resulted in a court case between the two parties. Alongside his manager, Efe Omoregbe, 2Baba sued Blackface, claiming damages up to the tune of N50m.
Though the matter raged on for a long while, reports have revealed that the two former bandmates have finally settled out of court after 2Face dropped his N50m defamation charge on November 27, 2019, at the Ikeja High Court. On his part, Blackface agreed to stop calling 2Face out publicly as they worked out an agreement to ensure that Blackface earns royalty from the songs. The details of their settlement agreement were regrettably undisclosed.