Fathia Nkrumah (22 February 1932 – 31 May 2007) was a Coptic Egyptian who is famously known as the very 1st First Lady of Ghana.
The name Fathia Nkrumah rings a very loud bell in Ghana and the reason for this is very simple; she goes down in history as the first First Lady of the West African nation. This came about as a result of her marriage to Kwame Nkrumah, the first Prime Minister and President of Ghana, who was renowned for leading the Gold Coast's drive for independence from Britain. Fathia is remembered for the flair she brought to her role as the first woman to occupy the position of the First Lady of Ghana.
From the time they met and tied the knot as husband and wife, Fathia and Kwame Nkrumah lived a beautiful life together and had children they were very fond of. However, life was not all rosy for the couple as things went haywire following Kwame Nkrumah's overthrow as president.
Summary of Fathia Nkrumah's Profile
Full name: Fathia Halim Rizk
Nickname: Helena Ritz Fathia Nkrumah
Gender: Female
Date of birth: 22 February 1932
Place of Birth: Cairo, Egypt
Died: 31 May 2007 at Badrawy Hospital, Cairo, Egypt
Age at Death: 75 years
Ethnicity: Arab
Nationality: Coptic Egyptian
Zodiac Sign: Pisces
Sexual Orientation: Straight
Religion: Coptic Christian
Marital Status: Married
Fathia Nkrumah's Husband: Kwame Nkrumah ​(m. 1957; died 1972)
Fathia Nkrumah's Children: Gamal, Samia, Sekou
Siblings: 4
Profession: Teacher, Bank teller, First Lady
Famous for: Being the 1st First Lady of Ghana
Fathia Nkrumah was Born in Egypt
Fathia Nkrumah was born on the 22nd day of February in the year 1932. The future First Lady of Ghana was born in Zeitoun, a famous district in the city of Cairo, Egypt. It was also in Zeitoun that she was raised alongside her four siblings. Fathia was the eldest child in a family of five children.
It is noteworthy that Fathia was born to a Christian family and was raised to follow Christian teachings and doctrines. Growing up, her father earned a living working as a clerk in an Egyptian telephone company. Not much is known about what her mother did at the time.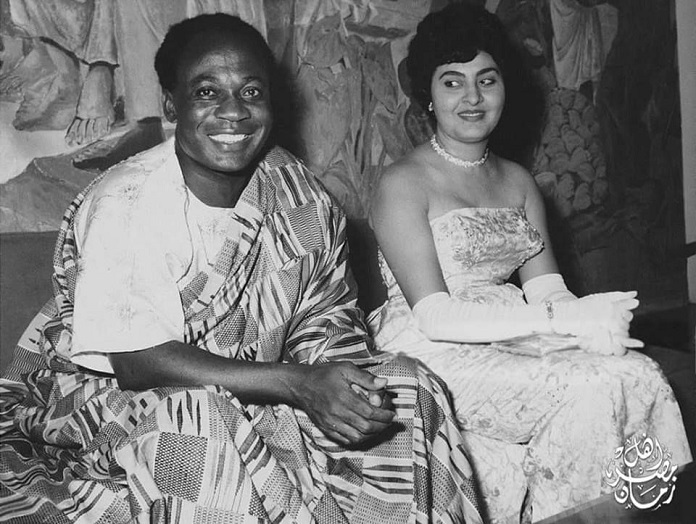 Her Father Died When She Was Young
Fathia Nkrumah and her family suffered a serious tragedy when she was still little because her father died early. The loss of her father put them in a bad condition because her widowed mother now had the daunting responsibility of catering for her five children all by herself.
Somehow, Fathia's mother managed to raise her kids the best way she could and sent them to school. Fathia had her secondary school education at the Notre Dame des Apôtres, a secondary where she studied French.
Fathia Nkrumah Worked As A Teacher and Banker
After her secondary school education, Fathia knew she had to work to support her family and so she took a job at her alma mater as a teacher. Fathia was, however, an adventurous person and so she soon got bored of teaching, seeking out something else to do with herself. She eventually found another job as a banker in a local bank. It was here that she worked, supporting her family until she met and married Kwame Nkrumah, and her whole life changed.
The Thrilling Tale of How Fathia Was Introduced To Kwame Nkrumah
The story of how Fathia and Kwame Nkrumah became husband and wife is a very unusual but thrilling one. In 1957, Kwame Nkrumah, who was already the Prime Minister of Ghana, decided to marry a wife. However, he did not want to marry a Ghanaian woman so he decided to look outside and marry from Egypt.
With this decision, Nkrumah sent his friend Alhaji Saleh Said Sinare to find him a Christian wife from Egypt. Alhaji Sinare was one of the first Ghanaian Muslims to study in Egypt so he knew his way around. When he arrived in Egypt, he searched and spoke to different people before finally arriving at five names. Fathia was one of the final five women who were chosen and she was eventually chosen to be the bride of Nkrumah. When Nkrumah was told about Fathia, it delighted him.
It is noteworthy that even though Fathia knew that Nkrumah was a powerful leader of Ghana, she had never met him before and was still in Egypt at this time while he was in Ghana so she never knew what he was like. But Alhaji Saleh Said Sinare showed her the Prime Minister's photos and she was thrilled by them. She immediately decided she liked the man.
Kwame Nkrumah was very happy with the whole arrangement. In fact, he liked Fathia so much that he informed the President of Egypt, Gamel Abdul Nasser, of his decision to marry from his country. Of course, Gamel Abdul Nasser was also pleased with the development and offered his blessings.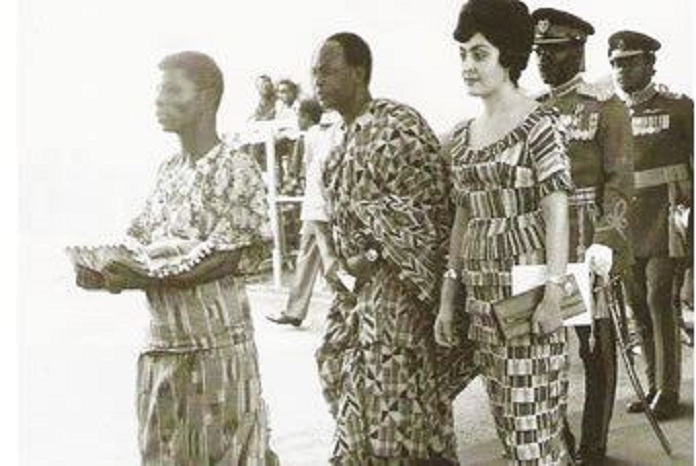 Her Mother Did Not Bless The Marriage
As you would expect from a mother, Fathia's mother did not like the whole arrangement. She did not like the idea of her daughter going off to marry a man from another country and refused to bless the union. She particularly did not bless the union because her son had already married an English woman and had left Egypt with her. So, she did not want to see another of her kids marry a foreigner and leave Egypt.
However, the refusal of Fathia's mother to bless the union did not deter the young girl from marrying the Ghanaian leader. Her mind was made up and she was going to marry Nkrumah. Fathia tried to explain to her mother that Nkrumah was a great anti-colonial leader who was well-respected in his country and on the continent but her mother would have none of it. In the end, Fathia defied her mother and left Egypt.
Her Uncle Accompanied Her To Nkrumah
Even though she did not have the support of her mother, Fathia Nkrumah had the support of other family members, including one of her uncles who decided to escort her to her future husband. Fathia and her uncle left Egypt and stopped in different places, including Khartoum, Kano, and Lagos, before they finally arrived in Accra, the capital of Ghana, on New Year's Eve in 1957. Fathia and Kwame Nkrumah were both pleased and excited to finally meet each other. Preparation for their marriage began in earnest.
The Day Fathia Married Ghana's First President
The interesting thing about Fathia and Kwame Nkrumah's marriage is that they tied the knot the very day that Fathia arrived in Ghana. Fathia had arrived in Ghana on New Year's Eve, 31st December 1957, and the wedding held on the same day.
The couple got married at Christianborg Castle in Accra. The wedding was a lowkey affair. In fact, Fathia and Kwame Nkrumah are reported not have walked down an aisle as is customary of wedding days and Fathia did not even wear a veil. Also, the traditional Egyptian wedding practices of zaffa and zaghareet were supposed to be performed since Fathia was an Egyptian but the practices were not performed.
This notwithstanding, the couple was successfully married by the end of New Year's Eve 1957 and this was the beginning of something extraordinary for Fathia and her husband.
Ghanaians Were Not Pleased
Interestingly, Kwame Nkrumah's marriage to Fathia caused a lot of stir in Ghana. This is because many Ghanaians were not pleased with their leader. Both ordinary Ghanaians and the influential ones were angry with Kwame for not marrying a Ghanaian but going far away to marry a 'white woman'. They referred to Fathia as a white woman because of her very fair skin color.
The powerful market women leaders and wives of powerful men blasted Nkrumah for his choice of a woman to call a wife. Also, the women's wing of Nkrumah's political party, the Convention People's Party (CPP), attacked him, claiming that they were disappointed in the Prime Minister. Kwame Nkrumah, however, defended his actions and explained to the aggrieved parties that Fathia was not a white woman but a fellow Africa woman from Egypt.
Fathia was An Active First Lady
On her own part, Fathia Nkrumah did not allow the uproar to affect her but resolved to carry out her duties as First Lady. She was, however, faced with her own challenges from the onset. She understood little to no English and her husband did not understand Arabic or French. This was a problem because they needed to communicate. However, being a very sharp young woman, Fathia soon got to learn English and by the end of 1958, she could deliver speeches in the newly learned language.
Despite the criticisms that trailed her marriage to Nkrumah, Fathia loved Ghana because it was not as conservative as her home country of Egypt. Also, she admired the women and the way they were so educated, independent, and wealthy. She was also delighted by their food and was especially fond of the local kontomire delicacy as well as kenke (a fermented maize dish, traditionally eaten with fried fish, chili, onion, and tomatoes).
Fathia was likable and it was not long before she endeared herself to the people of Ghana. In fact, the powerful market women soon named a traditional kente cloth Fathia fata Nkrumah meaning "Fathia fits Nkrumah" after the First Couple.
Fathia Nkrumah was a very active First Lady who carried out her duties with due diligence and was a sort of ambassador for Ghana. The First lady hosted world leaders in Ghana, including people like Haile Selassie, Charles de Gaulle, Nikita Khrushchev, and Chou En-Lai. She was popular with the people and became the chief patron of the National Council of Ghanaian Women. She was also the honorary chief of Ghana Girl Guides. Fathia also laid the foundation stone for a number of projects, including the foundation stone of a health clinic in Ho, a town in southeast Ghana. She did this at an event with the Ministry of Social Welfare.
Fathia and Kwame Nkrumah Were Parents To Three Children
Fathia and Kwame Nkrumah had three children whom they were very proud and fond of. They had two sons named Gamal Nkrumah and Sekou Nkrumah, and a daughter named Samia Nkrumah. All three children went on to do well for themselves.
Gamal Nkrumah
Gamal Nkrumah is the first child of Fathia and Kwame Nkrumah. While we know he was born in 1959, the exact day of his birth is not certain. Gamal is a well-read fellow and is now a journalist and Pan-Africanist. He has a Ph.D. in political science from the School of Oriental and African Studies in London. He serves as the editor of the international affairs section at the newspaper, Al-Ahram Weekly in Cairo.
Samia Nkrumah
Samia Nkrumah is the second child of Fathia and Kwame Nkrumah. She was born on 23 June 1960 and is now 62 years old. She obtained a Bachelor's degree in Arabic Studies in 1991 at the School of Oriental and African Studies of the University of London. She later completed a Master's degree at the same institution in 1993.
Samia is now a politician and chairperson of the Convention People's Party (CPP). In 2008, at her very first attempt, she won the Jomoro constituency seat during the parliamentary election in Ghana.
Sekou Nkrumah
Sekou Nkrumah is the last son of Fathia and Kwame Nkrumah. He was born on 1st December 1963 and is now 59 years old. Sekou studied at the Achimota School in Accra, Ghana, and at the University of Bucharest in Romania. He is now a politician and author who published the book 'A Fatherless Child' in 2011.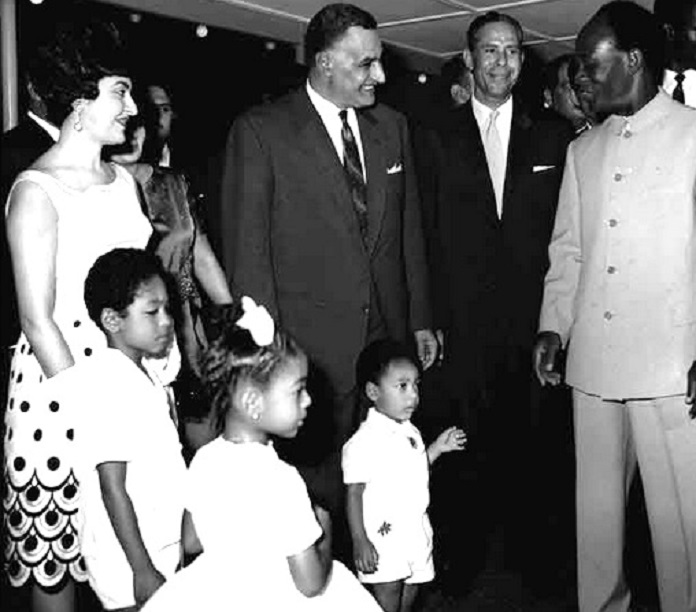 How The Coup of 1966 Separated Fathia Nkrumah From Her Husband
Fathia and Kwame Nkrumah had everything going for them when things came crashing down in 1966. In February that year, Kwame Nkrumah went on a state visit to North Vietnam and China. While on the state, his government was overthrown.
Nkrumah's government was dethroned in a violent coup d'état that was led by the national military and police forces, with backing from the civil service. Following the coup, Nkrumah never returned to Ghana again. Instead, he lived in exile in Conakry, Guinea, as the guest of Ahmed Sékou Touré, the country's President until his last days.
Fathia Fled To Egypt
Following Kwame Nkrumah's overthrow, his wife Fathia was forced to flee Ghana in great fear. She fled back home to Egypt where she was received and resettled by the president. Fathia and her children who were just little kids at the time lived in Egypt for a long time and maintained contact with her husband from afar.
In 1975, Fathia and her children were invited back to Ghana to settle there by Colonel Acheampong who was Ghana's president at the time. The family accepted the offer and returned to Ghana. However, they were forced to flee again when another coup d'état happened in 1981 and the National Defence Council seized Fathia's property.
The Death of Fathia Nkrumah
Fathia Nkrumah remained in Egypt for the remainder of her days. The former First Lady died on the 31st day of May 2007 after suffering a stroke following a period of illness. She passed away at Badrawy Hospital in Cairo. She never remarried after her husband went into exile.
Following her death, a memorial mass was held for Fathia Nkrumah at the Coptic Orthodox Cathedral Church in Cairo by Pope Shenouda III. After this, her remains were flown to Ghana where a funeral was held for her at the State House. She was later buried next to her husband at the Kwame Nkrumah Memorial Park.