Rhett and Link refer to an American comedy duo who are very popular on YouTube. They are known for their comic songs, viral commercials, skits and the daily show, Good Mythical Morning. Good Mythical Morning is the most watched daily show online, averaging 100 million views in a month. The show has featured guests such as comedian and actress, Amy Schumer, Harry Potter himself, Daniel Radcliffe and John Green, author of popular YA novel, The Fault in Our Stars. The pair also has other successful YouTube channels, all dedicated to entertainment. Get to know more about the 'Comedy Kings of YouTube' here, including how they became friends, their wives, net worth and other family facts.
Rhett and Link – Bio
Rhett James McLaughlin was born on the 11th of October, 1977 in Georgia. Charles Lincoln Neal III, on the other hand, was born on the 1st of June 1978 in North Carolina. The story of how these BFFs met is one that can rival any Hollywood plot. They met on their very first day of first grade at Buies Creek Elementary School, North Carolina. The date was the 4th of September 1984. They were in the same class and their teacher, Ms. Locklear, banned them from going for recess due to the fact that they wrote curse words on their desk. As part of the punishment, she 'sentenced' them to coloring mythical beasts. They immediately struck a friendship during the coloring and have been together ever since. For college, Rhett and Link attended North Carolina State University where they roomed together. While Link studied Industrial Engineering, Rhett obtained a degree in Civil Engineering. Upon graduating, they both joined the conventional workforce, working for big tech companies. Their good jobs, however, failed to bring them fulfillment. They had always been creative spirits, writing and shooting films when they were teenagers and were dissatisfied with their regular jobs. They, therefore, decided to find a creative outlet.
They created a website (at the time, YouTube was not in existence) and started uploading comic musical performances. The website earned some views but they remained largely unknown. All these changed in 2006 when another person posted one of the videos from their site on YouTube. The video, which featured Rhett's son crying, became a viral sensation. Seeing how successful the video was on YouTube, Rhett and Link decided to move there and make internet entertainment a full-time affair. They now have several popular YouTube channels. One of them is Good Mythical Morning, a daily talk show where they give an interesting take on topics such as pop culture, lifestyle, science, and tech. The show also features outrageous stuff such as eating the world's hottest chili pepper and trying out weird combinations of food. Another of their popular channels is Rhett and Link. It is dedicated to their comic music performances such as My OCD (which has 44 million views) and Epic Rap Battle: Nerd vs Geek (which has 41 million views). The duo also has a weekly podcast, Ear Biscuits and a YouTube Red Series, Rhett and Link's Buddy System. They have also authored a book, Rhett and Link's Book of Mythicality: A Field Guide to Curiosity, Creativity and Tomfoolery.
Family Facts – Who are Their Wives?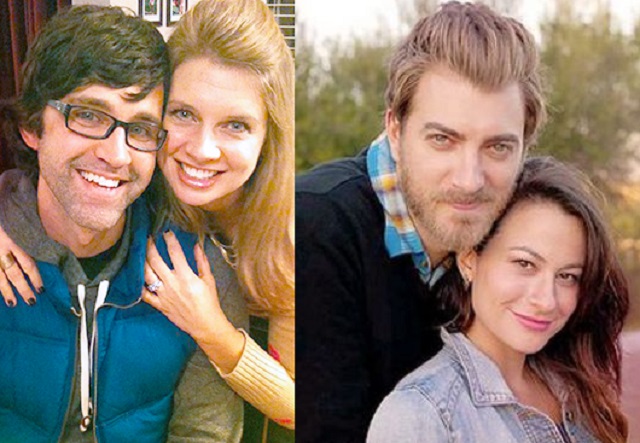 Rhett comes from a family of four which includes dad, Jim McLaughlin, mom, Diane McLaughlin and elder brother, Cole McLaughlin. Rhett was born in Georgia but only moved to North Carolina due to his dad's job. It was in North Carolina that he now met Link. Link, on the other hand, is the only child of his parents, Sue Capps and Charles Lincoln II. There is no other information available about his family except that his parents divorced when he was two and his mom remarried.
Rhett and Link are both off the market. Rhett is married to his long-time girlfriend, Jessie Lane. They tied the knot on the 29th of March, 2001 and have two children together. They are sons, Locke McLaughlin and Shepherd McLaughlin. Link is equally married. His wife's name is Christy Neal and they started dating when they were both in college. Christy attended an all-girls school, Meredith College, which was not far from Link's school. They got married in 2000 and have three children together. They are, daughter Lily and sons, Charles IV and Lando. Their wives are not really crazy about appearing on their shows and have only made a few cameo appearances. Additionally, we can authoritatively inform you that these two couples would not be having any more kids (at least biologically). Rhett and Link got a vasectomy together in 2017. They shared the experience on their Good Mythical Morning Show.
See Also:  Jenna Marbles Bio, Net Worth, Partner – Julien Solomita or Boyfriend
Net Worth
Rhett and link have a combined net worth of $16 million. Separately, they are each worth $8 million. Half of their earnings come from YouTube while the other half come from paid Ads on their channels. They carry Ads for big brands such as Gillett and Toyota. They not only show these commercials but they also shoot them. Part of the reason they initially became popular was that of a series of commercials they shot for some local businesses all throughout America. These low budget commercials proved to be a big hit and were featured on CNN, Forbes, TMZ, and the New York Times. The success of these commercials earned them a TV series titled Rhett and Link: Commercial Kings.