Richard Mofe Damijo has been married to Jumobi Adegbesan since 2000 but before then, he was married to May Ellen-Ezekiel who died in 1996. 
It's a known fact that Nollywood legendary actor, Richard Mofe Damijo who is known by his initials RMD has been married twice in his lifetime. The father of five lost his first wife, May Ellen-Ezekiel to the cold hands of death in 1996 after which he went into a second marriage with ex-television personality Jumobi Adegbesan. The duo hit it off shortly after the demise of RMD's first wife and has been living together as a married couple for over two decades. In fact, RMD and Jumobi are regarded as one of the golden couples of Nollywood.
Richard Mofe Damijo's First Marriage Came To an End in 1996
Probably because at the time of marrying his first wife, he had not gained the level of fame he enjoys today as a movie star and politician, the details of Richard Mofe-Damijo's first marriage are not out in the open. However, it is common knowledge that his first wife's name was May Ellen-Ezekiel, fondly referred to as MEE. No one knows the exact date of their nuptials but they were together until MEE's death which occurred in 1996. According to reports, MEE who worked in the media industry as a journalist/publisher went under the knife for a fibroid operation and it was the ensuing complications that cost the mother of one her life.
Jumobi Adegbesan Was Richard Mofe Damijo's Second Wife
Friends and colleagues who worked with Jumobi Adegbesan during her days in African Independent Television would recall the television personality's dreams of becoming Mrs. Mofe Damijo. Saying that her dreams came true may be an understatement since she didn't just become Mrs. Richard Mofe Damijo, Jumobi went on to become the mother of the actor's four children and has been living in the lap of marital bliss for more than a decade.
Their great love story started shortly after May's demise when Jumobi was still with Lunch Break – a popular AIT talk show, though she later left to join the corporate world. Important to note that there is a massive age gap between RMD and Jumobi, but this did not douse their love one bit, after all, age is just a number and love conquers all. The couple dated for three long years following which the screen icon popped the big question.
It was a dream come true for Jumobi who couldn't wait to marry the love of her life. The lovebirds later exchanged the forever commitment on the 29th of December 2000, precisely four years after MEE's death and it has been over two decades and still counting.
The Duo Has Built A Wonderful Family Together
Though Jumobi decided to go off the limelight after she became Mrs. Richard Mofe Damijo, RMD has never missed an opportunity to celebrate the love of his life. Even as they grace social events with a united front, the duo has made a conscious effort to keep the intimate details of their marriage away from prying eyes and that has been credited as the secret behind their enduring union.
While her husband takes the brunt of fame and its ensuing burden, Eniola takes her position at the home front, nurturing their wonderful family and also creating a niche for herself in the corporate world.
The couple's union has not gone without friction as there have been rumors of infidelity on RMD's part. In fact, the last infidelity speculation was really scandalous as it told a tale of a young girl whom the movie icon set up in a house that served as their meeting point. Despite the gravity of this allegation, the couple still managed to overcome at the end, thanks to Richard Mofe Damijo's deftness in proving that it was all a hoax.
RMD has always done his best in reassuring Jumobi that she is his one and only love and according to the actor, people always believed him to be a lady's man, but that is very far from the truth. In fact, he confessed to being a shy man, thus, all those speculations running rife about his nonexistent busy love life is complete balderdash.
Richard Mofe Damijo is a Father of Five Children
From his first marriage to May Ellen-Ezekiel (MEE), Richard Mofe Damijo has one child and his second marriage to Jumobi Adegbesan birthed four children, bringing it to a total of five children. According to reports, the Mofe Damijo family shares a strong bond.
One glaring fact about RMD's children is that none of them has shown signs of forging a career in the movie industry, or perhaps, it is early days yet.
Kome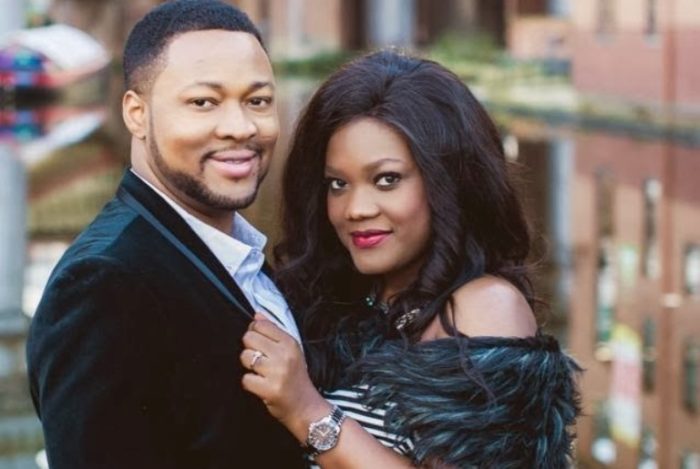 Fondly known as Kome, Oghenekome Mofe-Damijo is the only product of Richard's marriage to late journalist May Ellen-Ezekiel and his first child. Though details like his date of birth and occupation are not known, the first child of the movie star is already a married man. In December 2013, he tied the nuptials with his wife Eniola in a lavish wedding ceremony held at Reverend Chris Okotie's church in Oregun, Ikeja, known as Household of God Church.
The wedding happened when RMD was still on sit as Delta State's Commissioner for Culture and Tourism, thus, the occasion was graced by the high and mighty in the state's political scene, including the crème de la crème of Nollywood. Eniola and Kome who met fourteen years prior to their nuptials are already parents to two kids
Nichole
Richard Mofe Damijo's first daughter goes by the name Nicole Mofe Damijo and she is the first child from his marriage to Jumobi Adegbesan. Unlike the movie star whose life and work are everywhere on social media, details about his children are not readily available. However, Nicole once trended on social media when she was in attendance at the Obama Foundation Summit, handpicked by Obama himself for a ten-minute meeting to discuss her life and work.
It goes without saying that the proud papa wasted no time in celebrating his daughter's great achievement by taking to social media to give expression to his pride as a father. According to RMD, it was just the beginning of Nicole's conquest journey.
Tega
Tega is the younger son of Richard Mofe Damijo and Jumobi Adegbesan. They call him the family's Instagram socialite. The youngster has a presence on the picture-sharing platform where he constantly uploads pictures. However, his personal details like date of birth and occupation are not known.
His Youngest Daughter
While Richard Mofe Damijo has no qualms about sharing the pictures of his youngest daughter in celebration of her successes, the Nigerian screen legend has consciously omitted the girl's name. Perhaps it is in a bid to protect her privacy that he never tagged her in all his uploads.
RMD has been severally spotted out and about town in the company of the girl and in 2019, he took to the picture-sharing platform to give voice to his pride and delight as the young lady became a high school graduate, saying some words of prayer for her.
The Actor's Fifth Child
Several reports have reiterated the fact that Richard Mofe Damijo has a fifth child, however, nothing about this fifth child has ever made it to the public arena. But what we do know is that the Nollywood icon is a go-happy grandfather who dotes on Kome's two children. He is ever-present on social media showing off the adorable duo.
Richard Mofe Damijo Loves His Role As A Grandfather
Kome and his wife Eniola first had a beautiful daughter called Elohor and before long, Elohor became a sister to a cute little boy who arrived several years later. According to the movie superstar, he just can't bless God enough for His goodness by looking beyond his faults to grace his life with two grandchildren from his son.