While Rick Harrison is best known as a reality show personality, he is also an adept businessman. He jointly owns Las Vegas's popular pawn store called Gold and Silver which was established in 1989. His store is the focal point of the show titled Pawn Stars. The show serially documents the activities that are carried out in the high-class pawn store.
From his business sense to his reality TV show, marriages and family, and everything else about him, he is definitely an interesting story to tell. Rick has been married three times thus far, and divorced twice. Considering his fame, it is not surprising that his fans are as curious as his personal life as they are about his professional life.
His First Marriage Was To Kim Harrison
The American businessman started charting his way in his chosen career when he was still very young, which is the same with his personal life. The first woman he got married to was Kim Harrison, whom he met when he was only 17. The two would go on to date for a while before tying the knot in 1982.
Unfortunately, the union came to an end in 1985 and by this time, they already had two kids. Since the end of the marriage, Kim has almost completely vanished from the eyes of the public. More so, her life before they got married has also not been revealed.
Rick Harrison Got Married To Tracy Harrison A Year Later
Only a year after the end of his first marriage, Rick met another woman, Tracy, whom he married in 1986. According to several sources, he met his second wife on an arranged date and things moved for them almost instantly.
While his first marriage only lasted for three years, Rick's marriage to Tracy stretched for more than 20 years before it finally ended in divorce in 2011. By the end of their marriage, the couple had a child between them. The reason behind the end of the marriage has not been revealed to the public.
In spite of the years the two spent together and Rick's fame, Tracy kept a very low profile, so much that not much is known about her personal life.
He Is Currently Married To His Third Wife, Deanna Burditt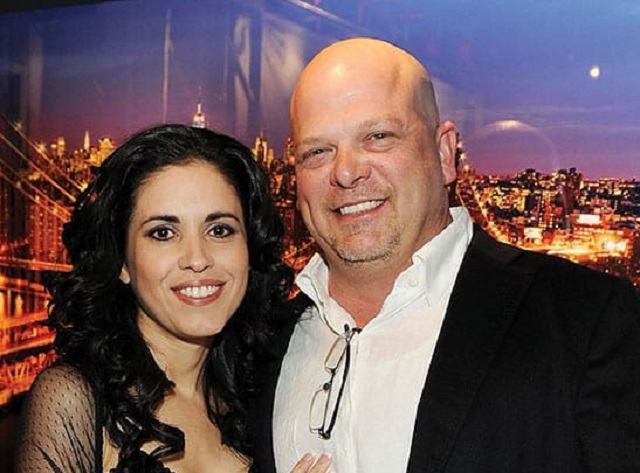 Two years after his second marriage came to an end, Rick got married for the third time to Deanna Burditt on the 21st of July, 2013 in Laguna Beach, California. Just as this was not the first marriage for Rick Harrison, it was also not the first for Burditt who has also been married and divorced twice.
Deanna, who is a legal secretary, has gained some popularity due to her husband's fame. She was said to have met Rick in 2011 in Las Vegas, and they had an instant connection. After dating for two years, they decided to tie the knot in 2013 and since then, they have remained together.
Rick Harrison Has Three Sons From His First Two Marriages
Harrison could have had his first child when he was still a teenager after he got his first wife, Kim, pregnant at the age of 17. Unfortunately, she lost the baby at the early stage of her pregnancy.
Currently, he has three sons: Corey – who is also known as "Big Hoss", Adam, and Jake Harrison. He had Adam and Corey with Kim during his first marriage, while he had Jake with Tracey. His third marriage gave him three step-daughters from her previous marriage, therefore, making him a father of 6 children.
The oldest of Rick's kids, Corey Harrison, was born in 1983. He has since taken after his father by also becoming a businessman and a reality TV star. He is also a cast member on Pawn Stars, and joined the family business which his father and grandfather started, since he was a child. Big Hoss, as he has come to be known, has been married twice already.
Rick's second child, Adam Harrison, was born in 1984. He was once involved in the family business and worked at Gold & Silver Pawn Shop, but he was not interested in appearing in the show. He later left and started working as a plumber. The youngest of the kids, Jake Harrison has also kept a very low profile.
Rick Harrison Had A Difficult Childhood Before His Career Started
He was born and named Richard Kevin Harrison on the 22nd of March, 1965 in Lexington, North Carolina to ex U.S Navy official, Richard B. Harrison, and Joanne R. Harrison. He grew up with 3 siblings, brothers – Joseph Kent Harrison, Christopher Keith Harrison, and a sister diagnosed with Down syndrome at birth, Sherry Joanne Harrison. Sherry, however, died when she was 6 years. In 1967, Rick's father, who was serving in the U.S Navy, had a job transfer and the entire family had to relocate to San Diego, California.
At the age of eight, Rick Harrison endured severe epilepsy resulting in him being bedridden for a long while. In order not to suffer gravely from boredom and idleness, he resorted to antiques and cultivating the art daily through act of reading thereby fueling his interest in everything that has to do with history, and interestingly, physics as well. His family moved once more to Las Vegas, Nevada in 1981. Sadly, on June 25, 2017, his father passed away after a battle with Parkinson's disease.
How He Started The Gold And Silver Pawn Shop With His Father
Just like other areas of his life, Rick's career is full of interesting experiences. He was always enthusiastic about anything related to business and in the 10thgrade, he abandoned his schooling at Taft Middle School in Oklahoma City, Oklahoma in pursuit of more money. Rick's interest in business was inspired by John. D. Fitzgerald's eight-part children's book titled The Great Brain. Rick started the Gold and Silver pawn shop with his father after the family's real estate business failure. In 2005, the pawnshop was beginning to gain popularity as it was recorded to have been making seven hundred thousand dollars in interest from loaning out three million dollars.
Gold & Silver Pawn Shop was featured in the 2003 comedy show Insomniac with Dave Attell. After receiving positive feedback, Rick Harrison relentlessly recommended the idea of a television show that illuminates what happens in a pawn shop and after four years of waiting, the history channel finally bought the idea.
The show's original name was Pawning History but was changed to Pawn Stars, which was a good choice as it helped the show's name to blossom with popularity because the play on words gave it a nice ring. In addition to this, Harrison has other business endeavors such as the new strip mall, Pawn Plaza, located along the Vegas Boulevard just on the south side of the pawnshop which attracts customers.
Rick Harrison's Career Has Made Him A Multi-Millionaire
Rick Harrison has a very interesting and broad career, all of which have contributed in making him a millionaire. Beyond his fame as a TV personality, Rick is an amazing orator and a great writer; he published a book titled License to Pawn in 2011.
He is worth approximately $8 million. The successful business magnate was able to pile up his wealth from his work in the pawn store where he gained unique skills and also from his involvement in sales of fake designer bags from which he was recorded to have gained more than two thousand dollars weekly. He is popularly known as "the spotter" because of his distinct ability to spot undervalued merchandise anywhere.
Following the death of his father, he did not get anything added to his fortune as the older Harrison kept him out of his will. A previous version of the will had his name, but with the updated will in 2017, his name was omitted. The reason why Rick was left out of the will has not been made public till this day.