When Ricky Whittle was modelling for Reebok brand in the early 2000s, he wasn't certain he would end up tilting his career to acting. It was not a matter of fate or luck for Ricky who explored all areas in his quest for success. The England-born who was bullied in his school for being the only black kid didn't wait for fate to write his own stories. Here are facts you need to know about the talented actor.
Ricky Whittle's Age & Ethnicity
He was born on November 23, 1981, in Oldham, England to his parents; Harry, his Jamaican father and Maggie (Goodwin), his British mother. Growing up with a military father, Ricky who was the oldest of three children had to move with his parents to different countries. One of the countries where the family dwelt for a long time was in Northen Ireland where Ricky attended school. His Northern Ireland diaries include episodes of him desiring to be white as a result of racial bullying at school.
He had his tertiary education in Southhampton. But before then he had been eyed for professional football by Arsenal and Celtic football clubs. This venture was short-lived after Ricky sustained an injury. Moving to Southampton Solent University, he took up a course in Law and combined his studies with modelling in order to foot his school bills.
His modelling journey pushed him to prominence when in the early 2000s, he became the face of a footwear brand, Reebok. This was immediately followed by his acting debut in the British TV series DreamTeam ( 2002). This was when he knew that acting has always been in his focus. The ninth series of the show ended in 2006 and Whittle left then. That same year he landed another role of 'Calvin Valentine' in another show Hollyoaks that aired on Channel 4. Whittle left the show in 2009 and went on to feature on the 7th season of BBC's Strictly Come Dancing, paring with professional dancer Natalie Lowe.
See Also: Terrence Howard Spouse (Wife), Kids, Parents, Height, Net Worth, Biography
Later on, Whittle who always wanted to make a name in American television travelled to Los Angeles to make that dream a reality. He took his first step into the platform when he was signed under popular manager, Ken Jacobsen. He made his debut in American TV in the feature film Austenland (released in 2013). He landed a more significant role in comic-drama Single Ladies in 2012. Whittle was getting more noticed by producers as well as more attention. He made an appearance in six episodes of the 2012 series Atlanta after he so much impressed the producer Stacy A. Littlejohn at the auditioning stage.
After an impressive performance in the first season of post-apocalyptic drama The 100 in 2014, the actor was given a nod to continue in the season 2 as his regular character 'Lincon'. He was getting so much attention in American screens. While still filming The 100, he got another role in ABC's drama series, The Mistresses appearing in 10 episodes. 2017 was, even more, promising for the actor as he got a major role in the popular movie American Gods, which was an adaptation of Neil Gaiman's novel of the same title. It didn't stop there, Whittle in 2017 was cast in the popular Netflix movie Nappily Ever After (2018), largely based on the novel by Trisha R. Thomas. It has not been an all smooth ride for Ricky Whittle, but then, he has remained steadfast through it all.
Details of His Family and Love Life
Ricky Whittle is not the celebrity who keeps bare everything about his personal life. But what we do know is that due to the fact that his father was Afro-Jamaican ethnicity, the actor suffered bullying to the point of wanting to change his skin color to white. Speaking in one of his interviews, he told stories of how kids at school would ask if he was painted by God, as well as other racial comments. But he was always encouraged by his British mother to embrace his color which he will one day come to appreciate.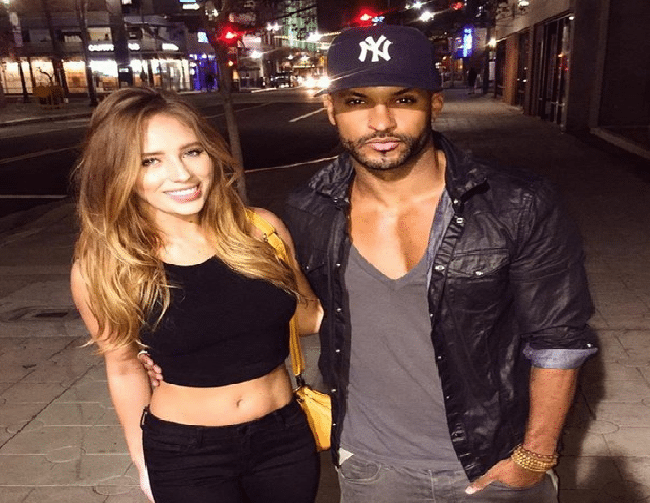 Due to his private nature, it cannot be ascertained if the actor is or have been married to anyone. But reports have it that he once dated colleague Carley Stenson who was his co-star in Hollyoaks series. The two ended their relationship after 3 years but remained friends. He is dating the beautiful Kirstina Colonna at the moment. The couple began dating in 2016 and have been together since then. Whittle does not have any kids from his relationships.
Is He Gay?
Owing to his reserved exterior, people have quizzed into the sexuality of the actor. But even as the aforementioned question pops up occasionally, Whittle himself has never given a nod to the assumptions.
Height, Weight, & Body Measurements
Ricky Whittle perfectly fits into modeling for the very obvious reasons. With his tall and well-shaped body, and his well-partitioned six-packs as well, it won't be wrong to say that he can model till he is 80. The talented actor stands at a tall height of 6 ft, 1 in (1.85 m) which is quite proportional to his weight of 95 kg (210 lbs).