Ringo Starr's wife is Barbara Bach, a 76 year-old American actress and model born on August 27, 1947. She is famous for her marriage to the former Beatles drummer Ringo Starr. The pair have no children together but both had kids from their previous marriages.
Bach, who was one of the hottest models in the late 1960s and early 1970s, was previously married to Italian businessman Augusto Gregorini. The actress who featured in many movies, including the James Bond movie, The Spy Who Loved Me, where she played Bond girl Anya Amasova, had two daughters with her ex-husband. Starr, on the other hand, had three kids with ex-wife Maureen Cox.
Summary of Barbara Bach's Biography
Full Name: Barbara Bach
Gender: Female
Date of Birth: August 27, 1947
Barbara Bach Age: 76 years old
Place of Birth: New York, New York, United States
Ethnicity: White
Nationality: American
Marital Status: Married
Barbara Bach's Husband: Ringo Starr (m. 1981)
Barbara Bach's Ex-Husband: Augusto Gregorini (m. 1966–1978)
Children: Francesca Gregorini, Gianni Gregorini
Parents: Marjorie and Howard Goldbach
Barbara Bach Height in Inches: 5 feet 7 inches
Barbara Bach Height in Centimeters: 170 cm
Weight: 57 Kg (126 lbs)
Famous For: Acting Career and Marrying a Beatles Star
Who is Ringo Starr's wife Barbara Bach?
Barbara Bach, who is the gorgeous wife of the famed musician Ringo Starr, was born to her parents; Howard Irwin and Marjorie Mary Goldbach as Barbara Goldbach on the 27th of August 1947 in Queens, New York. Her father was a Police officer while her mother was a homemaker. She has three siblings, one elder brother, and a younger sister and brother. Her sister, Marjorie Bach is the spouse of Joe Walsh, a rock guitarist, and singer who has been a member of five successful rock bands including Ringo Starr & His All-Starr Band.
Concerning her education, Barbara Bach is an alumna of Dominican Commercial High School. She went on to acquire her post-graduate degree in Psychology in 1993 from the University of California, Los Angeles (UCLA). She is multilingual as she can speak English, French, Italian and Spanish fluently, an attribute that has hugely contributed to her career success.
Soon after the completion of her high school education, Ringo Starr's wife put a start to her modeling career by getting associated with Eileen Agency in New York. She then moved on to become one of the supermodels of the 1960s as she graced the cover of many widely read magazines such as Vogue, Gioia, Elle, and Seventeen.
As a result of her modeling work in Italy in the late 1960s, Bach landed her first acting role as Nausicaa in the Italian TV miniseries, L'Odissea (The Adventures of Ulysses) in the year 1968. In the same year, she starred in the Italian movies, Mio Padre Monsignore as Chiara and La Tarantola dal ventre Nero ( Black Belly of the Tarantula) as Jenny. Two years later, she had a role in another Italian film titled La Corta notte delle bambole di Vetro (Paralyzed/Short Night of Glass Dolls).
Bach then followed it up by taking up the role of Héloïse/Elvire in the French movie Un Peu de Soleil dans l'eau froide (A Few Hours of Sunlight/ A Little Sun in Cold Water). Despite her appearances in many movies, she only became a movie star following her portrayal of Russian Spy Anya Amasova in the James Bond movie, The Spy Who Loved Me.
Having starred in several Italian and French movies, it was assumed that Ringo Starr's wife was European and as a result, she couldn't land roles in American movies. However, she had a breakthrough with the 1980 American teen comedy movie, Up the Academy where she was cast as Bliss. She further landed roles in other American films like Cavemen, The Unseen, and Princess Daisy.
Prior to going on a long-acting break since making her last movie appearance in the 1986 movie, To the North of Katmandu, Barbara Bach displayed her acting skills in movies such as L'Isola degli Uomini Pesce (Island of Fisherman and Screamers), L'Umaniode (The Humanoid), Force 10 From Navarone, among others.
How Many Children Does Barbara Bach and Ringo Starr Have?
Ringo Starr's wife entered into matrimony with her husband in April 1981 after the two got acquainted during the movie production of Cavemen in the previous year. Their marriage was a low key event and it took place at London's Marylebone Register Office. The couple, who are both in their second marriages, have been together for nearly four decades. They have regardless not been able to bring a child into the world but having been previously married, both had children from their first marriages.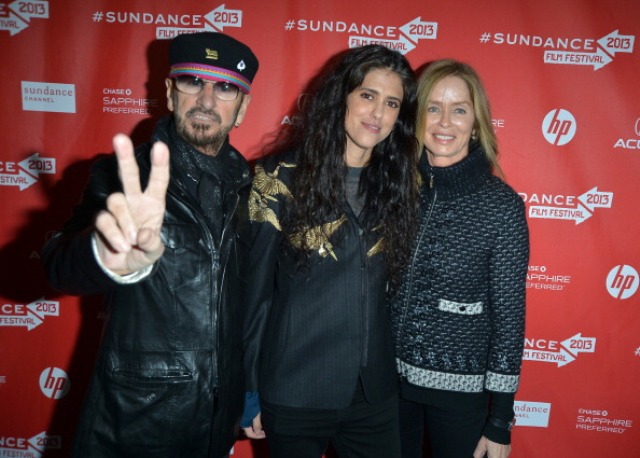 Barbara Bach's first marriage was with Italian businessman August Gregorini in 1966. Together, they share two children; a daughter Francesca who was born in 1968 and a son Gianni born in 1972. Her daughter works as a writer and director and her directorial credits include Tanner Hall and The Truth About Emmanuel which she wrote, directed and produced.
Barbara's husband, on the other hand, was previously married to Maureen Cox in 1965. They divorced in 1975 after bringing in three children to the world. They include Zak (born in 1965), Jason (born in 1967) and Lee (born in 1970).