Is it possible that this popular actor born Robert Helper Lowe on March 17, 1964, in Charlottesville, West Virginia, has a son? Yes, the actor does not just have one but two sons with his beloved wife of almost three decades.
Unlike his sons, Rob Lowe battled numerous challenges while growing up. At the young age of 5, his parents divorced and his mother, Barbara Lynn, relocated to Dayton, Ohio and remarried. The 5 feet 11 inches tall actor was then raised in a traditional American setting before later launching his career. Things did not, however, go smoothly as he moved towards the wrong path, battling with alcoholism and drugs abuse. But after successfully fighting off his demons, he broke into Hollywood at the age of fifteen, making his TV acting debut in a sitcom called A New Kind of Family.
By the late 1980s, when things appeared to be going very well for him, Lowe's sex tape that involved him and a minor was released. In the twinkle of an eye, his fame and reputation were at an all-time low, forcing him to spend time away from Hollywood. A few years later, Lowe made his comeback and has since remained a force to reckon with.
While many people might only know about Rob Lowe the actor, there is another side of him that is worth mentioning, as he is also a good family man. The actor has always expressed his appreciation for his lovely wife for not just her love and support, but for giving him two sons to carry on his name.
Does Rob Lowe Have A Son?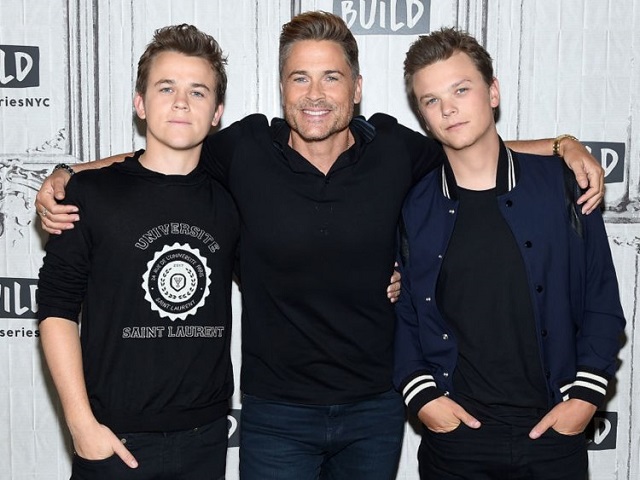 As answered above, Rob Lowe does not just have a son, but two. The actor got married to his heartthrob – Sheryl Berkoff, in the year 1991. They were said to have met on a blind date in 1983 when the lady was dating Lowe's friend, actor Emilio Estevez.
In 1990, the duo met again on the set of Lowe's movie, Bad Influence. The following year, they walked down the aisle and became husband and wife. Their marriage has spanned almost three decades and by all indications, they appear to be going strong.
Berkoff is a makeup artist, a profession she has carefully embraced with a committed sense of responsibility. Films like Bad Influence, Frankie and Johnny, Eve of Destruction, Dogfight, The Dark Backward, as well as other music videos have had her professional touch. Additionally, she runs a custom jewelry design line that has earned her a good living as well as connections with the literati and glitterati.
The union has produced two sons; Edward Matthew Lowe and John Owen Lowe. While the former, who was born on September 24, 1993, is a 2016 graduate of Duke University, the latter, who was born in 1995, is a 2018 graduate of Stanford University.
Rob Lowe's son, John, has proven to have a decent sense of humor as he constantly trolls his father on social media. He frequently drops silly comments on his father's posts, particular on ones where his father is shirtless, which becomes a source of amusement to fans.
See Also: Ellie Harvey – Bio, Kids, Parents, Facts About Jason Day's Wife 
What Are His Kids Are Doing Now
Being the children of a superstar actor father and a makeup artist mother, all eyes have been on Rob Lowe's sons in anticipation that they tow the paths of their parents in the entertainment world. As expected, the smart boys have gone ahead to follow in their parent's footsteps.
On his Instagram profile, the older Lowe son, Matthew Edward, describes himself as an actor, photographer, and explorer, while the younger one Jon says he is a writer, actor, and manager.
In 2017, Rob and his boys appeared on the reality TV Show, The Lowe Files. In the show, they traveled around the country to explore unsolved mysteries. John Lowe further recently appeared in the comedy series The Grinder where he assumed the role of Joel Zadak. Aside from that, he has also starred in other productions including A Canine Affaire.
Both sons have further made appearances on Extra and Entertainment Tonight, as well as other television shows where they have granted interviews and answered questions based on their family and what their career choice is.