There may be a thousand and one things that make a good father but it boils down to ensuring your kids have a stable and good life. For some, the ugly experiences of their childhood, orchestrated by being raised in a broken home, have made being a good father a difficult task. But there are those that would do whatever it takes to prevent their kids from having a traumatic upbringing like theirs, Rob Lowe belongs to the latter category.
An American actor, producer, and director, Rob battled numerous challenges while growing up. At the young age of 5, his parents divorced and his mother, Barbara Lynn, relocated to Dayton, Ohio, and remarried. When he kicked off his career in the entertainment industry, he battled alcoholism and drug abuse. Also, by the late 1980s, when things appeared to be going very well for him, he was caught in a sex tape scandal with a minor and that almost ruined his career. All of these occurrences make a fountain of life experience that the actor accesses in raising and guiding his kids.
Rob Lowe's First Son Is A Graduate Of Duke University
Full Name: Matthew Edward Lowe
Date of Birth: September 24, 1993
Occupation: TV Personality and Photographer
A graduate of Duke University, we are yet to authenticate what Matthew studied at the private university located in Durham, North Carolina; but there is a reason to believe he studied law as he describes himself as an attorney on his Instagram page. Also, his Twitter handle claims he attended Loyola Law, a law school of Loyola Marymount University which is a private Catholic university located in Los Angeles, California.
If truly he's an attorney, then we must assert that he hasn't been taking that career path seriously. He is obviously pursuing a different career path that hardly connects to the legal department. As far as we can tell, he has done more as a television personality, appearing in multiple television series. The first, to the best of our knowledge, was in 2016 when he appeared in an episode of "The Insider".
Between that year and the next, he appeared in at least two episodes of "Entertainment Tonight". Also in 2017, he appeared in multiple shows like "The Ellen DeGeneres Show", "The Tonight Show Starring Jimmy Fallon", "The View", "Extra with Billy Bush" and "The Lowe Files".
The first son of Rob Lowe also has a passion for photography which he is tapping into in his career ventures. He might still emerge as a practising attorney but for now, Matthew is enjoying the perks of the entertainment industry.
The Second Son In The Lowe Family Graduated From Stanford
Full Name: John Owen Lowe
Date of Birth: 1995
Occupation: Actor and Writer
A 2018 graduate of Stanford University, this Rob Lowe's son has a decent sense of humour and dutifully trolls his father on social media. He frequently drops silly comments on his father's posts on Instagram to the amusement of fans.
With regard to what he does for a living, John Lowe is an actor and a writer. Like his brother, he has been featured in multiple television shows like "Extra with Billy Bush", "The Insider", "Entertainment Tonight", "The View", "The Tonight Show Starring Jimmy Fallon", "The Ellen DeGeneres Show", and "The Lowe Files".
As a writer, he has been credited for writing the "Friends Like These" episode of the TV Series, "9-1-1: Lone Star". John has a lot to accomplish if he must attain the status of his father in acting. So far, he is only known for playing Luke in 2019's "Holiday in the Wild", Huck in 2014's "A Canine Affair", and Joel Zadak in at least five episodes of "The Grinder". This was between 2015 and 2016.
Rob Lowe Had Both Of His Sons With Sheryl Berkoff
Date of Birth: June 20, 1961
Occupation: Make-up Artist, Jeweller, and Fashion Designer
Duration of Marriage: 1991 – Present
While many people might only know about Rob Lowe the actor, there is another side of him that is worth mentioning, as he is also a good family man. The actor has always expressed his appreciation to his lovely wife for not just her love and support, but for giving him two sons to carry on his name.
The actor got married to his heartthrob, Sheryl Berkoff, in the year 1991. They were said to have met on a blind date in 1983 when the lady was dating Lowe's friend, actor Emilio Estevez.
In 1990, the duo met again on the set of Lowe's movie, Bad Influence. After nursing a relationship that would stand the test of time, the following year, they walked down the aisle and became husband and wife. Their marriage has spanned almost three decades and by all indications, they appear to be going strong. Despite their long years together with two grown-up kids between them, Rob Lowe and his wife are still smitten with each other. They are often seen in public events together and never fail to grab attention.
Berkoff is a makeup artist, a profession she has carefully embraced with a committed sense of responsibility. Films like Bad Influence, Frankie and Johnny, Eve of Destruction, Dogfight, The Dark Backward, as well as multiple music videos, have had her professional touch. Additionally, she runs a custom jewellery design line that has earned her a good living, as well as connections with the literati and glitterati.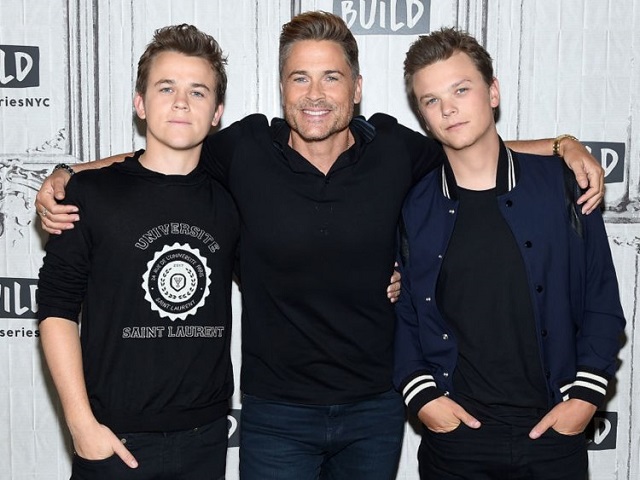 As seen above, the union between these lovely people has produced two sons; Edward Matthew Lowe and John Owen Lowe, who are equally busy putting their creativity to good use like their parents. Being the children of a father who is a superstar actor and a mother who has thrived as a make-up artist, all eyes have been on Rob Lowe's sons in anticipation that they would toe the paths of their parents in the entertainment world.
As many expected, both Edward and John have decided to build their careers in the competitive industry, despite studying other professional courses in school.