How tall is Rob McElhenney and what is his weight? Rob McElhenney's height is 5 feet 9 inches, which translates to 1.75m and 175cm. He also weighs 75kg (165 lbs.), however, his body measurements are unknown to the public.
Hollywood has witnessed its fair share of extreme body transformations. Stars such as Christian Bale, Robert De Niro, Daniel Day-Lewis, and Natalie Portman have all gone to drastic lengths in a bid to effectively portray a character. Another individual who tows this line is Rob McElhenney. McElhenney is the co-creator, as well as a star of the long-running sitcom, It's Always Sunny in Philadelphia. The actor has gone from Fat Mac to Ripped Mac all for the purpose of his craft. Check out all the extreme body changes he has undergone, everything you should know about Rob McElhenney's body measurements.
What Is Rob McElhenney's Height?
Rob McElhenney's height is 5 feet 9 inches which translates into 1.75m. Rob McElhenney's height means that he is one of the tallest stars on It's Always Sunny in Philadelphia. Other stars of the show are Glenn Howerton who stands at 5 feet 10 inches (1.78m), Kaitlin Olson at 5 feet 8 inches (1.73m), Charlie Day at 5 feet 6 inches (1.7m), and Danny DeVito at 4 feet 9 inches (1.47m).
How Much Does He Weigh?
Rob McElhenney's height has remained constant, as can be naturally expected, but his weight is a different ball game altogether. The TV star has no qualms about packing on the pounds, or even losing it, all for the sake of his craft. He has consistently mesmerized fans with his various body transformations in the course of his long-running sitcom. The actor's weight is presently listed at 75kg (165 lb).
Rob McElhenney's Body Measurements and Transformations
Rob McElhenney As Fat Mac
Apart from his height and weight, other details of Rob McElhenney's body measurements are not publicly available but his body transformations are the stuff of legends. McElhenney first packed on the pounds in between the sixth and seventh season of Its Always Sunny in Philadelphia. This was in 2010/2011, and he did so in order to make his character funnier. McElhenney started out at 160lb, and gained an additional 60lb, to reach 220lb. He achieved this feat by eating five 1000-calorie meals per day. These meals consisted of three chicken breasts, two cups of rice as well as two cups of vegetables. He later progressed to Big Macs, three doughnuts as well as high-calorie protein.
Once McElhenney felt that he had achieved his aim of making his character funnier, he immediately embarked on a weight loss program. He took to working out three times a week and most importantly, stopped eating so much. According to the actor, even though he is fortunate to have a great metabolism, the truth is that reduction in the amount of food intake leads to weight loss no matter how slow one's metabolism is.
Rob As Ripped Mac
Rob McElhenney once more stunned the internet by posting a picture of himself, looking all ripped, in September 2018. The TV star further disclosed that his new shape was because of two reasons. The first was the fact that a ripped physique had become a normal cultural phenomenon on TV. The second was to enable him to successfully execute a story arch. McElhenney's character on It's Always Sunny in Philadelphia was renowned for his macho and aggressive ways. He often espoused right-wing views but later turns out to be gay. He thus embarks on a body transformation in order to ease the coming out process.
In his Instagram post, Rob McElhenney revealed that his fitness regime took him about six to seven months, and was paid for by the studios. In his own words, the regimen included lifting weights six days each week, not drinking alcohol, eating anything after 7 pm, or eating carbs or sugar at all. In addition to that, he had to sleep for nine hours each day, run 3 miles, and stretch for about an hour. The TV star also revealed that he had the help of the personal trainer who worked with Channing Tatum on Magic Mike.
Reactions To Rob McElhenney's Body Transformations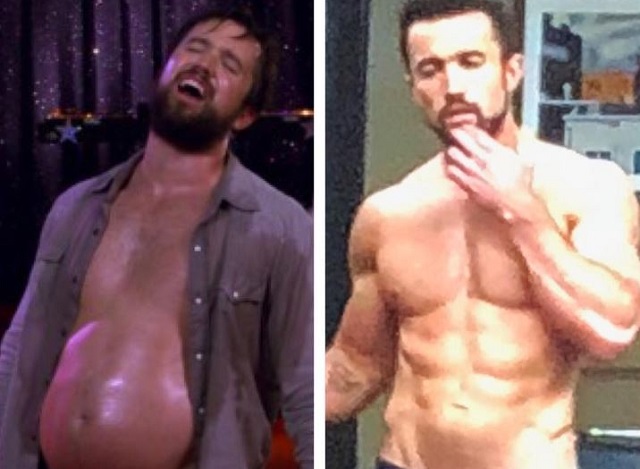 All of McElhenney's hard work has not gone unnoticed. Some have described him as the Daniel Day-Lewis of TV, while others have drummed up support for an Emmy award. There are those who took to Instagram to share their thoughts. One pointed out that the TV star is so dedicated to a joke that he would go to extreme heights for it while another quipped that he would love to crush his head under McElhenney's enormous biceps.
McElhenney's co-stars were however more reserved in their enthusiasm. One of them, Charlie Day, has disclosed that they were worried about his personal health and safety. He also remarked that it was disgusting to watch him go through the process.