Rob Schneider may be a self-disparaging comedian, but he is undoubtedly one of the funniest people alive. The comedian has shown his expertise in other fields such as acting, screenwriting, as well as directing. His early attempts at making a career as a funny person got the perfect green light that saw him make a beeline for immense fame on the NBC comedy show, Saturday Night Live.
Since he found fame, his personal life has come into focus. The comedian/actor has been married thrice, and the marriages produced three children, including one famous daughter. Here is a thorough look at Rob Schneider's family, starting with his first marriage to London King.
Rob Schneider's Marriage To London Produced A Music Star
Rob Schneider's marriage to London King, a former model, and actress did not last – the union endured for two years between 1988 and 1990. They met in Las Vegas during his Saturday Night Live fame in 1988, and three days after, on September 25, they got married. That shotgun wedding resulted in the birth of a daughter, Tanner Elle Schneider, aka Elle King, on July 3, 1989.
She's Rob Schneider's first child and London King's second, having given birth to a son, Noah, in 1986. Despite sharing a daughter, skipping courtship before marriage proved costly, and the couple had a tumultuous relationship. Two years after their exciting Vegas wedding, they ended their marriage on September 1, 1990.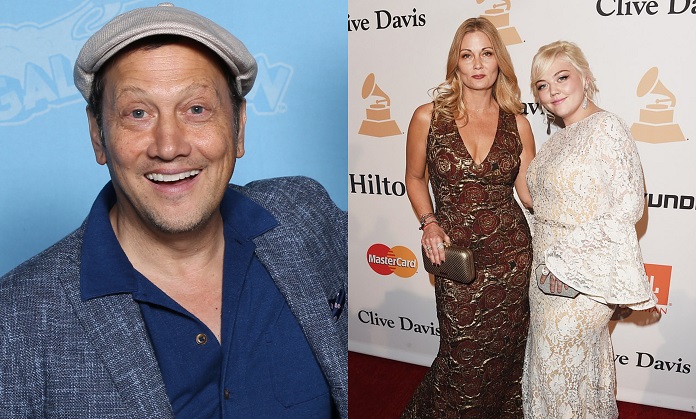 Divorced, their daughter, Tanner Elle, grew up in London's custody in Southern Ohio, where she lived with her new husband. While growing up under her stepfather, she discovered a passion for music, vowing to make a career out of it.
Elle King Has Multiple Albums To Her Name
Elle King may not have grown up exclusively under her father, but she shared his creative drive. She began playing the guitar at the age of 13 and studied the music of icons like Aretha Franklin, Etta James, Johnny Cash, and Otis Redding. King had an affinity to country and bluegrass music.
She also took an interest in acting and debuted as an actress in Rob Schneider's 1999 film, Deuce Bigalow: Male Gigolo. But music remained her primary interest, so she began performing in local music scenes around New York City. She was eventually discovered by an official for RCA Records, who signed her to the label in 2012.
Since then, Elle King has released two studio albums, one EP and eleven singles. Her debut album, Love Stuff, reached #26 on the US Billboard 200, and the second, #68. Love Stuff sold more than 600,000 copies and charted in nine major music markets, including Canada, UK, and Australia. Her second album, Shake the Spirit, released in 2018, charted in the US, Canada, and Scotland.
Elle King and Rob Schneider initially had a strained relationship due to Rob's workaholic nature. It was a trait that impacted their relationship during her childhood years.
But with years passed and a lot of personal growth, the two have reconciled and developed a strong bond. His two daughters from his third marriage are pretty close to him as well and are credited for mending the strained relationship he had with Elle.
Rob Schneider Has Been Married to Patricia Azarcoya Arce Since 2011
Before his marriage to Patricia, Rob Schneider gave marriage a second shot, with a woman only known as Helena. Helena and Rob Schneider reportedly met in 2001 and dated for several months before they got married in 2002. We don't know much about their marriage, and she barely featured in the actor/comedian's public life. After three years together, they got divorced, with no children shared between them.
With another failed marriage under his belt, Rob Schneider met and began a relationship with Patricia Azarcoya Arce. Despite an age difference of 21 years between them, they started dating after meeting on the set of a TV show she was producing at the time.
The comedian was patient in the relationship, refusing to rush things. They dated for six years before getting married on April 23, 2011. They got married in a private ceremony in Beverly Hills, in the presence of close friends and family.
Since they got married, the couple has given birth to two children. Their first child, Miranda Scarlett Schneider, was born in 2012. The second, Madeline Robbie Schneider, was born four years after in September 2016. Rob Schneider and his family live in San Marino, California, and they are fans of the Mexican soccer team, Tigres.
The birth of Rob's two daughters did not only expand his family but also helped bring other members closer. Elle King credits the children for bringing everyone together. According to her, the singer wanted her half-siblings to have good memories of her. Thus, prompting efforts from both parties to put the past behind them.
Patricia Azarcoya Is A Television Producer And Actress
The gorgeous Patricia Azarcoya Arce (Maya) Schneider hails from Mexico. Before moving to the US, she was a model, where she had a modestly successful career, allowing her transition to working behind the camera. We don't know much about her background, but she has been working since at least 2006, when she appeared in the short film, Alkahest.
Since then, she has worn different professional hats. She has been an actress, writer, TV producer, and casting director. As a producer, she worked on several local Mexican programs, like El monchis, Guerra De Chistes, El pelado de la noche, and CuentameLove.
Her first English project was the short documentary, Reformer. The second and her most renowned work is the Netflix comedy reality TV show, Real Rob. Patricia has produced all 16 episodes of the show about her husband and their family. She also stars in it, writes, and works as a casting director. Other acting credits in her filmography include another short film, Fight or Flight and Planeta 5000.
The show is not the only thing Rob Schneider and his wife share either. They are both philanthropists who have committed to causes championed by organizations like the Rob Schneider Music Foundation, Penny Lanes, and The San Fernando Valley Refugee Children Center.