Marisol Maldonado is the wife of Rob Thomas, an American singer, songwriter, and multi-instrumentalist serving as the lead singer of the rock band Matchbox Twenty. Maldonado married Thomas on October 2, 1999, in California. The couple, who have been together for 24 years, have no children together but Thomas has a son named Maison Thomas Eudy from a previous relationship.
Rob Thomas's wife was born in 1970. This means she is 53 years old in 2023. Marisol is a former fashion model and activist. She is the president and co-founder of an animal advocacy group known as Sidewalk Angels.
Rob Thomas and His Wife Marisol Met While Thomas Was Touring Canada With His Band In 1998
Rob Thomas first met his wife (a New York City model of Spanish and Puerto Rican descent) while performing with his band in Montreal, Canada, in the year 1998. The duo was introduced by a mutual friend and in their own words, it was love at first sight. Despite this instant attraction, Marisol initially rebuffed Thomas' advances because of her wariness towards dating a rock star and living the kind of life they led. She later succumbed to her feelings and they commenced a relationship subsequently.
Marisol Became Rob Thomas's Wife in 1999
The first few months of this relationship were conducted by correspondence (especially telephone) as Thomas was busy with his band on tour. He later returned to the United States and he and Marisol embarked on their first proper date, a trip to a music festival in Boston. From that first date came the engagement a month later. The couple's nuptials would then follow on the 2nd day of October 1999 with the ceremony being a private affair that was held at the California home of Thomas' manager.
It has been more than two decades since Rob Thomas and Marisol tied the knot and their love has flourished significantly. Marisol has been a sort of muse for her husband and inspired several of his hit songs, including 2009's, Her Diamonds, as well as the 2016 ballad, Pieces. The former model has also actively managed parts of her husband's career, helping to make it the success that it is today.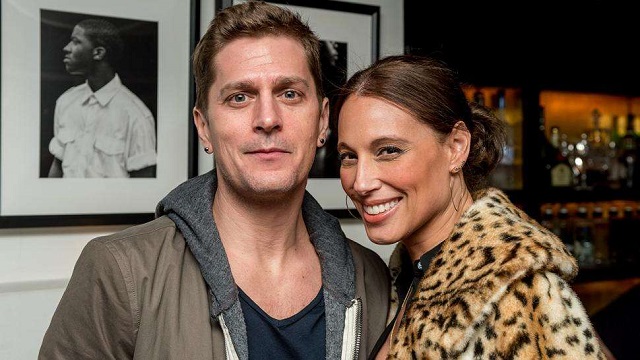 Quick Facts about Rob Thomas' Wife, Marisol Maldonado
She produced the 2007 documentary movie, My Secret Record, which revolved around her husband's life and career.
She is 5 feet 7 inches (1.7m) tall.
Maldonado received an award from the Global Lyme Alliance in 2017. This was in recognition of her advocacy work on the disease.
She appeared in an episode of the popular MTV show, Punk'd, in 2006.
Her husband received the first David Starlight Award from the Songwriters Hall of Fame in 2014. The award is in recognition of his songwriting exploits.
She featured in the music video for the 1999 hit song, Smooth. The Carlos Santana song, which also featured her hubby, received three Grammy Awards.
How Rob Thomas Has Helped His Wife Cope With Lyme Disease
Rob Thomas and his wife have had an enviable union but the only cloud on their horizon is Marisol's decade-long battle with Lyme disease, a potentially fatal illness that is spread by ticks. It manifests in different symptoms such as numbness, seizures, pain, and has different types of treatments. Marisol first began battling the disease just four years after the couple tied the knot. She visited countless specialists and hospitals but they wrongly diagnosed her with lupus, multiple sclerosis, and the likes.
This wrong diagnosis made it difficult to actually pinpoint her problem and treat her properly, so, the lady suffered in agony for years. She then got relieved after a doctor finally diagnosed her correctly in the year 2015. Marisol now relies on a mixture of pharmaceutical drugs, as well as holistic therapies for her treatments. They certainly help but she still has her bad days and Thomas is right there for her. According to the lady, her husband has literally done everything for her since day one and never complained about it. This makes her describe him as "her everything" but she does worry about the opportunities that he may have lost due to the demands of her sickness.
Thomas, on his own part, wouldn't change a thing and has maintained that everything he does for his wife is out of his own good heart as nobody is forcing him to do them. The singer has admitted that it can be quite tiring and frustrating at times being a caretaker but he does try to talk out the negative feelings with his wife. He has also stated that he sometimes suffers from survival guilt.
Thomas And Marisol Do Not Have A Child Together But There's A Son From A Previous Relationship
Marisol's battle with Lyme disease has cost her and Thomas significant things such as holidays and social lives. Another area where it has dealt a blow is their hopes of having a family. Due to the poor state of the former model's health, she can't subject herself to the rigours of childbearing and the couple has been forced to make their peace with that fact. Thankfully, Rob has a son from a previous relationship, named Maison Thomas-Eudy, and they can shower all their love on him. Maison was born on the 10th of July 1998. He's studying music at Berklee College of Music, Boston and has a band named Hand Made House, which deals in the 90s' alternative music.
When not busy with Maison, Rob Thomas and Marisol occupy themselves with their charity initiative known as the Sidewalk Angels Foundation. This is a nonprofit organisation which provides funds to no-kill animal shelters and rescues all across the United States. They also help like-minded people who want to set up something similar with the funds with which to do such. Thomas and his wife started Sidewalk Angels around 2005 and they have been able to build more than 30 shelters around the United States of America. They assist them with medical supplies, as well as other resources that they need to effectively carry out their work.
Another pet project that Thomas and his wife share is their involvement in raising awareness about Lyme disease. They have been quite open with how hard the journey has been for them in the hopes of letting people know more about the disease. This forthrightness has led to accusations that Marisol is only using her diagnosis as a sort of publicity stunt but the former model refuses to let such hurtful insinuations get to her. She has continued to tirelessly advocate for people like her and this fetched her recognition from the Global Lyme Alliance at their 3rd annual New York gala in 2017. Thomas himself has also performed multiple times at the event, all in a bid to raise awareness.
Rob Thomas Endured A Rough Upbringing On His Way To Stardom
Robert Kelly Thomas may well be one of the biggest and most popular rock stars of his generation but getting to that status was anything but easy. The singer's parents got divorced when he was just two and it fell on his mother, Mamie, to take care of him and his sister named Melissa. The lady did her best but often lacked the money to adequately provide for her children. She thus moved around with them a lot until they settled down in Lake City, South Carolina, with their grandmother.
Unfortunately, grandma turned out to be an alcoholic and introduced Thomas to powerful substances while he was just in middle school. He would continue in this stead all throughout his teenage years and the dysfunctionality of his personal life was further complicated after his mother, who he described as a chronic alcoholic, was diagnosed with Hodgkin's lymphoma in 1984. Around that time, Thomas' elder sister ran away, leaving him to cater to their ailing mother alone.
Throughout this bleak period, one thing that kept Rob Thomas sane was music. He loved the likes of Johnny Cash and Merle Haggard and took to teaching himself how to play different instruments, including the piano and guitar. A few months before his high school graduation, Thomas suddenly dropped out of school due to the turbulence in his personal life. Sadly, things went further downhill in 1989 when he was convicted of stealing a Camaro and as a result, spent two months in jail; he was only 17 at the time.
After leaving jail, Rob Thomas turned his life around. He played in several cover bands, one of which is Fair Warning, and started to write songs. By the year 1993, he formed the band – Tabitha's Secret. The band had Brian Yale as the bass guitarist, Paul Doucett as the drummer, and Jay Stanley and John Goff as guitarists. Thomas was the brain behind most of the band's songs which helped them gain popularity and land performance gigs in Orlando's bars and nightclubs.