Known for his long hairs and full beards, Rob Zombie is a music artist, producer, director, and actor who co-founded the music group, White Zombie. While his group lasted, he made a few top records before eventually setting out to work on his own. Alone, he has released over 5 studio albums. Rob also ventured into acting and as expected performed awesomely. Who really is Rob Zombie? Who is His wife? Does he have a daughter? These and many more answers to these probing questions are all detailed in the article. Enjoy the ride…
Rob Zombie Biography
The White Zombie member came to be on the 12th of January,1965 after he was born in Haverhill, Massachusetts. At birth, he was named Robert Bartleh Cummings, however, the combination of his first name, Robert and the acronym of his band group, Zombie became the name he used in garnering fame. He is the first and the older of the two children belonging to Robert and Louise Cummings. Like him, his younger brother also took to music and is a vocalist for the band, Powerman 500.
As a child, Robert was quite fascinated with horror movies and idolized the likes of Alice Cooper, Bela Lugosi, and Stan Lee. He had a radical childhood, surviving from one riot to another leading him to grow up quickly. He attended Haverhill High School and Parsons School of design.
Musical Career
By the time he became a graduate, Robert had already gained understanding with his onions, then, he co-founded the band White Zombie alongside the very lady who eventually stole his heart for seven years, Sean Yseult. Together, they worked for many years, releasing lots of singles, albums as well as performing tours. Following the release of their debut album, Soul-Crusher in 1987, the duo went ahead to release their second studio album. Growing at a high pace, they caught the attention of Geffen Records and subsequently released their third studio album with them.
White Zombie attained many successes with the record label, in fact, their first released album with the record label sold over 2 million copies in the United States. Their fourth studio album graced their appearance on the Billboard 200, selling over 200 million copies in the United States also. More so, the group's success subsequently pushed Robert to legally changing his name to Rob Zombie sometime in 1996. Sadly, the group disbanded in 1998 after a collaboration with Alice Cooper for the song, Hands of Death.
In as much White Zombie got disbanded, they had their shares of wins in the entertainment industry. While the group lasted, they were notable for their uniquely drafted lyrics and composure.
Rob Zombie after his group disbanded went ahead to work with Mike Judge for the 1996 animated movie, Beavis and Butthead Do America. Meanwhile, on his own, he released his first debut album in 1997 working with various musical celebrities. The album debuted at the number five spot on the Billboard 200, selling over 121 copies the very first week it was released. While still having a joyous ride with the success of his first album, he released American Made Music to Strip By, a song that became his first remix album.
In 1988, Rob Zombie decided to launch his own record label, Zombie-A-Go-Go Records. With his records, he conveniently released lots of music, reaching out to the very heart of his fans.
Movies
As Rob Zombie excelled with music, he also did likewise in acting. He was featured in films like Airheads (1994), Space Ghost Coast to Coast (1997), Spider-Man: The New Animated Series (2003), The 100 Scariest Movie Moments(2004), Slither (2006), Extreme Makeover: Home Edition (2010), Super (2010), Cupcake Wars (2013), Counting Cars (2013), Ink Master (2014), Guardians of the Galaxy (2014), Mr. Pickles (2016), and  Guardians of the Galaxy Vol. 2 (2017).
He also directed movies like House of 100 Corpses, The Devils Rejects, Halloween Remake, The Haunted World of El Superbeasto, CSI: Miami Director Season 8, Tom Papa: Live in New York City and lots more.
Net Worth
It is no doubt that Rob Zombie has been involved heartily with the affairs of the entertainment industry. He is a man who started out with music and has gone ahead to do more! His albums have sold throughout the globe and his musical style is overwhelming. The former White Zombie frontman is estimated to be worth $40 million.
Wife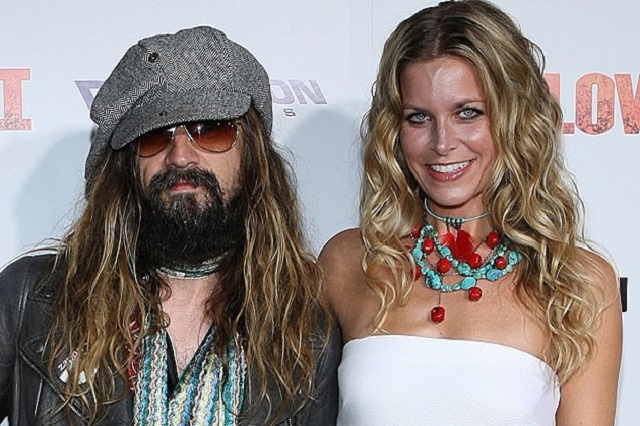 Rob Zombie was first known for his relationship with Sean Yseult, the two dated for a period of seven years before their relationship hit the rocks. He was quiet about the ongoings in his love life until 2002 when he announced his engagement with Sheri Moon. The two were a pair of whacky fellas who loved to do things differently. Few days before their intended elaborate wedding, the duo took to their heels and got married in a private ceremony. Subsequently, Sheri adopted her husband's last name, Zombie.
See Also: Lindsey Morgan Age, Ethnicity, Height, Measurements, Dating, Boyfriend
Daughter 
Well, there have been questions popping up about the daughter of the legendary musician even though he has not revealed that he and his wife, Sheri shares any. Some sources say that he is yet to have any kids of his own, however, a girl named Angel Zombie recently made claims that she belonged to the couple.
These claims made by Angel is yet to be confirmed or denied by any of them but from what we gathered, Angel claims to be a teen and often helps her dad out with a few of his studio works.
Height
Known for his long hairs and full beards, Rob Zombie is not one to say he has an athletic body physique, However, his looks are quite charming. He stands at a height of 5 feet 8 inches tall.