Movie stars don't come any bigger than Robert Downey Jr. The American actor, who is well known around the world for his role as the Marvel Cinematic Universe (MCU) superhero Iron man and billionaire playboy Tony Stark, is one of the most successful in his generation and we have got the facts to prove it.
Downey Jr. is the second highest-grossing box office star of all time thanks to him featuring in several highly acclaimed projects, including Sherlock Holmes, Chaplin, Tropic Thunder, and MCU movies like Iron Man and Avengers: Endgame. His performance in these movies and others has earned him one BAFTA and two Golden Globe awards among other recognitions.
All these accomplishments in themselves are enough to leave one speechless but what makes it even more unique is the demons that Downey Jr. had to surmount to get to where he is today. For several years, the actor battled drug addiction, a problem that goes way back to his childhood and his dad.
Robert Downey Jr's Illustrious Hollywood Background
Robert Downey Jr was born on April 4, 1965. The younger of two children, he was named after his father, Robert Downey Sr. who was a retired actor, director, producer, writer, and cinematographer. The senior Downey began writing and directing low-budget movies, which were of an anti-establishment nature, in 1961 and gained an underground following. He was specifically known for his work on Ball's Bluff (1961). His greatest breakthrough was, however, his writing and directing of the underground film, Putney Swope.
Robert Sr's most recent film was Rittenhouse Square in 2005. It could be said that the older Downey laid the groundwork for his son's movie career after casting him in his first projects. Unfortunately, he also exposed his son to undesirable habits which nearly ruined his life.
His Mother and Sibling Also Had Acting Careers
Downey's mother was named Elsie Ann (nee Ford). She is a native of Pittsburgh and was born in April 1934. She dabbled into acting in her 30s but unfortunately, her acting career was largely unremarkable and she only got to feature in projects that were directed by her then-husband, Robert Downey Sr. They include Chafed Elbows (1966), Pound (1970), Greasers Palace (1972), and Moment to Moment.
Like her son, Elsie also suffered addiction problems and this perhaps hindered her chances as an actress. She, however, lived a full life with her kids and grandkids and passed away at the ripe age of 80 in the year 2014.
Downey Jr's only sibling, a sister named Allyson, also tried her hands at acting. Born in November 1963 in New York City, Allison initially appeared in two of her father's films titled Pound (1970) and Up The Academy (1980). She then went on to work as a dancer and model before founding a talent management company named Downey Management.
Downey Management unfortunately folded and Allyson now has a production company known as Multiple Choice Productions. Under the banner of the company, she has produced and starred in a movie named Tribeca's G-Spot. She has also featured in other movies such as Funny Valentine (2002).
Downey Jr's Acting Debut and How He Managed To Score an Oscar Nomination at 27 Years
With his father in the affairs of film making, Robert Downey Jr had his very first movie appearance at the tender age of 5 when he was cast to play the role of a sick puppy in the absurdist comedy, Pound. He then played minor roles in other movies by his father before going on to appear in a string of coming-of-age movies which helped to lift him to the limelight.
One such films was the 1985 drama film, Tuff Turf, which revolved around an intelligent teenager named Morgan who is bullied in his new school. He, however, becomes notable for his singing skills and battles back against his tormentors. Tuff Turf featured James Spader as Morgan while Downey Jr portrayed his reliable sidekick named Jimmy Parker. The movie was quite popular with the viewing public and this helped Downey Jr to land roles in films such as Weird Science (1985), Less Than Zero (1987) True Believer (1989), and Charlie Chaplin (1992), which fetched him an Oscar nomination.
Charlie Chaplin was a biopic comedy-drama that captured the life and times of famous British comedian, Charlie Chapin. Downey Jr portrayed the lead character and he went to great lengths to expertly capture all the idiosyncrasies and quirks of Chaplin. All his hard work later paid off as he received praise for his spellbinding performance even though the film was a box office bomb. These praises were eventually validated when the actor scored an Academy, Golden Globe, and BAFTA award nomination for best actor. He only managed to win the BAFTA.
The Drug Addiction That Nearly Derailed his Stardom
Following his award-winning turn in Charlie Chaplin, Robert Downey Jr. went on to string together appearances in several notable projects. He was on an unassailable rise to the top but this was threatened by one persistent problem, his drug habit.
Downey first fell into drugs as early as the age of six when his dad allowed him to use marijuana. From thereon, he moved onto other stronger substances as he also over-indulged alcohol. Despite the habit, the young actor was still able to function and give incredible performances in movies. It was, however, a matter of time before his habit caught up with him and this eventually happened between 1996 and 2001.
During this period, the actor was arrested for possession of heroin and cocaine. This was in 1996 and he was released on parole. While out on parole, he trespassed into a neighbor's home while drugged out. He was arrested again and charged to court where he received a three-year probationary sentence. Part of the conditions for the probationary sentence was that Downey would turn up for routine drug tests. He missed about two and this resulted in spells in jail as well as a substance abuse treatment facility.
Upon his release from the treatment facility in the year 2000, Robert Downey Jr went on to land a role in the hit legal drama series, Ally McBeal. He quickly made an impact on the show and was rewarded with a Golden Globe award for best supporting actor in a miniseries.
Such a feat had many believing that the New York native had finally conquered his drug problems. Their hopes were, however, dashed after the actor was arrested for having cocaine and valium in his hotel room in California in late November 2000. While still awaiting his punishment for this offense, Downey was found wandering about under the influence of drugs in April 2001. This proved to be too much and the producers of Ally McBeal fired him. He also lost out on other potential juicy roles and his then-wife divorced him.
Downey's calamities did not stop at this juncture. He received another three-year probationary sentence and was ordered to undergo rehab. All this served as a huge wakeup call and the young man decided to fix his life. He took to medication, therapy, martial arts as well as yoga. He also relied on the support of his loved ones, including his mother and then-girlfriend, and became sober in July 2003. Downey has remained sober since then and in 2015, the governor of California pardoned his 1996 conviction.
Robert Downey Jr Resurrected His Career with His Comic Book Character Role
After emerging clean and sober in 2003, Robert Downey Jr began to rebuild his career by appearing in movies such as The Singing Detective (2003), Gothika (2003), Kiss Kiss Bang Bang (2005), and Zodiac (2007). In May 2008, he achieved critical applause and worldwide box office success for his starring role in Iron Man.
In the MCU superhero film, Downey Jr portrays the titular character of Tony Stark, a billionaire playboy and master engineer who builds a mechanized suit with which he fights crimes as the superhero, Iron Man. The film grossed $585.3 million on a budget of $140 million and officially established Downey as a blockbuster actor. Since then, he has reprised the role in two other Iron Man films which has grossed a combined $1.838 billion at the cinemas. He has also portrayed the character in other MCU blockbusters such as Avengers, Captain America: Civil War, Spider-man: Home Coming, and Avengers: Endgame (which is the highest-grossing movie of all time with a total receipt of $2.798 billion).
Away from the MCU universe, Robert Downey Jr has also found time to feature in other films such as Tropic Thunder (which fetched him an Oscar nomination for best supporting actor), The Soloist, Due Date, The Judge, and Sherlock Holmes. In Sherlock Holmes, Downey portrayed the famous British spy invented by the author, Sir Arthur Conan Doyle. His performance fetched him critical praise as well as the Golden Globe award for best actor in a motion picture comedy or musical. The film also did quite well at the cinemas, grossing $524 million on a budget of $90 million.
How Downey's Drug Habit Wrecked His First Marriage
Before he achieved sobriety, drugs affected virtually every part of Robert Downey Jr's life, including his first marriage to singer and actress Deborah Falconer, a native of Sacramento, California who was born on the 13th of August 1965. As a singer, she has released about three albums; Untangle, Brave Like Me, and Lift Your Gaze while as an actress she has scored bit parts in movies such as Shortcuts, The Wrong Guys, The Doors, and Pyrates.
Downey and Deborah famously dated for just 42 days before tying the knot in 1992. In September of the following year, they welcomed a son named Indio Falconer Downey. This should have completed the couple's joy and served as a foundation for marital bliss but the union was marred by Downey's drug problems, arrests, and other related issues.
Deborah managed to tolerate this for some time but when her husband was arrested for possession of a firearm, cocaine, and heroin in 1996, she took her son and moved away. The couple stayed separated for the next eight years before formally obtaining a divorce in 2004. Thankfully, Downey has been able to re-establish a connection with his son after cleaning up his act. The actor has since revealed that he feared he would pass on his drug addiction problems to his son.
Robert Downey Jr Found Love a Second Time with Film Producer Susan Levin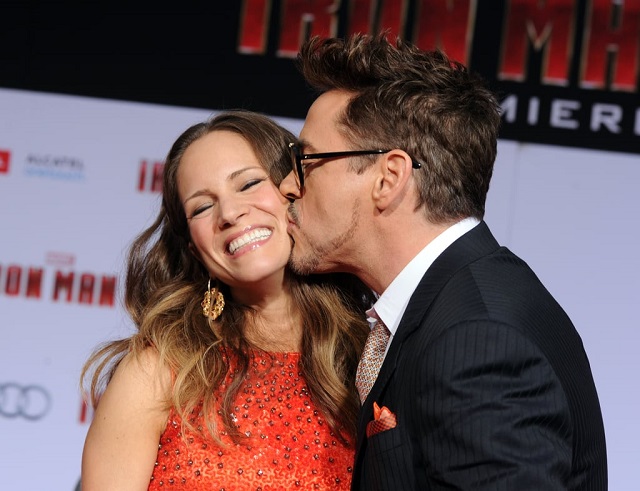 Robert Downey Jr. has gotten his second shot at happiness and it is with movie producer Susan Nicole Downey (nee Levin). Susan is a native of Illinois and was born on the 6th of November 1973. She graduated summa cum laude from the University Of Southern California School Of Cinematic Arts and commenced her career as a production coordinator at Threshold Entertainment. Since then, she has held executive productions at Dark Castle Entertainment and Silver Pictures. She has produced works such as The Brave One, Whiteout, The Book of Eli, Cradle to the Grave, and Swordfish.
Downey first met Susan during the shooting of the film, Gothika, in 2002. He starred in the movie while she was the producer. He is said to have spent all his time pursuing her during the production process. Susan was initially reluctant to return his affections because she believed that it would not last given his occupation. He, however, refused to give up and she later caved in. The two lovebirds dated throughout shooting and managed to sustain their romance even after filming wrapped up. They got engaged in November 2003 and tied the knot in a Jewish ceremony in August 2005.
The lovely couple has remained together to date and has welcomed two children; a son named Exton Elias and a daughter named Avri Roel. Susan has helped her husband overcome his drug problems and their family as well as marital life is better for it. The pair have also thrived in their respective careers and have set up a production company known as Team Downey which has produced several works including the 2014 family drama, The Judge. In The Judge, Downey Jr played the role of Hank Palmer, a hotshot lawyer who has to defend his estranged dad, a respected judge named Joseph Palmer, in a sensational murder trial. The movie grossed $84.4 million on a budget of $45-$50 million. It also scored Oscar nominations for some of the cast members.