Robert Downey Jr, well known around the world as the Marvel Cinematic Universe hero Iron man and billionaire playboy Tony Stark, has stood his ground in the limelight over the years. From his troubled childhood to his battles with drug addiction, and his climb back to the top, this prolific actor, producer, and songwriter has seen it all and has managed to come back to become one of Hollywood's greatest. Read on to know how he achieved such a feat.
Robert Downey Jr – Biography
Robert Downey Jr who was named after his father was born on April 4, 1965, the younger of two children. His father Robert Downey Sr rocked the 20th century as an actor and a film maker with his popularity majorly from film making. His soul partner and Robert's mother Elsie Ann was also an actress who featured in a good number of her husband's movies. Robert Downey Jr was born into a family with different ancestral origins. His father is half Lithuania Jewish, one-quarter Hungarian and his mother had Scottish, German and Swiss ancestry.
Growing up, Robert Downey Jr was surrounded by drugs as his father a drug addict allowed young Robert to use Marijuana at the age of six. Eventually, the young lad took to spending nights abusing alcohol and drugs.
With his father on the affairs of film making, young Robert Downey Jr had his very first movie appearance at the tender age of 5 when he was cast to play the role of a sick puppy in the absurdist comedy Pound. He played other minor roles in his father's movies overtime and this helped to expose him more to the field of acting.
In 1978 at the age of 13, Robert's parents' came to an end, resulting in his moving to California to live with his father. He had dropped out of Santa Monica High school in the pursuit of professional acting and was still struggling with his addiction.
He built his film repertoire throughout the 1980s and 1990s with roles in Tuff Turf (1985), Weird Science (1985), True Believer (1989) and lots more. Warming up his bag of awards, Robert Downey Jr received an Academy Award nomination in 1992 and went ahead to win a BAFTA (British Academy Award) for best actor upon his performance in the title role of Chaplin (1992). With so many exceptional movies connected to Downey, he rose through the ladder of success though with many controversies. Over the years, the actor's addiction to drugs caused him problems which escalated from 1996 to 2001, leading to arrests, rehab visits and incarcerations.
Emerging clean and sober in 2003, Robert Downey Jr, began to rebuild his career. In May 2008, he achieved critical applause and worldwide box office success for his starring role in Iron man (2008). Staring in Iron man 2 (2010), Sherlock Holmes (2009) and other ground breaking movies, he was reported to be a great achiever among his generation.
His bag of success would be scanty if we fail to mention his honors most especially from Time Magazine's 'Time 100' in 2008 as one of the most influential men in the world.
Family
Born into a family with different ancestral backgrounds, Robert Downey Jr did not have a perfect childhood as he was exposed in his early age to drugs, alcohol and marriage breakups. At age 13, Downey was left to struggle with addiction to hard drugs and this went ahead to affect his career negatively. He had just a sister; Allyson Downey and two step mothers; Laura Ernst and Rosemary Rogers.
His father Robert Downey Sr is a retired American actor, director, producer, writer, and cinematographer. His greatest breakthrough which gave him popularity around the world was his writing and directing of the underground film Putney Swope. Downey Sr began writing and directing low budget movies in 1961 that gained an underground following, beginning with Ball's Bluff (1961). His most recent film was Rittenhouse square in 2005. Downey's movies were often seen as a family affair as his wife Elsie appeared in four of his movies and his children Allyson and Robert Jr each made their movie debuts in his movies in 1970.
It could be said that Robert Downey laid the path for Robert Downey Jr to trail on even though he exposed him to some violent ways of living which we could say affected his movie career.
Robert Downey Jr – Wife and Son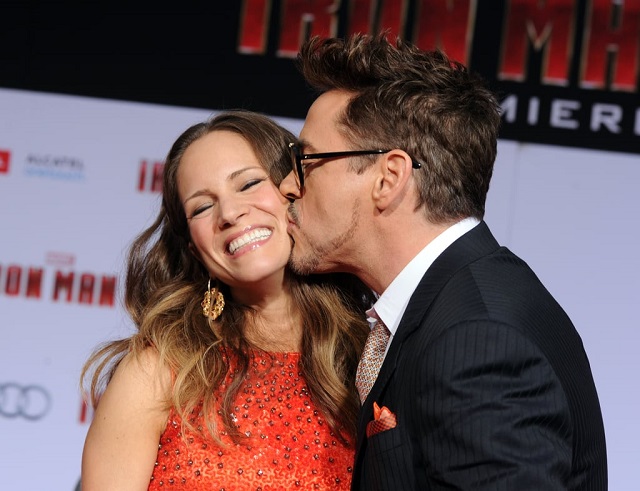 Robert Downey Jr was married to singer and actress Deborah Falconer from1992-2004 and the union was blessed with a son, Indio Falconer Downey. With cases of addiction marring the once beautiful and peaceful union, the marriage was forced to an end. In 2005, after his addiction turnaround in 2003, Robert Downey Jr got married for the second time to the Executive Vice President of Production at Joel Silver's film company, Susan Levin. They were blessed with two kids; a son in 2012 and a daughter in 2014
See Also:Robert Pattinson – Bio, Is He Dating a Girlfriend or Married to a Wife?
Net Worth
The popular actor, producer, and song writer has been acclaimed with much fame from the 20th century through to the 21st.  Even if all of Robert's previous endeavors before he became sober were not enough to make him rich, his works in the Marvel Cinematic Universe as Iron man was surely the push he needed. His manyendeavors have seen his net worth pegged at an awesome $300million and rising as he keeps doing what he loves most.
Height and Weight
Prior to his record-breaking movie, Iron man, Robert Downey Jr weighed 68kg, but with the need to expand in weight to fit the Iron man character, he took to spending more time at the gym and accompanied that with a healthy diet that produced a  good mass of muscle and saw his increase in the right places. Currently, he weighs 78kg standing at a height of 5 feet 8.