The beautiful Emmy award winner Roberta Gonzales is a Mexican-American television personality with over thirty years of service in the meteorology section. Her excellently foretold weather and traffic reports for people of Bay area of San Francisco broadcasting for KPIX-TV made her a familiar screen face. Read about her bio, and ascertain if the rumors about her divorce from her husband Randy Hahn is true.
Roberta Gonzales – Bio
She was born sometime in June 1961 to Esther and late Jose Edwardo Gonzales in one of San Bernardino's County called Barstow, California. Her family has Mexican roots, sadly, her beloved father succumbed to colon cancer in November 2016. Roberta Gonzales was not an only child of her parents as she had two siblings; an older and younger brother whose names were was Edward and Michael but unfortunately, both are deceased. It was reported that her younger brother Michael was gunned down by a classmate on the 27th of June 1981 just as Roberta was gearing up to celebrate her 21st birthday while her elder brother, Edward was snatched by the cold hands of death in July 2013 months after the passing of their mother Esther in February 2013.
The Barstow-born is a graduate of Montara Elementary School and completed her high school education at the John F. Kennedy High School. In 1977 she enrolled to study Liberal Arts at San Diego State University.
Roberta Gonzales athletic quest and exploit started just after she lost her brother, Michael, in her second year in college, during which she was introduced to racing by a friend, as a way to deal with her grief and loss. She soon fell in love with the sport and was soon covering long distances and clocking nice finish times especially for the Marathon races and Ironman sport (sport comprising of biking, swimming and marathon races). She has proudly participated in over thirty marathon races and over six Ironman sports.
Her Career Progress
Roberta Gonzales' love for broadcasting started in her teens. She frequented the KPRI FM and XETV Channel 6, whilst she was still at the university and got to assist in minor tasks such as running errands and gardening. This afforded her the opportunity to pick up quite a few knowledge about broadcasting along the way.
Shortly after, she was hired by KGTV as a film editor, gradually she worked her way to the position of an Assistant Film Director. It was in the course of her career with the station that she had her first feel of weather reporting. After a while, she went to work for other media houses such as the KSBY, San Diego, and San Jose, presenting weather forecasts for the stations.
Soon enough, her expertise on the field got her appointed by the NBC 5 channel, and WMAQ-TV, where she served as the meteorologist for about seven years before moving her services to the CBS-owned station, KPIXTV while featuring on KCBS radio News segments of 740 AM. In no time, she gradually became a famous face of the San Francisco Bay, giving explicit weather reportage for the area with her ever smiling and bubbling personality. The weather anchor, mined her trade with the station for over two decades, joggling the Noonday News, Weather Report Eye Witness News and Early Edition segments excellently well. No wonder her outstanding work got her nominated for Emmy awards, five of which she has won.
The 5 feet 6 inches tall Mexican forecaster's love affair with the CBS media affiliates, of over twenty years, came to end in 2017, as she decided to chase her personal dream more than chasing storms across the country. She began her own production company and show which centers on travel news and events called Where is Roberta? The program airs on KPIX station and was an immediate success.
Broadcasting and sporting activities are not the only talents or skills Roberta Gonzales possesses. She is also an author who has written a book for kids.
Her charitable endeavors earned her the woman of the year award, which she earned for following her mother's Easter tradition of sending fifty baskets of goodies to children in St. Joseph Church, catering to the needs of the hapless kids within the Barstow community.
In addition, the amiable show host has a scholarship program for aspiring medical students of Barstow High School under a foundation she set up in 1995 in honor of her fallen best friend Donna Lee Hanson.
See Also: Hollie Strano – Bio, Salary and Net Worth, Is She Married or Divorced
Divorce Rumors and Husband of The Weather Anchor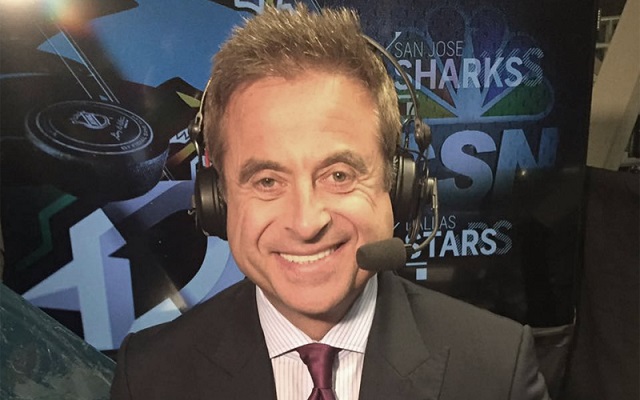 Roberta Gonzales was married to an avid and renowned play by play hockey sports commentator Randall Randy Hahn sometime in 1986. Her husband was born on the 21st of October 1958 and he had had a stellar career as a sports commentator and reporter clinching about five-time Emmy awards for his outstanding reporting career spanning over three decades. He hails from Edmonton, Alberta.
The couple is parents to two adult sons; Michael and Randall, their last child is already on his way to becoming a journalist like his celebrity parents as he graduated with a degree in Mass communication and journalism from the University of Oklahoma in 2017.
Roberta Gonzales is divorced from her husband Randy Rahn, however, details of their split are unknown to the media.