If you're familiar with the famous American author, TV personality, mental health guru, and host of the eponymous TV show, Dr. Phil, then the name Robin McGraw wouldn't sound new at all. Robin McGraw is an American entrepreneur, best-selling author, TV personality, and philanthropist. More than that, McGraw is the wife of Dr. Philip McGraw and mother of their two adult sons, Jay and Jordan. Let's take a peek into her Bio and other interesting details about her like her lesser-known twin. Ready?
Robin McGraw's Wiki and Age
Robin McGraw was born—Robin Jameson—in Los Angeles, California on December 28, 1953, to parents Georgia and Jim Jameson. Although we have no tabs on what her parents did for a living, we know that she and her twin brother, Roger and their three sisters—Cindi, Jamie, and Karin—spent the most part of their formative years in Oklahoma. Growing up, Robin attended Emerson Elementary School and later went to Duncan High School, Duncan, Oklahoma.
Although not much is known about her college education or her career before stepping into the limelight, we know that she's been actively involved with her husband's career, and made her first appearance on his show back in 2002. On the show, she discusses the challenges facing American women and soon began airing her own segment; Aging Gracefully, Ask Dr. Phil and Robin, and the much-expected Valentine's Day Give Away.
Since that time, Robin has made guest appearances on WGN-TV's The Rachel Ray Show, Larry King Live, The Doctors, The Insider, Entertainment Tonight, The Late Show with Dr. David Letterman, The Bold and Beautiful, The Hour of Power with Dr. Robert S. Schuller and of course, The Celebrity Family Feuds. Robin has also worked as a host on HCTV's White House Christmas and appeared in the 2006 JCPenny Jam; Concert for America's Kids, and in 2018, she appeared as a guest co-host on CBS' The Talk.
So far, Robin McGraw has published at least four widely-read books, two of which have topped the New York Times bestselling list. Her first book, Inside My Heart: Choosing to Live with Passion and Purpose, was released in September 2006. The following year, she published From My Heart to Yours. In January of 2009, McGraw published her second New York Times' bestseller, What's Age Got to Do With It?
In 2014, she took another giant leap, launching her own company, Robin McGraw Revelation Lifestyle Brand. Within one year of its establishment, the company signed a pact with Home Shopping Network. The previous year she had launched her charity foundation When Georgia Smiled: The Robin McGraw Revelation Foundation; an establishment aimed at executing programs to help women and children. In 2016, her lifestyle company established its Luxury Skincare Collection. As a board member of Dr. Phil Foundation, she continues to work with her husband to provide support for the spiritual, mental and physical needs of children and families.
Robin McGraw's Net Worth
As of 2019, sources put Robin McGraw's net worth at $40 million. While that's no chicken feed, it suddenly dwarfs her husband's $400 million fortune. Dr. Phil McGrw's ventures are quite multiple; ranging from his shows, books and even a mobile application, "Doctor on Demand" which enables users to contact a U.S psychologist for a fee. However, the specifics of her annual take home is not known.
Dr. Phil's Wife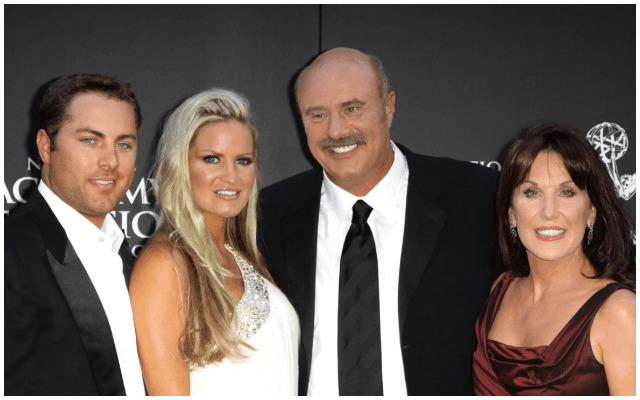 Robin McGraw is currently married to Dr. Phil McGraw, since 1976. Together, they have two adult children; Jay McGraw (b. 1979) and Jordan McGraw (b. 1986). She's also a grandmother by her first son, Jay, who has two children—London Phillip and Avery Elizabeth—with Erica Dahm; second of the famous Dahm triplets. But Robin would be Phil's first wife. Back in 1970 when Phil was only 20, he married his first wife, former cheerleader and homecoming queen, Debbie Higgins McCall. But the marriage ended in divorce in 1973. Around that time, she met Phil and the two began dating, eventually tying the knot in 1976.
Robin McGraw's Twin Brother
In the heat of ongoing speculations about her having a twin brother or not, Robin McGraw finally cleared the air on her twin status. In a Twitter post dated September 20, 2009, he admitted to having a twin brother by the name, Rodney Jameson. She also admitted that she has three sisters— Cindi, Jamie, and Karin.
Height and Body Measurement
Robin McGraw seems to be defying age. Why wouldn't she? After all, she's aired a show Aging Gracefully before and she's explained that she's been putting these tricks to work. But her critics are not having any of that. She's been accused of resorting to plastic surgery to maintain her looks; a claim she continues to deny, citing that her faith and beliefs wouldn't even let her take that path. Robin maintains a slim build. She stands 4 feet tall and weighs 99 pounds (45 kg). Robin has dark brown hair and hazel eyes. She wears a bra size of 36B and measures 31-24-33 inches;  for her bust, waist, and hips respectively. As of this writing, her shoe and dress sizes are not known. But we're sure to hint you as soon as we get the specifics.