Robin Weigert is an American actress most notable for her role as Calamity Jane in the HBO series Deadwood. In it Robin played Calamity Jane; a character based on the real life Martha Jane Cannary, an American army scout and explorer that lived from the 1st of May, 1852 to the 1st of August, 1903. Deadwood has received critical acclaim and has been praised for its writing and Robin was nominated for an Emmy Award thanks to her stellar performance in the series.
Robin Weigert Biography
Robin Weigert was born on the 7th of July, 1969 in Washington D.C. Her parents are Wolfgang Oscar Weigert—a psychiatrist who was born in Berlin, and Dionne Weigert (née Laufman). She is of Jewish heritage. She went to Brandeis University, where she graduated from in 1991. Weigert went on to attend New York University, where she earned a Master of Fine Arts degree from Tisch School of the Arts in the Graduate Acting Program.
Robin pursued her acting career as a stage actress in New York for a decade before she moved to Los Angeles and began appearing in several TV shows, mini-series and movies. As a stage actress, she had very well received roles in the plays Madame Melville, The Seagull, Noises Off, among others.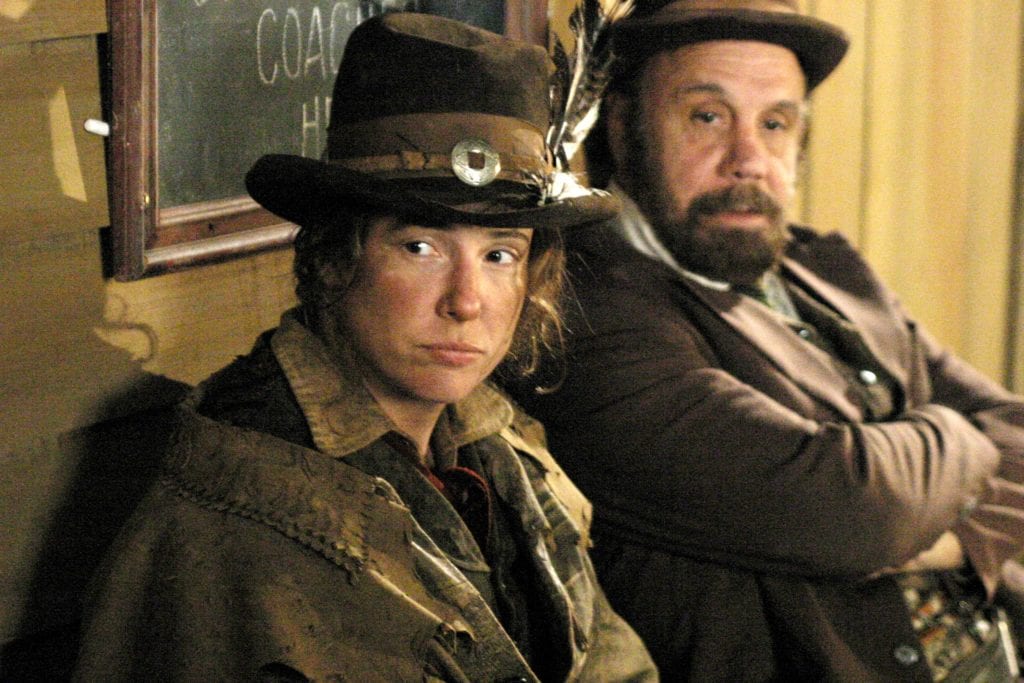 Her best known role is that of the tough talking, foul-mouthed drunkard Calamity Jane in the HBO series Deadwood, which ran from 2004 to 2006. Robin Weigert was nominated for an Emmy award in 2004 for Outstanding Supporting Actress in a Drama Series. 2006 saw her get the Hollywood Life magazine for 'Breakthrough of the Year' award.
At some point in her life, Robin Weigert used to be a waitress—a job in which she described herself as the world's worst waitress. She has also worked as a receptionist to be able to pay the bills and keep food on the table. She has stated that her hero is her 95-year-old grandfather, Harold Laufman, a retired surgeon and author.
Robin Weigert's movie debut was in the 1999 movie Heart to Heart.com where she played the role of Whitney. She acted in the 2001 movie The Sleepy Time Gal and the 2005 flick Loggerheads. It was her 2006 role that gave her the breakthrough she had been looking for; starring in Steven Soderbergh's 2006 drama The Good German.
Her debut into television series was in Twelfth Night, Or What You Will in 1998. 1999 saw her get a minor role in Law & Order, and from there she began getting different roles in such series as Mary and Rhoda, Angels in America and Cold Case. Deadwood came along in 2004, and Robin Weigert's career began to rise at a steady pace. 2007 saw her land the part of Lt. Karen Davis on NBC police drama Life. In 2010, Weigert joined the cast of the FX drama Sons of Anarchy, playing the role of the motorcycle club's lawyer.
Does she have a husband
Despite how well known Robin Weigert is in the media, her personal life has been a mystery for everyone. She has disclosed no details on if she's married or not, or if she's in a relationship. None of the interviews she has ever given shed light on this fact. There are no certainties on if she has children either. Some reports have speculated that she is married with a son, but there are no confirmations for that. Rumors also abound that she is divorced, but again this has received no proper confirmation.
Is She a Lesbian or Gay?
In the 2013 movie Concussion, Robin Weigert plays Abby, a lesbian housewife who steps outside her marriage and goes into a different world of sexual awakenings. In an interview with AfterEllen she mentioned that it was a deep experience for her playing the character. She did a bit of research on the role and decided to use lesbian prostitution as Abby's journey in the movie.
Her acting was widely accepted and so on point that rumors started swirling that she could be a lesbian. Considering movies with lesbian protagonists are far and few in-between, and she played her character so well it was believable, the rumors have only been fueled. However, like everything else in her personal life Robin has not openly accepted nor rejected the claims.