When an individual is married to a famous spouse, it is difficult to escape the spotlight that comes with such a union. This is the case for Robyn Hayward. She is the gorgeous and indefatigable wife of the professional basketball player, Gordon Hayward. Gordon Hayward is a small forward and joined the NBA in 2010. He plays for the Boston Celtics and was named an NBA All-Star in 2017. His wife, Robyn Hayward maintains an active presence online especially Instagram where she doesn't relent in sharing cute photos of herself with Howard. She also uses the online platform to offer her 'two cents' on serious issues. Thanks to her activity on social media, Hayward can be referred to as a social media personality. Read on for more interesting facts about Mrs. Hayward.
Who Is Robyn Hayward?
Robyn Hayward (nee Van Vilet) was born on the 8th of April 1994 in the state of Indiana. Not much information exists about her family background or her parents' name, but one thing that is very obvious is that her parents are very charitable people.
They have embarked on several charity missions to developing countries in South America. Her parents' giving spirit also rubbed off on her. As a high schooler, she regularly worked at food banks in her local community.
With regard to her education, Hayward studied at the Bishop Chatard High School in Indianapolis. While in high school, Hayward excelled in academics as well as sports. She was a star volleyballer and led her school to the Indiana state title (3A category) in her penultimate year. She was also ranked among the top five volleyball players in the entire state of Indiana. Hayward finished from high school in 2013 and could have easily obtained a volleyball scholarship to college. However, she chose not to go the college route but instead attended a cosmetology institution.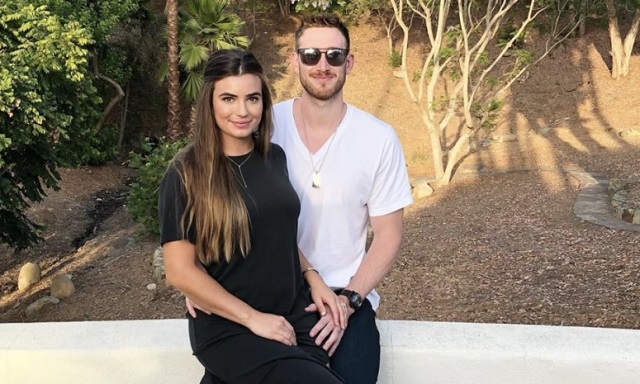 What to know about her husband and kids
Robyn Hayward is married to the popular basketball player, Gordon Hayward. Her husband is four years her senior as he was born on the 23rd of March 1990 in Indianapolis. It is not exactly clear how they first got to know each other but they started dating in July 2013. They got engaged on the 25th of December 2013.
The proposal was a very romantic one as it involved a scavenger hunt which ended with Gordon on one knee, popping the big question. Robyn said yes and the couple exchanged vows on the 24th of May 2014. The wedding was held at the St. Simon Catholic Church in their native Indianapolis. The lovely couple have three daughters together. They are Bernadette Marie (b. 6th of June 2015), Charlotte Margaret (b. 11th of July 2016) and Nora Mae (b. 24th of January 2018).
Height
As is often the case with most WAGs, Robyn Hayward dwarfs when standing next to her basketball superstar husband. Many tall men do like short women after all. She stands at a height of 5 feet 5 inches compared to her husband's towering 6 feet 8 inches figure.
Other Facts about Robyn Hayward
• A star volleyball player in high school, Robyn Hayward played in the defensive position and was ranked fourth in her home-state  by Maxpreps.com
• In addition to her mammoth following on Instagram (over one hundred thousand), Hayward also boasts a decent following on Twitter – at least 1,000 followers.
• She has an adoptive sister named Maggie. Her parents adopted her from Guatemala.
• Her husband Gordon, is actually a twin. He has a twin sister named Heather. She is also athletically gifted as she played tennis in college.
• Hayward is fiercely protective of her husband. She takes her WAG duties very seriously. For instance, when in 2017, her husband suffered a brutal injury in the very first game of the season which made him miss the entire season, Hayward took to her Instagram to post a warning message to NBA players to avoid tackling her man following his return to the court in 2018.
• Robyn again jumped to the defense of her man in 2017 after he came under fire for accepting to join Celtics on a 4-year contract worth $128 million. The Jazz fans criticized him saying that he abandoned the team after all the investments made on him. Robyn fearlessly defended her man on social media, telling the aggrieved fans that her man was only human.