Success in the entertainment industry is a long shot. While most people assume that simply having the talent is enough, the charisma and looks to market your talent to a large group of people is very important. It also helps to be a multi-talented act, that is able to draw in crowd from various niches of the industry, and this is what Rodney Carrington has going for him.
Blessed with an unparalleled combination of musical and comic talents, Rodney has expertly interwoven both skills into his emergence as one of the most unique acts in America. His albums have charted on both regular and comedy charts. He has also extended his reach to the acting world and all these endeavors have paid him handsomely.
His Early Days as a Stand-up Comic and Transition to Music
For a long time, Texas was home to Rodney Carrington who began his music act in his birth city. He has now grown from bars to television shows. Rodney's career is the culmination of a dream that started when he was a child. Having been born to his parents in Longview, Texas in 1968, He was raised there and continued to live there long after he reached adulthood. He obtained his diploma at Pine Tree High School before proceeding to Kilgore College.
During his days at Kilgore College, Rodney took part in about three school productions including the British farce, Noises Off, in which he played the lead role. The experience made him realize that he had the power to make people laugh and he thus decided to pursue a career in stand-up comedy. Upon concluding his degree in 1990, Rodney Carrington returned to his native Longview and promptly delved into the stand-up scene. He performed at any bar where they would have him and soon became a staple at Sparky's Comedy Club, situated in the city's first-holiday inn.
Through his stand-up routines, which often incorporated his singing talents, Rodney Carrington got a job on a local radio station hosting the popular radio show, The Bob and Tom Show. It was his performance on the show that gave him the much-needed exposure to get eventually signed by Mercury Records, Nashville. His first album was titled Hangin' with Rodney and dropped in 1998. It was his professional debut as a professional country singer. The album contained works showcasing his comedy and singing skills and it peaked at number 73 on the Top Country Albums.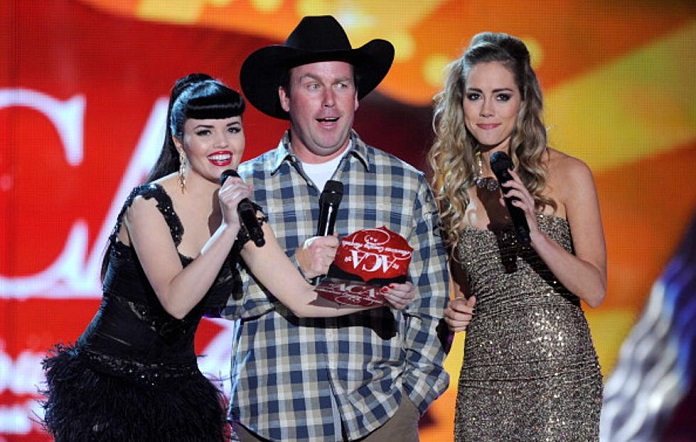 Hitting The Peak with Morning Wood, Greatest Hits Compilation and Laughter's Good
Feeling that Mercury Records Nashville wasn't the best fit for him and his aspirations, Rodney Carrington moved to another label, Capitol Nashville, and released his second album, Morning Wood in 2000, under the label. His decision to sign with Capitol proved to be a smart choice as the album was a success. It broke into the Top 20 Country Albums in the country and one of its singles, More of a Man, charted at no.71 on Hot Country Songs. The album also sold about half a million copies, gaining a gold certification from the RIAA.
Since the success of Morning Wood, Rodney Carrington has gone to drop about seven other albums but two particularly stand out. They are 2004's Greatest Hits and 2014's Laughter's Good. Greatest Hits featured a combination of stand-up sketch comedy routines as well as singles such as Put Your Clothes Back and Things We Didn't Know. The album reached No. 3 on the Billboard Top Comedy Albums Chart as well as No. 11 on the Billboard Top Country Albums Charts. It also sold about a million copies, hence a platinum certification, and remains Carrington's bestselling album to date.
Another of Carrington's album that did quite well is Laughter's Good (2014). Laughter's Good is majorly a comedy album that pokes fun at church, family, and life. It topped the Billboard US Comedy Charts. It also reached No.23 on the US Country Charts and sold about 28,000 copies.
How much has Rodney Carrington Garnered From all His Creative Pursuits
Years of knocking on doors and fighting his way to appear on stage at different venues in Texas has certainly paid off for Rodney. The Longview-born comedian, who has been a professional entertainer since 1998, now has a total net worth of $6 million.
Carrington predictably made his money from his comedy/music albums which have sold not less than 2 million copies total. Away from album sales, the comic has also embarked on several lucrative tours and is now one of the highest-grossing comedians in the last decade. One of his most recent tours is 2016's Here Comes The Truth which saw him perform at about 35 locations throughout the US. Tickets for each show ranged from $40 to as high as $180 and given that it was patronized by tens of thousands, one can safely conclude that Carrington must have had a seven-figure payday.
The comic musician has also diversified his talents to acting and made his acting debut on his own sitcom, Rodney, in 2014. The show, which ran on the ABC network for two seasons, was largely based on his life and attracted millions of viewers each day. It came to an end in 2005/2006 and Rodney made further gains by compiling the episodes in a DVD box set which was retailed through Walmart.
The Painful Aftermath of His Divorce
Carrington was previously married to his long-time sweetheart, Teri Shae nee Lockhart. Teri is a native of Massachusetts and was born in November 1970. She holds a degree from the University of Oklahoma and is a licensed speech and language therapist. She is also a social activist and uses her energies to champion issues that she believes in.
Rodney and Shae first met around the early 90s and promptly commenced a relationship. They later tied the knot in 1993. Their marriage lasted 18 years during which they welcomed three sons namely, Sam, George, and Zac. The couple, however, got separated in 2010 and by 2012, their divorce was completed.
The divorce came as a shock to fans who knew how much the couple loved each other. It was later revealed that the demise of their marriage was caused by Rodney's busy schedule. According to anonymous sources, the comic-cum-musician was often away from home for significant periods of time which didn't go down well with Teri. She eventually became tired of being alone and decided to call it quits.
The divorce devastated Rodney and he tried to cut back on his schedule in order to prevent it. It was however too little too late and as such, he found himself a single man. He took to eating sweets and cake to deal with his depression and eventually gained so much weight. The comic fortunately realized that he was going down a bad path and worked on himself. He also found comfort in his children and revamped his lifestyle.