Roger Goodell is an American sports executive and businessman who is also the Chairman of the National Football League, a position he has held since 2006. However, he has been with the league since the mid-1980s and during that time, he has made several impacts on the League including an increase in the value of the average franchise as well as the signing of more lucrative TV deals. As of December 2017, his contract with the NFL was extended and he will be with the league until sometime in 2023.
Roger Goodell's First Position In The NFL Was As An Intern After He Completed His College Education
Born on February 19th, 1959 in Jamestown, New York, Roger Stokoe Goodell is the son of Charles Ellsworth Goodell and Jean Goodell. His father was a member of the U. S. House of Representatives from 1959 to 1968 after which he served in the Senate for two years following the assassination of Senator Robert E. Kennedy in 1968.
Roger attended Washington and Jefferson College, Pennsylvania from where he graduated in 1981 with a degree in Economics. Immediately after he completed his education, he interned as an administrator at the NFL headquarters in New York City. He would also go on to intern with the New York Jets franchise after which he returned to the league office as a public relations office assistant. Since then, Roger has never looked back and he has diligently worked his way through the ranks of the NFL.
He Has Served As Executive Vice President & Chief Operating Officer
After a couple of years as an intern, in 1987, Goodell was made the assistant of Lamar Hunt, who was as at then the president of the  American Football Conference. He would also go on to take on numerous business and football roles under the guidance of the then NFL Commissioner, Paul Tagliabue.
This paved the way for him to became the executive vice president as well as the chief operating officer of the corporation in 2001. The appointment made him the right-hand man for Paul Tagliabue and he was in charge of the NFL's football operations, the officiating, and the supervision of all business functions related to the league. He was also the head of NFL Ventures which oversees the league's business units, development of stadiums, strategic planning of league-related activities, and media properties.
During the summer of 2011, he was responsible for all the collective bargaining agreement with NFL owners and the NELPA. Roger is also credited with being a major force behind the league's expansion, stadium development, and realignment. He played a major role in the launch of the NFL Network as well as in the signing of new and lucrative television agreements.
Roger Currently Holds The Position Of NFL Chairman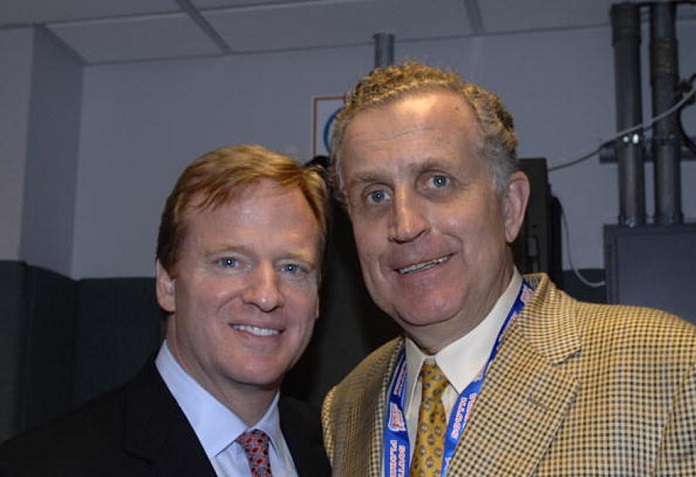 Roger Goodell contested with four other people for the post of chairman of the NFL in 2006 and won with the necessary two-thirds majority after five rounds of voting. He assumed this post officially on September 1st, 2006 which was the same day his predecessor stepped down from office.
As the new chairman, he prioritized protecting the integrity of the NFL; he demonstrated this through the implementation of the personal conduct policy in 2007. The policy was a response to the wave of arrests of NFL players due to misconduct and it effectively put Goodell in charge of handing out punishment to erring players. While this policy was initially applauded as a welcome development, it has also been criticized for being heavy-handed.
More so, while there had been evidence that concussion among NFL players lead to brain damage a long time before Goodell became NFL chairman, it was during his administration that more evidence came to light which made it hard to deny the correlation between football-related head injuries and brain damage. This led to a lawsuit that culminated in a $765 million settlement to about 4,500 former NFL players.
His Net Worth Is Over $150 Million
As of 2020, Roger Goodell's net worth is more than $150 million. He signed a 5-year contract in 2017 which will keep him as the NFL Commissioner till 2023. As reported by ESPN, Goodell's contract should sum up to about $200 million by the time it comes to an end. More so, it is estimated that he will earn an annual salary of $40 excluding incentives and bonuses he will be given during his tenure. However, Goodell wanted his annual salary to be $50 million in addition to an agreement that will allow his family access to the NFL private jet throughout his lifetime.
From statistics gathered about the NFL Commissioner's earnings, it has been ascertained that the majority of his earnings come from bonuses. In the early days of his career, 85% of what he earned was made up of incentives and as of now, his new deal is made up of 90% in incentive. Speculations have also been made that by the time Roger retires from the NFL, he would have raked salary worth more than $500 million from his NFL career.
Roger Goodell Is A Family Man
Roger Goodell got married to Jane Skinner, who was an anchor with the Fox News Channel in October 1997. There have not been many details with regards to their relationship apart from the fact that they dated for about 4 years before finally tying the knot. The pair are also parents to twin daughters who were born in 2001, however like other parts of their family life, they have also kept their details out of the public's eye.
With regards to Jane's personal details, it is known that she grew up in Lake Forest, Illinois and her father, Sam Skinner, was Secretary of Transportation as well as White House Chief of Staff during the administration of President George H. W. Bush. She attended Northwestern University where she earned a bachelor's degree and a master's degree.
Roger's wife then kickstarted her career in television as a political correspondent for KBJR in the city of Duluth, Minnesota. She also worked in Milwaukee with WITI as an anchor and helped established its primetime newscast; this was after the television station became affiliated with the Fox News Channel. Jane started her career at Fox News Channel as a general reporter and retired on June 24, 2010.