Roger Stone has muddled through the sticky waters of high powered Washington politics. First in the '70s for Republican stalwarts such as President Richard Nixon, Ronald Reagan, Jack Kemp, Bob Dole, and George W. Bush. As a political strategist and adviser, he has influenced several political campaigns in the United States of America. Stone also became popular as one of the founding members of the 1980s leading lobbying firm called Black, Manafort, Stone.
Throughout his political career, Stone has strategized the success of multiple Republican political campaigns by collecting information on the opposition that can be used to discredit or weaken them. Most of his tactics have been called unconventional even by associates; his modus operandi had always left a sour taste with opponents. He came under increased scrutiny for his involvement in the shenanigans surrounding Donald Trump's 2016 Presidential victory.
Stones Foray into Politics Dates Back to His Days in School
Roger was born in Norwalk, Connecticut, the United States of America on the 27th of August 1952. He is the son of Roger J. Stone and Gloria Rose. He was brought up in Lewisboro, New York. His father was an entrepreneur while his mother was a journalist. Roger Stone attended a high school that was located in Northern Westchester County, New York, and when he was there, he was the vice president of the students governing body during his junior year. He eventually held the position of the president in his senior year.
In a quest to further his education, Stone enrolled at George Washington University, unfortunately, he didn't graduate as he opted for a political position instead. Roger Stone began his political career by joining the fundraising organization of the then-United States President, Richard Nixon, in his 1972 re-election campaign. Working as a political strategist, Roger sent a spy to the opposition candidate in the form of a personal driver in order to obtain information on the opposition during that time.
How He Became a Prominent Political Figure in America 
Following the re-election of Nixon, Stone was given a political position in his administration, and later in 1976, he began working in Ronald Reagan's campaign for the presidency seat. In the following year, he was elected as the chairman of the Young Republicans.
Stone has also strategized numerous campaigns for other political figures in the United States including Thomas Kean, Jack Kemp, Thomas Golisano, Joseph Bruno, among others. He pondered on running for Florida's gubernatorial seat in 2014 but later decided to focus his energy on the rallies for the legalization of marijuana. Two years later, he became an ardent supporter of the United States President, Donald Trump, during his presidential campaign, having previously been his adviser in 2015.
Roger Stone has authored multiple books including Stone's Rules: How to Win at Politics, Business, and Style. He also serves as a writer for his fashion blog called Stone on Style and has been featured in many documentaries. The man has been involved in many polemical issues which led to his ban from appearing on some top news media outlets like CNN. Similarly, his Twitter handle was suspended in 2017 as a result of his derogatory tweets concerning some CNN staff.
Roger Stone's Role in the Trump Campaign 
Seen as one of the Republican party's most notorious political tricksters and campaign operatives, it came as no surprise to many when Roger Stone teamed up with his long time ally, Donald Trump, for his 2016 bid for Presidency. Stone and Trump go back a long time, he had worked for Trump as a lobbyist for his casino business in the 1990s and was part of Trump's unsuccessful bid for the presidency in 2000. Subsequently, he went on to work for a bunch of candidates bankrolled by the Libertarian Party, including the likes of New York's Kristin Davis.
A veteran of many political hack jobs, Roger Stone was the near-perfect fit for candidate Trump; loyal, wily, confident, and conventional. Stone joined the campaign as an adviser and operated mostly behind the scenes, shaping the campaign thematic thrust and messaging. Stone quit the campaign on August 8, 2015, but continued to act as a campaign surrogate throughout the election cycle.
The Politician Was Convicted for Lying to Congress
While appearing before the House Intelligence Committee, he was asked if he had any e-mails regarding the hacked documents released by WikiLeaks, his answer to this question meant his doom in court: he denied any knowledge.
Subsequently, however, it was discovered that he had exchanged e-mails about WikiLeaks, with a New York radio host. Revelations of his links to Wikileaks founder, Julian Assange, further nailed his case; hence making him liable for charges.
Following the ensuing investigations into allegations of the Trump Campaigns ties with Russia, Roger Stone was convicted on seven counts of lying to Congress, obstruction, and witness-tampering in November 2019.
Special Counsel Robert S Mueller's Russia probe unraveled Stones' complicity in posting documents stolen by others from the US government and citizens. Throughout the trial, both Stone and President Trump insisted the trial was a political witch-hunt, engineered by the left in collaboration with the media to discredit the election that brought him into office.
He Was Jailed But Trump Commuted His Sentence
Stone was sentenced and was set to serve between seven to nine years in prison for his crimes after securing convictions on all seven charges brought against him by the U.S. Attorney's Office for the District of Columbia. Immediately after the sentence, the President took to Twitter to call the judgment "horrible and very unfair".
Few days before he was to report to prison to begin his time, on the 10th of July 2020, President Trump commuted Stone's sentence. In legal terms, the commutation implies he would no longer have to serve the term but does not erase the convictions. As opposed to a state pardon which would have erased his conviction and granted him a clean slate.
Stone's Wife Nydia Bertran Is a Cuban-born Former Model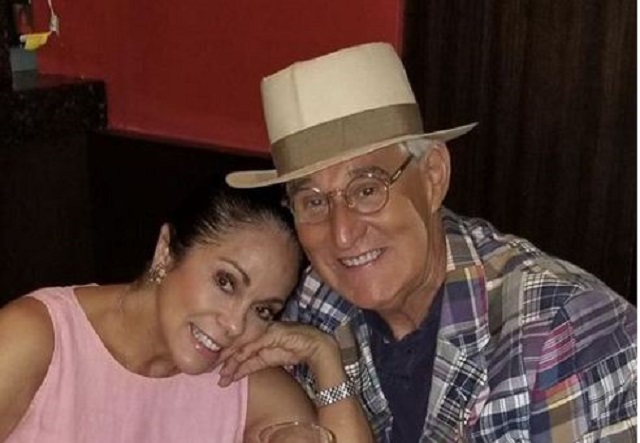 Full Name: Nydia Bertran Stone
Date of Birth: May 8, 1946
Country of Origin: Cuba
Occupation: Model and Photographer
Duration of Marriage: 1992 – Present
Born on May 8, 1946, in Cuba, Nydia and her parents relocated to the US after Fidel Castro came to power in 1959. Stone had met Nydia at an event during one of Ronald Reagan's presidential campaigns where Nydia was a photographer at the event.
The pair has been married for more than two decades and are still together. Roger Stone has a daughter named Adria, and a stepson named Scott from Nydia's previous marriage.
The Two Were Accused of Being Swingers
In 1996, Roger Stone and his wife courted controversy when news broke that they posted ads looking for sexual partners to join them in the bedroom.
Investigations revealed that payments for the advert in the September issue of 'Local Swing Fever' magazine were done via Nydia's credit card. After the news broke, Stone denied the claims and blamed the scandal on a stalker who had been fond of putting up pictures of himself and his wife on mate-swapping websites for years. Also, he blamed it on a disgruntled domestic staff whom he had fired for doing drugs. According to him, this former staff still had access to his post office box and computer.
Stone, who at the time was working on Senator Bob Dole's presidential campaign team, was prevailed upon to resign. Years later, the man admitted being responsible for the adverts, explaining that he had denied it because his grandparents were still alive.
Nydia Was a Consistent Voice that Campaigned for Stones' Freedom
Throughout Stones's ordeal with the law, Nydia was a vocal supporter of Stone, insisting on his innocence. She used her social media handles to advocate for her husband and even called on the President to intervene.
In the heat of his legal travails, Nydia sought out former House Speaker, Newt Gingrich, in a bid to help raise money for the legal defense of Roger Stone. He helped her by making available his email distribution list. She sent out lengthy emails requesting contributions to fund her husband's legal defense. According to aides close to Gingrich, the email list contains about 250,000 people.
Stone Was Previously Married to Anne Elizabeth Wesche
Roger Stone has been married twice. His first marriage was to Anne Elizabeth Wesche, whom he met while they both attended George Washington University. Though Roger dropped out to join politics, working on President Richard Nixon's re-election committee, Anne graduated in 1974 with a bachelor's degree in history and communication.
They exchanged vows in 1974 and stayed married until 1990 when they dissolved the union. Though divorced, they have remained good friends. She even took to Facebook to defend him in the heat of the allegations leveled against him.
Anne has been involved in conservative causes for a long time, having served as a state chairperson for Young Republicans. She also worked as a fundraiser on the Reagan campaign.