When talking about United States politics, Roger Stone is a name that rings a bell across the states as he is a well-known controversial political adviser and strategist who has influenced several political campaigns in the United States of America. He has been associated with many prominent political personalities including Richard Nixon and the 45th United States President, Donald Trump. Stone also became popular as one of the founding members of the 1980s leading lobbying firm called Black, Manafort, Stone.
Having been a notable member of one of the major political parties in the United States – the Republican party, Stone has strategised the success of multiple Republican political campaigns by collecting information on the political opposition that can be used to discredit or weaken them. As such, he has been under prosecution for his suspected involvement in the 2016 United States Presidential Campaigns that led to the discredit of Hillary Clinton. Read on to discover more details that you never knew about the political adviser.
Roger Stone's Biography (Age)
The widely-known political strategist was born in Norwalk, Connecticut, United States of America on 27th August 1952. He is the son of Roger J. Stone and Gloria Rose. He was brought up in Lewisboro, New York. His father was an entrepreneur while his mother was a journalist. Roger Stone attended a high school that was located in Northern Westchester County, New York and when he was there, he was the vice president of the students governing body during his junior year. He eventually held the position of the president in his senior year.
In a quest to further his education, Stone enrolled at George Washington University, unfortunately, he didn't graduate as he opted for a political position instead. Roger Stone began his political career by joining the fundraising organisation of the then-United States President, Richard Nixon in his 1972 re-election campaign. Working as a political strategist, Roger Stone sent a spy to the opposition candidate in the form of a personal driver in order to obtain information on the opposition during that time.
Following the re-election of Nixon, Stone was given a political position in his administration and later in 1976, he began working in Ronald Reagan's campaign for the presidency seat. In the following year, he was elected as the chairman of the Young Republicans.
Stone has also strategised numerous campaigns for other political figures in the United States including Thomas Kean, Jack Kemp, Thomas Golisano, Joseph Bruno, among others. He also pondered on running for Florida gubernatorial seat in 2014, for which he later declined and instead, focused his energy on the rallies for the legalisation of marijuana. Two years later, he became an ardent supporter of the United States President, Donald Trump during his presidential campaign, having previously been his adviser in 2015.
Roger Stone has authored multiple books including Stone's Rules: How to Win at Politics, Business and Style. He also serves as a writer for his fashion blog called Stone on Style and has been featured in many documentaries.
Stone has been involved in many polemical issues which led to his ban from appearing on some top news media outlets like CNN. Similarly, his Twitter handle was suspended in 2017, as a result of his derogatory tweets concerning some staff of CNN.
Roger Stone's Wife and Family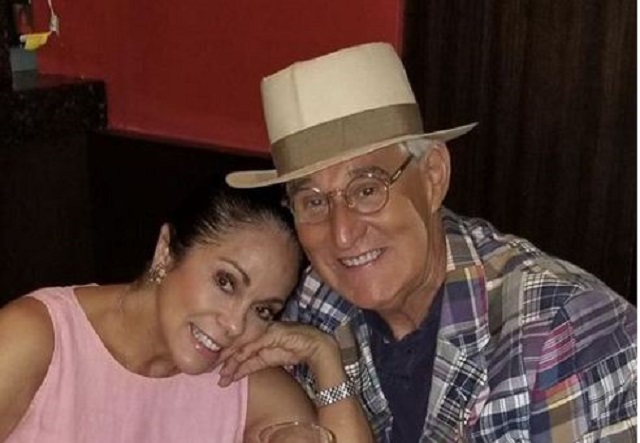 Roger Stone has joined in matrimony twice. His first marriage was with Anne Elizabeth Wesche with whom he exchanged vows in 1974. The couple, however, dissolved the union in 1990. Two years later, Stone found love again in the arms of Nydia Bertran whom married in 1992. The pair has been married for more than two decades and are still remaining together.
See Also: Chris Christie Wife, Daughter, Son, Family, Weight, Net Worth, Height
Is Roger Stone Gay?
The suspicion about Stone's sexuality status started in the late 1990s when he was fired by the former American politician and statesman, Bob Dole, from serving as his presidential campaign consultant following the report about him placing advertisements on media sites searching for male and female sexual mates. Stone initially repudiated the allegation, but later admitted to it in 2008. However, Roger Stone is yet to give clarifications based on his sexuality status.
Height
The widely recognised political adviser is standing at a height of 5 feet 11 inches (1.8 m) which perfectly complements his body weight of about 78 kg (170 lb).