Asides holding a record as a four-time World Wrestling Entertainment (WWE) champion, Roman Reigns also has a career as an actor. Interestingly, the heavyweight champion comes from a long line of wrestlers, four generations with a total of nineteen fighters – both dead and alive, who have ruled the ring over the years.
Before embarking on a wrestling career, however, Reigns had a brief run with pro football. In 2018, the 6 feet 3 inches (1.91 m) tall, 265 lb (120 kg) heavy athlete announced that he would be taking a break from professional wrestling in order to receive treatment for leukemia, a disease he had previously battled and won.
Tracing Roman Reigns' Lineage Of Great Wrestlers
Roman Reigns was born Leati Joseph Anoa'i on the 25th of May, 1985 in Pensacola, Florida. He is half-Samoan and half-Italian. His father, Sika Anoa'i, and older brother, Mathew Anoa'i were professional wrestlers. The famed wrestler has a good number of cousins and uncles who were part of the wrestling world, including Yokozuna, Rikishi, Umaga, Afa Anoa'i, The Usos, Tonga Kid, and even former pro wrestler and actor Dwayne 'The Rock' Johnson who is his cousin by marriage.
Sika Anoa'i
Leati Sika Anoa'i Amituana'I is Roman Reigns' father who reigned under the moniker Sika Anoa'i or simply Sika. Though retired, he is best known as one-half of the tag team The Wild Samoans with his brother Afa.
Mathew Tapunu'u Anoa'i
Roman's brother Mathew Tapunu'u Anoa'i, was also a professional wrestler who competed in WWE under the ring name Rosey, after which he moved on to compete on several independent promotions under other ring names. Anoa'i was previously diagnosed with congestive heart failure which was the reason for his eventual death on the 17th of April 2017.
Afa Anoa'i
Arthur Anoa'i Sr. is the other half of The Wild Samoans – a retired professional wrestler, as well as a professional wrestling manager. Since his retirement, Afa has operated the World Xtreme Wrestling promotion, training wrestlers at the Wild Samoan Training Center.
Yokozuna
Yokozuna is Roman Reigns' cousin best recognized for his time with the World Wrestling Federation, where he wrestled under the ring name Yokozuna. He died from pulmonary edema on October 23, 2000.
Rikishi
Also, Reigns' cousin, Solofa F. Fatu Jr. is best known with the ring names Rikishi and Fatu with World Wrestling Entertainment where he is a one-time Intercontinental Champion, one-time WWE Tag Team, and two-time World Tag Team Champion.
Umaga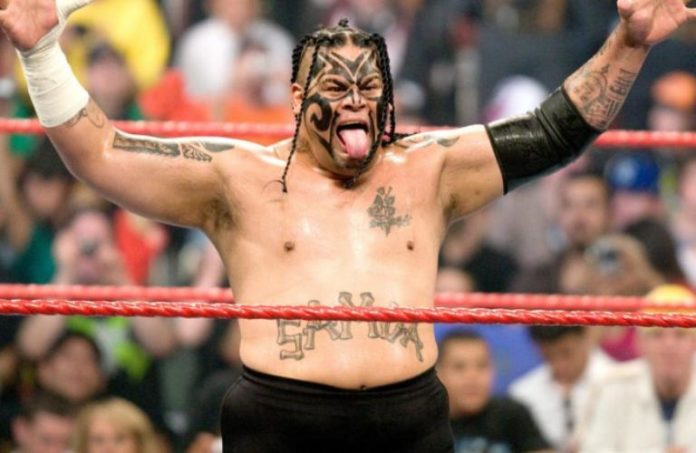 Named Edward Smith Fatu at birth, Umaga is the son of Solofa Fatu, Sr, and Vera who is a sister to Afa and Sika of The Wild Samoans. He is a two-time winner of the WWE Intercontinental Championship.
Tonga Kid
Samuel Larry Anoa'i Fatu wrestled with the World Wrestling Federation under the ring names The Tonga Kid and Tama and as The Samoan Savage with World Championship Wrestling.
The Usos
The Usos is composed of twin brothers Jonathan Solofa Fatu and Joshua Samuel Fatu known by their ring names Jey and Jimmy Usos. They are the first team to win both the WWE/Raw and SmackDown Tag Team Championships.
Roman Reigns Switched From Football To Wrestling
Reigns attended Pensacola Catholic High School and then Escambia High School. Upon graduation, he enrolled in the Georgia Institute of Technology (Georgia Tech) to study Management. During his time there, he also played football for the school's team, Georgia Tech Yellow Jackets.
Roman Reigns took a keen interest in football at an early age and even considered a career in it professionally. Having played the sport in high school and college, he was eager to continue playing it and as things would pan out, he got signed by the Minnesota Vikings in 2007. The young athlete spent a few months with the side before joining the Jacksonville Jaguars.
In 2008, the Edmonton Eskimos of Canada signed him and he played with them for one full season. His pro career run was, however, short-lived and so, he retired after playing with the Eskimos to launch a career in the family profession of wrestling.
His Transition Into Wrestling Was A Smooth Sail
The transition into wrestling was a fairly easy one for Reigns as his older brother was already established in the business. In 2010, he signed a deal with WWE under the ring name Roman Leakee and became a part of its developmental territory, Florida Championship Wrestling which allowed him to develop his skills and gain ring experience in smaller competitions.
Roman Reigns lost his debut match with Richie Steamboat and a few others before finally claiming one victory in a singles match against Fahd Rakma. He continued to compete at the Florida Championship Wrestling event before making his television wrestling debut in November 2012, alongside Dean Ambrose and Seth Rollins. The Trio came to be called The Shield, and Reigns was suddenly thrust into popularity.
For several ensuing six-man-tag-team matches 'The Shield' emerged victorious consecutively. Later at the 'Extreme Rules,' Roman Reigns and Rollins defeated 'Team Hell No' and earned the title of 'WWE Tag Team Championship.'
Feuds And Singles Wrestling Competition
The Shield split in 2014 because of Rollins' betrayal after which Roman Reigns launched his career in the World Title Contention as a singles wrestler. He won the Battle Royal which led him to occupy a spot in the World Wrestling Entertainment World Heavyweight Championship' ladder match; he started a feud with Randy Orton after losing the match.
Next, Reigns challenged Rollins but came off the looser, owing to an incarcerated hernia. However, his glory was revived as he held the title at 'WrestleMania' following his defeat of Daniel Bryan via pinfall. Roman then went on to challenge The Big Show, and also emerged victorious. His next feud was competing for the 'Money in the Bank' ladder match against Bray Wyatt which resulted in a few defeats and disqualifications in tag team matches. Eventually, he went on to win the 'Hell in a Cell' match against Wyatt.
New WWE World Heavyweight Champion
After he recorded victories in a fatal four-way match against Dolph Ziggler, Alberto Del Rio, and Kevin Owens, Roman Reigns was close to earning the title of the new WWE World Heavyweight Champion. With the defending champion Seth Rollins out of the way due to injury, the set was established for the emergence of a new champion. Reigns leveraged the opportunity to win Big Show in the first round, defeat Cesaro in the quarterfinals, and won Alberto Del Rio in the semifinals. He eventually won Dean Ambrose in the finals which made him the WWE World Heavyweight Champion for the first time in his career. However, he lost the title to Sheamus five a few minutes later in an ensuing feud where Sheamus pinned him down to clinch the title.
Reigns became the WWE World Heavyweight Champion for the second time after he was granted a rematch against Sheamus by the CEO of WWE Mr. McMahon where he beat Sheamus to regain his title. His third time as a WWE World Heavyweight Champion came after his victory over Triple H, but he later faced suspension from WWE for violating their Wellness rules. On the 21st of August 2016, he defeated Rusev to win his first United States Championship and launched a short-lived feud with John Cena following a series of losses at the Survivor Series.
The Shield Later Re-united Albeit Briefly
The Shield regrouped briefly in October 2016, defeating Miz for the Intercontinental Championship, making them the seventeenth Grand Slam champion. Roman Reigns lost to Lesnar at the Greatest Royal Rumble but defeated Bobby Lashley at Extreme Rules to become the first in line to contend with Lesnar for the championship. His victory against Lesnar at Summer Slam earned him his debut Universal Championship.
Shield later emerged victorious in a six-man tag team match against Strowman, Ziggler, and McIntyre. Reigns reunited with Rollins and Ambrose following a brief hiatus occasioned by health issues and defeated Corbin McIntyre, and Lashley. Subsequently, he won McIntyre at WrestleMania 35 and defeated McMohan and McIntyre in collaboration with The Undertaker at Extreme Rules.
Roman Reigns Is Married With Children
In December 2014, Roman Reigns married his longtime girlfriend, Galina Becker. The pair met and began dating at Georgia Tech where she studied Management. Before exchanging marital vows, the couple already had a daughter named Joelle, born on the 14th of December, 2008. In 2016, they welcomed twin boys, followed by another set of twins in 2020.
Galina Becker, who is a fitness model, was born in Jacksonville Florida on the 11th of March 1987. Becker had always been interested in sports and throughout her high school and college days, she participated in track and field events. In addition to that, she also played volleyball in high school. After graduating from college, she began to make appearances on television and magazines as a fitness model. She also occasionally models for sponsored photo shoots.
Behind The WWE Champion Is A Man Engaged In A Life-threatening Battle With Leukemia
Around October 2018, viewers of Monday Night Raw got a stunning dose of reality when Roman Reigns announced that he was going to be stepping away from WWE to resume his long battle with leukemia.
According to the renowned wrestler, he has been living with the disease for the past 11 years and it meant he could not be able to fulfill his role as a WWE champion; besides, it also meant he would be forced to relinquish his belt. Roman added that he had faith that his situation will soon become a thing of the past because of how he quickly went into remission after he was diagnosed at the age of 23. While he was undergoing treatment, Rollins took the responsibility of giving an update on his condition.
Roman Reigns Re-surfaced After Four Months
Roman took care to point out that, that was far from being his retirement speech because; he will be back with a big bang after he is done whipping leukemia's [butt] once again. True to his words, the WWE champion was back four months later, making an appearance on the same program Monday to give fans an update on his battle. And boy was it a good one. Roman Reigns won the fight and is finally in remission.
According to the champion, chasing and winning titles in WWE remains important, but his present focus will be using the WWE platform to "raise awareness" about cancer, as well as support those who are in need. He now partners with MediaplanetUSA.