Divorces are never fun, regardless of the circumstances that led to them. And it is incredibly hard when you have been married to the person for 38 years that saw the birth and upbringing of two children. That's the marital story of Ron Perlman, known for his roles in Sons of Anarchy and the Hellboy films.
Ron and his wife had been together since February 1981 until they announced their separation in May 2019. While the veteran actor rues the end of his multi-decade marriage, he can take solace in his long and successful career. He has been an actor for more than four decades, amassing a good net worth from his extensive filmography.
Ron and Opal Stone Cited Irreconcilable Differences as the Reason for their Divorce
Despite being one of the most outspoken men in Hollywood, Ron Perlman has been surprisingly quiet regarding the circumstances that led to the end of his marriage. He filed for divorce on May 7, 2019, and five days later, he was seen publicly kissing fellow StartUp actress and new partner, Allison Dunbar.
The brazen timing of the kiss suggests that the long-term couple had amicably parted ways with Ron ready for a fresh start. The fact that Ron and Opal Stone had not been publicly photographed together since April 2018 further lends credence to the notion their marriage had ended for a while.
However, for official purposes, Ron cited irreconcilable differences as the cause of the divorce. Eight months after he filed for the divorce, his ex-wife submitted her filling, citing the same reason. The divorce, which is yet to be finalized as of September 2020, appears peaceful and amicable.
Perlman has agreed to pay spousal support and cover the attorney fees. As for their respective assets and debt, they will be divided as separate property, and the court will determine their shared assets during the divorce proceedings.
They Got Married on Valentine's Day of 1981
It seemed just like yesterday when Ron Perlman got married to his now ex-wife, Opal Stone, in 1981. Details about the road to the couple's marriage remain fuzzy. According to some reports, they met when Perlman was working in a boutique. Stone came in to patronize the store, and they got talking.
That talk developed into a deeply shared affection. It was so strong that the actor got married on the most romantic day of the year, on February 14, 1981.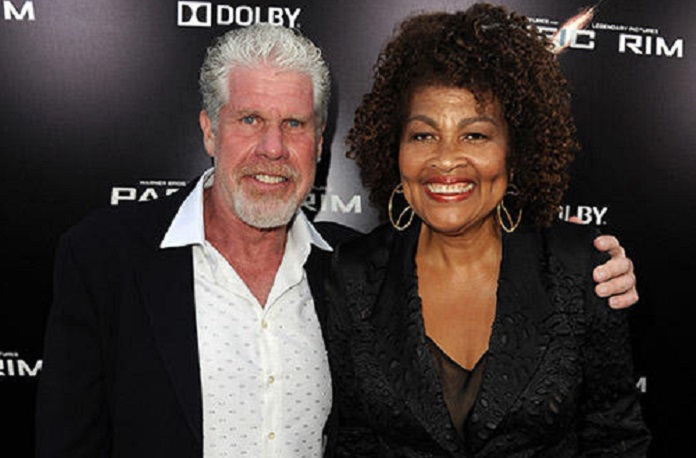 Opal Stone is a jewelry designer who reportedly trained at the famed Parsons Institute. She designs not only jewelry but also has a line of luxurious handbags. Following their wedding, the couple gave birth to two children: a son named Brandon Avery and a daughter called Blake Amanda.
Blake was born on January 7, 1984, three years after their wedding while Brandon was born nine years after, on March 28, 1990. Ron and Opal happily raised their children to adulthood and built their marriage with zero reported drama over 38 years. That is, until 2019 when the actor filed for a divorce.
Their Kids Work in the Entertainment Industry
Ron Perlman's marriage may not have lived up to the happily ever after they declared in 1981, but it did produce two children that have been a source of joy. Both have followed in their father's footsteps and are part of the entertainment industry.
The first child is an actress who has appeared in more than 17 films and TV shows. She made her debut appearance in a voice role for the video game, Skate. Her first onscreen role was an unnamed newscaster in her father's Hellboy II: The Golden Army.
Over the years, she has made appearances in minor and supporting capacities in films, TV shows, and video games. They include Archer, Hand of God, Hitman Redemption, Pottersville, and StartUp.
Her brother plies his trade in the music sector. He is an electronic music producer who goes by the stage name, Delroy Edwards. Also a DJ, Delroy began his music training at a young age and studied music at the California Institute of the Arts.
Signed to L.I.E.S and with his own imprint, L.A Club Resource, Brandon Perlman has released six studio albums. He also has six EPs to his name, as well as three mixtapes and six singles.
Most of Ron Perlman's $15 Million Net Worth Came from His Acting Career
While other actors prioritize quality over quantity, Ron Perlman has embraced both. A relentless work habit and his versatility have seen him accrue over 260 credits across various acting mediums. From movies, TV shows, stage, and video games, Ron's dedication to work has helped him amass a $15 million net worth.
While we cannot say which role has made Ron Perlman the most money, it is no secret that most of his wealth came from his onscreen works. The actor has appeared in more than 200 filmed projects. The sheer volume of his work has been the primary driver of his enviable net worth. In terms of TV shows, he has over 590 episodic appearances. Whatever each episode paid him, it most certainly becomes a lot when you multiply it by 590.
Aside from shows, he has appeared in more than 129 films, for which the same principle of volume applies. They are spread across short, feature, and TV films.
His Voice and Distinct Features Has Helped His Earning Power
The man is an accomplished voice actor. His distinctive head and facial structure might mean he is perfect for antagonistic roles. However, his voice is just as unique. This physical quality has further granted Ron Perlman a means to consistently rake in the cash.
Either through animation films or shows, Perlman has made a lot of money using his voice to bring characters to life. The impact and popularity of his voice are most noticeable in video games. He has voiced more than 34 of them, out of which his work on the Fallout series is the most prominent. The actor has been narrating the game since the first of its release in 1997. Others include the Halo series, Batman: Rise of Sin Tzu, Conan, and Call of Duty: Black Ops III.
Another source of income for the versatile actor includes stage work. Since 1975, he has appeared in at least seven of them, including a run as Lt. Col. Nathan Jessep in A Few Good Men in the early 90s. He has also made money from a published book, Easy Street (the Hard Way), a memoir he released in 2014.
A Look At What the Actor Does With His Money 
Considering he is one of the most outspoken actors you will ever find in Hollywood, you might expect the same trait to extend to his display of wealth; that's not so.
Unlike many of his colleagues and peers, he is a firm believer in public modesty and would never show off for the sake of showing off. As a result, you will hardly find news of him spending lavishly.
I tell you what teddy boy, since mentioning jim jordan and wrestling is… problematic, why don't we say fuck him and just make it you & me. I'll give 50k to Black Lives Matter and you can keep all the tax payer money you were thinking of spending. https://t.co/6QDwCaEkpv

— Ron Perlman (@perlmutations) June 15, 2020
While we do know he lives in a substantially valuable mansion worth millions, the exact cost remains elusive. So far, the closest to a monetary cost in his public life was a $50k challenge to Ted Cruz for a boxing fight in June 2020.
Ron Perlman Is Most Famous for Playing Hellboy and Clay Morrow
A filmography with numerous credits means many of his roles might be forgettable to the casual observer. However, there are still a few that stand out. If you were born in the 90s, you probably know him as Hellboy.
A couple of years later, he earned a lot of admiration for being Clay Morrow in the series, Sons of Anarchy. These are surely the most notable roles in his four decades-long career, but none was his breakout role.
His Breakout Role Was in Beauty and the Beast
Actors that have had a long and successful career have that one role that brought them widespread recognition. For Ron Perlman, it was his role as Vincent in Beauty and the Beast.
Before getting cast as Vincent, a mythic man-beast who develops an emotional bond with a District Attorney named Catherine (played by Linda Hamilton), he had appeared in at least ten different projects with little recognition.
That changed with the show, as he starred in a lead role across 55 episodes between 1987 and 1990. His performance earned him his only Golden Globe win so far, and two Primetime Emmy nominations. The popularity of the show also saw him win three Viewers for Quality Television Awards as Best Actor in a Quality Drama Series between 1988 and 1990.
Ron Became a Film Star after His Hellboy Role
After the show ended and the years went by, Ron Perlman stayed relevant in the industry with decent appearances across several films and TV shows, often in a supporting role.
However, in 1995, he found his first leading film role as One in The City of Lost Children. His ability to carry the film as the lead actor set him up for a blockbuster breakthrough. In one of many partnerships with the Oscar-winning director, Guillermo del Toro, he starred as Hellboy in the 2004 comic-book adaptation, Hellboy.
Back when comic book-based films did not dominate the box office, the film proved a success. It earned $99.8 million on a $60 million budget despite national theatre backlash on religious grounds, thanks to Ron's performance.
He reprised his role in the 2008 sequel, Hellboy II: The Golden Army. It performed even better at the box office, making $168 million from an $82.5 million budget. His performance particularly received high praise, as did the film's makeup, which received an Oscar nomination.
While he did not receive recognition from the Academy Award, Ron Perlman got nominations from Fangoria Chainsaw Awards for his work in both films. He also earned a nomination from MTV Movie + TV Awards for his performance in the sequel.
Clay Morrow May Have Been His Swansong
His role in the Hellboy film series put him back in the conversation about the industry's biggest stars. That continued when he began playing Clay Morrow in the FX action crime drama, Sons of Anarchy.
The Kurt Sutter-produced TV show about the biker gang, Hells Angels, saw Ron rise again as a talented character actor. As Clay, he was part of an ensemble cast that included Charlie Hunnam, Maggie Siff, Tommy Flanagan, and Johnny Lewis.
Although he never got recognition from any of the major award bodies for his performance, his portrayal of the character is widely considered one of the best performances on the series.
When discussing his extensive filmography, his work as Clay Morrow is particularly touted as one of the defining expressions of the actor's outstanding ability to play deformed characters with endearing qualities.
Ron Perlman starred in the role across 79 episodes between 2008 and 2013. While it was not his last onscreen performance, it might be his last best. Then again, as someone who has at least one major performance in every decade since 1975, we wouldn't bet against him.
Also recognizable for his work as a voice actor, Ron's notable works in the medium include To Dust, Trollhunters: Tales of Arcadia, and Transformers: Power of the Primes.