Ron Perlman is an award-winning Hollywood actor. He is renowned for playing characters that have unique visages (appearances) with the result being that many people recognize him by his voice rather than face. One of his most popular roles is as the large, red-skinned, half-demon turned superhero – Hellboy. Get to know more about Perlman here including facts about his age, wife, children, as well as his height and net worth.
Ron Perlman Bio (Age)
Ronald Francis Perlman was born on the 13th of April 1950 in Washington Heights, New York. His father's name is Bertram Perlman while his mother's name is Dorothy Perlman. The actor's parents were Jewish and he had his bar mitzvah; a coming of age ritual for Jewish boys. Ron Perlman completed his high school education in Washington Heights before heading to Lehman College, New York, where he studied theatre.
The future Hollywood star obtained his BFA (bachelor of fine art) in 1971. Perlman's academic pursuits did not stop at this point; he also attended the University of Minnesota where he obtained his MFA in theatre in 1973. Unlike many instances where aspiring actors are discouraged from going into acting by their family, Ron Perlman's case was different. His dad gave him his full blessings after seeing his talent in a college production.
Career
Ron Perlman commenced his professional career in 1973. He got his head start by featuring in various stage productions including A Country Scandal, Measure for Measure, The Architect and the Emperor of Assyria, and Telbele and her Demon. The New York native made his debut screen appearance in 1979 on the TV series, Ryan's Hope. His movie debut came two years later in the 1981 sci-fi/ fantasy film, Quest for Fire. Even though Perlman was landing roles on the regular, it was mostly limited to supporting and minor roles and this left him discouraged. He even thought of quitting Hollywood but decided to hang on.
Perlman's perseverance paid off in 1987 when he landed a leading role in the TV series, Beauty and the Beast. In the series, he played the role of an honorable man-beast who becomes friends with a human lawyer after saving her life. Perlman had to undergo four hours of make-up each day in order to transform into the beast. All his hard work, however, paid off as he received many awards for the role including the 1989 Golden Globe Award for best performance in a television series. Since that breakthrough, Ron Perlman has not looked back. He has featured in over 200 movies and TV series combined.
His Net Worth
Ron Perlman has a fortune estimated at $15 million. His source of wealth is ostensibly from his acting career. On the big screen, he has featured in movies such as Conan the barbarian, Tangled, The Devil's Tomb, Outlander, Hellboy, Hellboy II: The Golden Army, The Last Winter, Star Trek: Nemesis, The Last Supper, and Sleepwalkers.
On the small screen, Perlman has featured in TV series such as Bonkers, Fantastic Four, Iron Man, The Magnificent Seven, Teen Titans, Danny Phantom, 1000 Ways to Die and Sons of Anarchy. Aside from the regular acting, Perlman is a prolific voice actor and has lent his distinctive voice to several animations and video games.
Family – Wife, Son, and Daughter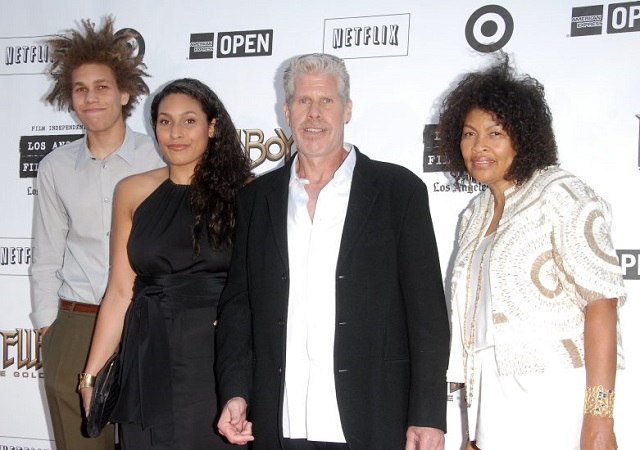 The Hellboy star is married to Opal Stone. Stone is a jewelry designer who reportedly trained at the famed Parsons Institute. She does not only designs jewelry but also has a line of luxurious handbags. The exact timeline of Perlman and Stone's relationship is not known but they met when Perlman was working in a boutique. Stone came in to patronize the store and they got talking.
They eventually started dating and tied the knot on Valentine's Day, 1981. Ron Perlman has two kids with his wife; a son Brandon Avery and a daughter named Blake Amanda. Avery is said to be a music producer.
See Also:  Keith David – Biography of The American Voice Actor, Comedian, And Singer 
Ron Perlman's Height
Perlman is 5 feet 11 inches tall (1.80m) and weighs 84 kg (185 lb). His hair color is blonde/white while his eye color is blue. The actor also boasts of a buff physique which certainly comes in handy for the action characters that he portrays. The Hellboy star has however disclosed that he was quite overweight as a child and that this affected his self-esteem. This subsequently influenced his penchant for playing characters who are kind despite their physical deformities.