Rosario Dawson's journey to stardom seems different from that of most other Holywood stars. She got her breakthrough role at age 15 when she appeared in the distressing film Kids (1995), by Larry Clark. At age 20, the budding star took the big leap of not allowing people judge her by looks alone, thus she resorted to wearing huge sweatshirts to auditions. Although it was tough convincing directors that she has what it takes given that she doesn't perform in revealing clothes during auditions, the actress has been able to build a growing acting career since her teen role. Moreover, her political activism makes her even more special.
Biography & Age
Dawson's birth sign is Taurus as she was born on May 9, 1979. Her mother Isabel Celeste had Dawson at age 16 but never married her father Patrick C. Harris. Instead, Isabel chose Greg Dawson, a construction worker at age 17, which is a year after she gave birth to Dawson. Little Dawson grew up alongside her half-brother Clay in the lower east side of Manhattan in the 80s. Their mother who is also a singer is of Puerto Rican and Cuban ancestry.
Dawson first caught the acting passion as a child and her first appearance was in the children's educational series, Sesame Street. A role in the 1995 film Kids followed after this before the actress began lending her voice to music videos such as Out of Control, a song by Chemical Brothers. She also featured in some of the music videos and spent the remainder of the 1990s and early 2000s doing those.
Also, the new millennium saw Dawson assume a number of various roles; from a band member in Josie and the Pussycats to sweet Naturelle Rivera who won the heart of a convicted drug dealer in 25th Hour. Her eagerness which goes a great length to add precision to her roles made the young stunner win more roles in different blockbusters such as He Got Game (1998), Men in Black II (2002), and Rent (2005). Around this time, Dawson performed on stage for the first time in Shakespeare in the park, during the revival of Two Gentlemen of Verona which took place in Public Theatre.
Met with huge paychecks and fan approval, Dawson went on a career journey focusing on activism and record-shattering film roles such as in Seven Pounds (2008), where she starred alongside Will Smith. She also did Eagle's Eye (2008), Percy Jackson & the Olympians: The Lightning Thief (2010), Unstoppable (2010) and a host of others.
While Dawson stuck mostly to acting in films, she did also give TV series a chance with roles in Gemini Division, an online science fiction series. She has voiced quite a good number of works and has hosted Saturday Night Live. Her voicing works in the animated series of Afterworld and Wonder Woman were well praised.
In recent times, she joined in the reworking of Jones and Luke Cage and Sin City: A Dame to Kill For, repeating her role as Gail. The two films came out totally impressive and gained her more fame. Dawson also played a role in Gimme Shelter, a Christian drama film in which she played Apple's mother.
Read Also: Ciara Age, Height, Baby, Net Worth, Married, Husband, Boyfriend, Son
Rosario Dawson's Net Worth
Rosario Dawson is a regular face on several of Marvel shows on Netflix and those superhero roles have translated into enough cash pile. The American actress who also advocates for some social movements has a net worth estimated at $16 million dollars which is basically remuneration from acting, singing, writing as well as brand endorsements.
Facts About Her Husband, Kids & Boyfriend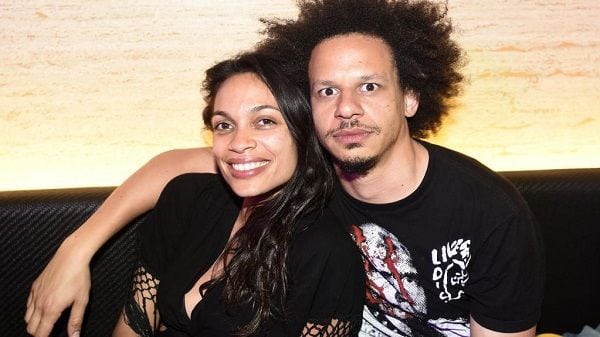 Rosario Dawson started dating her ex-husband Comedian Eric Andre in early 2017. Mid that year, the actress in a mushy mood shared that Eric was a sweet guy and was very supportive during and after her health issues; ovarian cyst and internal bleeding. While they were once deeply in love, it appears all traces of the sweet feelings are history as they have since called off the relationship.
Their break up got many wondering what happened especially since it was barely two months after Dawson took to the social media to gush about how supportive he has been. There was no child from the union, but Dawson has a daughter whom she adopted at age 12 in 2014.