Ruby Dee scaled through the challenging dynamics of the creative arts industry with so much grace and poise and will always be remembered for her good works. She was an actress, a playwright, poet and a screenwriter who graced the big screens in the 50s with her impeccable talent and remained relevant even in death. There is so much to learn from the life of the legendary actress and writer who died in 2014. Ruby Dee patiently stayed true to her passion despite the hurdles, becoming an inspiration to big wigs in the entertainment industry as well as aspiring artists. Here are lesser-known facts about the legend.
Who Was Ruby Dee?
Ruby was born Ruby Ann Wallace in Cleveland Ohio on October 22, 1922, to her parents –  Gladys Hightower and Marshall Edward Nathaniel Wallace. When she was still little, her family moved to Harlem, New York where her talent and inclination to arts began to manifest. Ruby Dee was already writing poetry as a teenager and would submit her first poetry to a newspaper – the New York Amsterdam News. She attended Hunter High School where she also decided she wanted to be an actress. After Hunter high school, Dee proceeded to Hunter College where she got a degree in Romance Languages. After college, she enrolled into the American Negro Theater where she was trained alongside other acts like Sidney Poitier, Hilda Simms, and others.
She soon started making appearances on Broadway with Anna Lucasta being her major appearance in 1946. She also got her first Broadway role in Jeb which was where she met her husband, Ossie Davis. Ruby also had her first major onscreen role in That Man of Mine that same year. The actress started landing film roles immediately her on-screen breakthrough. She is remembered for her role in the movie The Jackie Robinson Story (1950) which earned her several awards. In 1959, Ruby played a role in the film A Raisin in the Sun where she reprised her Broadway role of the wife of Sidney Portia and a mother, in a deprived African-American family.
More films followed in the 60s and Ruby Dee was gradually rising to prominence. She played a role in the film The Incident after which she made a remarkable appearance in eight episodes in American soap Payton Place (1969). She also made appearances in other films like; Police Woman, The Golden Girls, Roots: The Next Generations. In 1989, she made an appearance in Do The Right Thing directed by Spike Lee. She also played a character in Spike Lee's Jungle Fever (1991).
Her Net Worth and Achievements
She also garnered lots of riches through her outstanding works which speak volumes. Ruby Dee's net worth has been estimated at $5 million. Even in death, the actress and writer's works have continued to garner riches for her family. Ruby Dee had an ever-blossoming career in acting and other genres of arts, with several accolades to her name over the course of her career.
See Also: Diahann Carroll Bio, Spouse, Daughter, Age, Height, Net Worth And Other Facts
The actress had eight Emmy nominations for her role in Decoration Day (1990). Alongside her husband Ossie Davis, she was given the National Medal of Arts in 1995. The couple also won the Kennedy Center Honors in 2004. She was also regular at the Academy and Screen Guild awards. Ruby in 2007 earned an Academy nomination for 'Best Supporting Actress' for her role in American Gangster (2007). Before her death, she was regarded as the second oldest nominee for Best Supporting Actress.
Facts About Her Husband and Children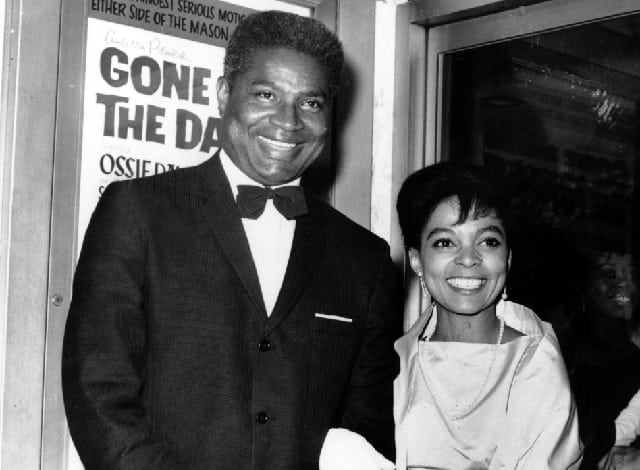 Ruby married her husband Ossie Davis in 1948. Before Davis, the actress was formerly married to Frankie Dee Brown. Ruby and Frankie got married in 1941 after which she adopted his middle name (Dee) as her own stage name. However, the couple divorced four years later in 1945. She had met actor Ossie Davis on the set of Broadway play Jeb. The two who started out as friends soon discovered a connection between them and the rest was history. Ruby and Davis had three children together – Guy Davis, their son who is an R&B musician, and two daughters, Nora Day and Hasna Muhammad.
Ruby and Ossie were devoted activists who relentlessly fought for human rights and black independence with the best weapon they had – on-screen productions. The couple embarked on several projects aimed at projecting black image in the industry. The couple who were both active members of the Civil Rights Movement, as well as friends of Martin Luther King Jr., was arrested in 1999 while they protested over the police shooting of Amadou Diallo. The couple who strongly opposed the US invasion of Iraq in 2003, appended their signatures in the 'Not In Our Name' proclamation published in The Nation magazine.
Dee lost her husband in 2005. It was quite an excruciating period for the actress whose husband of over 50 years died unexpectedly. The actress who was away filming a movie got to know about his demise while she was miles away.
Though she was widowed and in pains, the ever-persevering actress forged ahead and continued with her works after the death of her husband. One of her remarkable performances after her husband's demise was that of American Gangster where she played the mother of Denzel Washington, a notorious criminal.
What Caused Her Death?
Ruby Dee was a widow for 9 years before she gave up the ghost in 2014. The renowned actress died of natural causes at the age of 91 at her home in New Rochelle, New York. A memorial was held in honour of the actress on September 20, 2014, at the Riverside Church in Upper Manhattan.
Dee was said to be filming a movie, King Dog, during the period of her death. The film which was still in production at the time has not been released according to reports.