Rue McClanahan is an American Actress who started her career in theatre before she moved on to films and television shows. Her global prominence came after her appearance in the TV series The Golden Girls which aired from 1985 to 1992. Her efforts in the series earned her an Emmy award.
Also, Rue is famous for her role as Vivian Harmon on Maude and Aunt Fran Crowley on Mama's Family. For an actress that was active from 1957 until 2009, a year before her death, it is easy to see why Rue is vastly considered and remembered as a Hollywood veteran.
Rue McClanahan Studied Arts at The University of Tulsa
Eddi-Rue McClanahan was born on the 21st of February 1934 in Healdton, Oklahoma, United States of America. Eddi-Rue's ancestry has been traced to Ireland. Her mother was Dreda Rheua-Nell Medaris McClanahan while her father, William Edwin Bill McClanahan, was a building contractor.
Though born in Oklahoma, she grew up in Ardmore, California, where she attended the Ardmore High School. She participated actively in the school plays and even won a gold medal for her efforts. Eddi-Rue McClanahan then bagged a degree in Arts from the University of Tulsa in 1956, majoring in German & Theatre courses. She also joined the Kappa Alpha Theta Sorority and also served as the organization's vice president.
Immediately after university, she signed up as a member of Actors Studio and started working as a professional actress in small stage productions. She made her stage debut at Pennsylvania's Erie Playhouse in a play titled Inherit The Wind. This eventually led to off-Broadway roles before she proceeded to make her mark on Broadway.
Her Breakthrough Into Mainstream Acting Came In 1970
Rue assumed the role of Caroline Johnson in Another World from 1970 to 1971. The TV series gave her the desired recognition in the industry. She also worked with actress Beatrice Arthur in Maude, playing Maude's best friend in the popular show which aired from 1972 to 1978.
McClanahan made appearances in films like Rotten Apples (1961), Some of My Best Friends Are (1971) and Out Of Sea (1997) among others; while her TV features include her award-winning role in The Golden Girls (1985 to 1992) and its spin-off The Golden Palace (1992 to 1993), The Dreamer of Oz (1990), The Children of the Bride (1990), The Baby of Bride (1991), and The Mother of The Bride (1993).
Her artistry in the industry has not gone unrewarded as she was nominated for several awards; a few of which she bagged. The Maude actress was a recipient of an Emmy for Outstanding Lead Actress in a comedy series; this was for her work on The Golden Girls.
Rue McClanahan used the platform her career provided her to fight for causes that matter. She was quite vociferous about LGBTQ rights and even partook in the Broadway benefit concert held for the LGBTQ community in 2009. Rue also authored a book entitled My First Five Husbands and The Ones Who Got Away (2007). The book chronicles her marital journey with her spouses and their roles in her life among other facts.
Rue McClanahan, Who Got Married Six Times, Had An Interesting Love Life
As much as Rue McClanahan thrilled people with her acting prowess, she sustained the interest of the public with her busy love life as she was married up to 6 times in her lifetime to various interesting personalities.
Tom Bish (1958 – 1959)
Also an actor, Tom Bish was a cast member in the first theatre production that Rue landed a role in after she graduated and moved to New York in the late 1950s. They got married almost as soon as they met and parted as soon as they got married.
Rue McClanahan and Tom Bish had a child together, a son they named Mark Thomas Bish. Mark was born on the 2nd of October 1985 in Ardmore, California. He followed the footsteps of his parents and is famed for his works on the TV Series Intimate Portrait (1993).
Norman Hartweg (1959 – 1961)
Norman Hartweg was more of a friend than a lover to Rue McClanahan. They got married a few months after her divorce from her first marriage and separated almost immediately but remained friends.
A native of Ann Arbor, Michigan, Hartweg was born on the 27th of March 1935 and he died on the 14th of September 1994 in Los Angeles, California. He was also an actor and is remembered for works like Five Minutes to Love (1963), The Farmer's Other Daughter (1965), and A Different Approach (1978).
Peter DeMaio (1964 – 1971)
An Italian, Peter DeMaio, is also an actor who worked together with Rue. Although she was scared of him because he was hot-tempered, the actress revealed that she married DeMaio because she wanted to create a stable home for her son Mark.
According to her, Peter's anger issues got the best of the union and for the interest of her son, she had to leave the marriage.
Gus Fisher (1976 – 1979)
Rue McClanahan regarded what she had with Gus as a fluke while she also hinted that he was greedy. A Greek-American realtor, Gus and Rue started working towards the dissolution of their marriage about a year into it.
Tom Keel (1984 – 1985) 
Tom was Rue McClanahan's high school sweetheart. They met after her divorce from Gus Fisher and the actress decided to marry him even though they hadn't seen each other since they finished high school. The union ended as quickly as it started and as there were no premarital agreements, Tom left the marriage a rich man.
Morris Wilson (1997 – 2009)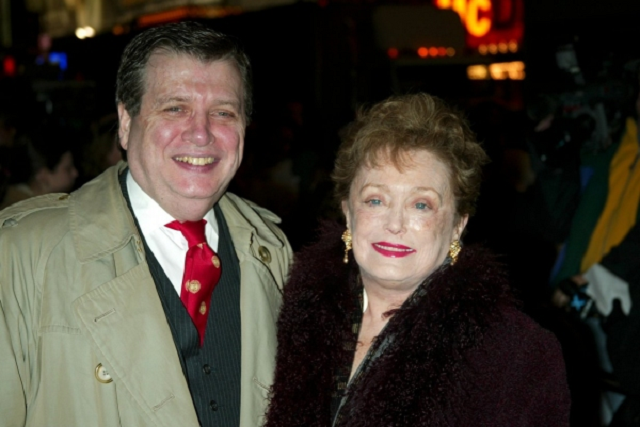 Rue McClanahan got married to Morris Wilson in 1997. Her last marriage lasted over 10 years before she kicked out her sixth husband, Morris Wilson, in 2009.
Morris Wilson is also an actor, famed for Wit's End (2005), a film he featured in with his wife Rue. The two were separated at the time of her stroke and eventual death.
Cause of The Actress' Unexpected Death
Rue McClanahan is no doubt a legend in the entertainment industry and she will always remain a legend even though she has passed away. The iconic actress was 76 years old at the time of her death.
The actress' health battles were traced to her diagnosis of breast cancer which was treated successfully in June 1997. But sadly, 12 years later, around November 2009 precisely, an event slated to honor her was shifted as she had a stroke and had to undergo surgery.
The surgery was deemed okay in January 2010; unfortunately, sad news rose after the procedure, as it was reported in June 2010 that the icon had passed away due to a brain hemorrhage that she suffered whilst recovering in New York-Presbyterian Hospital.
No Funeral Service Was Held for Rue McClanahan
Her body was cremated and handed to her family. Probably in line with Rue's request, there was no funeral service held for her. Instead, her family set up a memorial Facebook page for her.
Also, memorial services were held for McClanahan in New York and Los Angeles. She was survived by her sixth husband – Morrow Wilson, her son – Mark Bish, and her sister -Melinda L. McClanahan.