Runtown and Adut Akech's relationship was a love story many only dreamed of until it came to an uneventful end. The Nigerian singer Douglas Jack Agu, more popularly known as Runtown is also a songwriter, and record producer who was launched into stardom in 2014 with the release of his single 'Gallardo' featuring Davido. He is also known for his diverse musical mixing styles and the release of the ballad 'Mad Over You' on November 4, 2016, is proof of his musical prowess. Shortly after its release, the song peaked at number 38 on the Billboard Twitter Top Tracks chart. According to the crooner, the song was inspired by African beauty which he also found in the stunning Sudanese supermodel, Adut Akech.
The relationship between the two has lasted a while and survived the many criticisms typical with cross-ethnic relationships the world over. However, it did not have the end many of their fans thought it would. Here's a detailed timeline of how they got to where they are now.
Runtown's Ex-Girlfriend Adut Akech Is a Famous Model 
Although Akech is not as well-known in Nigeria as her boyfriend, her name rings certain bells in the fashion industry. Adut was born in South Sudan in 1999 and at the age of seven, became a refugee and left her home country alongside her mother Adelaide, to Australia. This was where her fate changed as she was introduced to the fashion industry at an early age.
When she started school in Australia, her teachers at the time referred to her as "Mary" because they couldn't pronounce her given name. They called her so because her mother's name is Mary. However, as the years went by and she entered the fashion industry, the African beauty was eager to revert to Adut because the name was unique in the industry. More so, by the time she entered her teenage years, she was already walking the runways.
Adut's success as a model was also aided by her mother's agency, Chadwick Models, in Sydney, Australia, which she got signed to when she was 16 years old. So far, she has had a very successful modeling career, collaborated with a number of major designers, and walked the runways for several top-notch brands.
Adut Orchestrated The Start Of Her Relationship with Runtown
The two apparently met for the first time during London Fashion Week when the Runtown walked the runway for Dior and Versace. It would seem that they did not exchange numbers at the event because a while after, Adut made a post on her Instagram stories asking her fans to help her get the singer's phone number. Not long after that, she posted a video on her Instagram stories of herself and Runtown going for a walk together. This was the official confirmation that something was going on between the two. At the time, Runtown also began publicizing his relationship with the South Sudanese-born model and this got a lot of people talking.
In July 2019, a video of Runtown and Adut all loved up went viral on the internet. At this point, it was clear that they were an item. Since then, the couple has teased fans with love-filled posts from both of them. When Runtown released the video for 'Kini Issue' – his second single of 2020, it was also clearly demonstrated that he was in a very loving relationship with Adut. The 'Kini Issue' video features Adut as the main focus in the midst of a dancer and another character.
Runtown and Adut Loved Lavish Vacations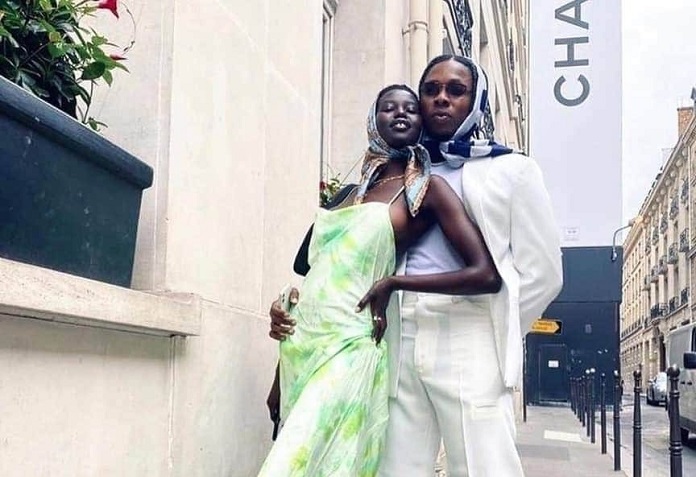 Since they confirmed their relationship, this celebrity couple has been giving their fans daily relationship goals. They flood their social media timelines with lovey-dovey pictures themselves and are known for going off on exotic vacations.
One of such vacations was in August 2020 when the pair jetted off to Greece to celebrate Runtown's birthday. Although they called it a 'private getaway, the love birds couldn't resist the urge to share their romantic moments with their fans, and every picture attested to the fact that they were having a great time in Greece. The duo even landed a deal with Versace to feature in their 2020 holiday campaign which was also a fun time they had together mixing business with pleasure.
Were They Engaged To Be Married?
Runtown and Adut Akech were not engaged. Sometime in July 2020, the supermodel shared a video on her Instagram stories showing herself wearing a huge diamond ring and screaming happily with her friends. A few weeks later, Runtown posted an Instagram video of Adut showing off the same ring. Tabloids and social media carried stories of their engagement despite the fact that they had not actually made any verbal confirmation.
The music star's team later clarified that it was not an engagement ring but rather a promise ring. Many of their fans still believed that they were secretly engaged but were keeping it on the low. From their own admission, that was not the case.
The Duo Experienced Limited Social Media Drama
Runtown has mostly been a scandal-free celebrity. The only time he has been in the news negatively was when he severed his multi-million naira contract with Eric Manny Entertainment record label in July 2018 after they had a public fallout. Eric Manny stated that it decided to end its affiliation with the artist alleging that Runtown was signing up and attending musical concerts without their knowledge. The musician on his part claimed that he left the label as a result of extortion, a violation of contract, and a threat to his life.
Runtown has since then stayed clear of social media drama in all forms. Even his breakup from his baby mama was amicable and without rancor. His current sweetheart has also never been involved in any known scandal or drama. Their social media interactions are limited to their beautiful relationship and their different work.
Did The Couple Really Break Up?
Recently, the Sudanese model sparked rumors of an alleged separation from her musician boyfriend on Instagram. The news that the pair must have ended things actually began to spread when Adut told one of her fans on Instagram that she was 'Singe' and even added that she was ready to mingle.
More so, it was not long after her reply that fans began to notice that the pair had deleted pictures of each other from their social media handles. Although they have not given proper explanations for why they went their separate ways, one can't help but come to the conclusion that they did it in their typical fashion which is totally keeping it all to themselves.
Runtown and Adut Have Both Achieved Remarkable Feats In Their Careers
According to reports, Runtown's net worth is estimated to be an impressive $2.5 million which he garnered from his music and a slew of endorsement contracts worth millions of Naira. Among the good endorsements he's had are being the face of Infinix mobile and signing a deal with Addidas which is one of the world's largest sports brands. Runtown is also interested in fashion and has signed a few multi-million contracts with famous brands and companies throughout the country.
Adut Akech on her part has some big achievements that make her just as successful as Runtown. She was one of the 15 women who appeared on the cover of British Vogue's September 2019 issue by guest editor Meghan Markle, Duchess of Sussex. More so, I-D Magazine, 10 Magazine Australia, Vogue Italia, Vogue Korea, British Vogue, Vogue Australia, Portrait, Elle Croatia, L'Officiel Singapore, and Le Monde M Magazine have all featured Akech on their covers.
She won 'Model of the Year' award at the British Fashion Awards in London on December 2, 2019, beating out big-time models Winnie Harlow and Kaia Gerber. More recently, Adut became a global ambassador for the Estee Lauder brand and won the 2020 model of the year award.
Who Has Runtown Dated In The Past?
Prior to hooking up with Adut, Runtown was dating actress and model Selena Leath. She is also a professional video vixen who has appeared in the music videos of several well-known rappers. They began dating in 2015 and then went on to have an adorable little son named Zamar in 2018 – he was born in Los Angeles, USA before they split up.
However, on the relationship front, Adut is not known to have dated anyone before Runtown. This does not necessarily mean she has not been involved with someone in the past but being a really private person, she kept it a private affair.