Russell Brand is a high-profile entertainer and one of the hottest British comic talents of this era. Having always been ambitious and determined to succeed, Brand has overcome adversity, addictions, and controversies. Despite a controversial life of debauchery, the English comedian and his eclectic career warmed their way into the hearts of many.
He is also one of the region's most successful personalities. He has notable accomplishments as an actor, writer, and podcaster and was once married to the American music icon, Katy Perry. He may not have done it the traditional way. Still, he is an accomplished full-fledged entertainer, and it all began from his difficult childhood.
Russell Brand had a Troubled Early Life
An English man from Essex, Russell Brand was born on June 4, 1975. He is the only child of Ronald Henry Brand, a photographer, and Barbara Elizabeth Nicholas. The union that led to Russell's birth did not last. His parents separated when he was six months old, thus he was raised by his mother alone.
His teenage years were characterized by struggles like dealing with his mother's uterine and breast cancers and a father who had an occasional presence in his life. When he was present, he did things like taking Russell on a trip to Thailand to visit prostitutes. The comedian's complicated early life led to the use of drugs like LSD, cannabis, and ecstasy.
In between his troubles, however, he developed a passion for the arts. He appeared in a school production of Bugsy Malone at the age of 15. He began a life working as a film extra afterward, while he attended Grays School and Italia Conti Academy.
Unfortunately, the complications of his early life resulted in a dependency on drugs. It led to his expulsion from Italia Conti, and a full-time embrace of one of his professions as an actor.
Dissecting his Entertainment Career and Achievements
It did not take long for his decision to embrace acting to come with its rewards. He made his first named appearance in the TV show, Mud, starring in six episodes of the 1994 series. Over the years, he has made several appearances across TV and Film, worked as a standup comedian, become an author, TV host and podcaster.
His Filmography
One would not necessarily call Russell, the best actor out of England. Still, he has starred in a few of the popular works to come out of the island and Hollywood. After his stint on Mud, he made subsequent appearances on shows like White Teeth, Blessed, The Abbey, and Cold Blood.
His first major project was playing Flash Harry in the 2007 film, St Trinian's. It brought him fame in his home country, and he became an international star when he starred as Aldous Snow, a rock star in 2008's Forgetting Sarah Marshall.
Russell Brand's performance brought him several accolades, including three award nominations. Over the years, he has starred in films like Get Him to the Greek, Despicable Me and its sequel, Arthur, and Rock of Ages. Russell also played Lance Kilans in Ballers and appeared in shows like Neighbours, Hospital People, and Nothing to Declare.
So far, he has appeared in 39+ films and TV shows, and received 17 award nominations, winning five of them.
Standup Comedy Career
His first notable standup performance came in 2000, at the Hackney Empire New Act of the Year final. Although he did not win, he impressed a comedy agent, Nigel Klarfeld, who took a chance on him.
He debuted officially at the standup show, Pablo Diablo's Cryptic Triptych, to modest success. Russell Brand has performed in several shows since, like Better Now, Eroticised Humour and gone on national tours. His standup comedy career has spanned two decades, with above-average success.
Brand has released several comedy specials too, like Russell Brand: Live, Russell Brand in New York, and Russell Brand: Re: Birth. The comedian has also performed for high-profile personalities like Queen Elizabeth II and Prince Philip.
Presenter and Radio Man
Brand's successful comedy career comes out of his ability to engage his audience and clearly articulate his ideas. He has parlayed that skill into a career as a presenter, on TV, live shows, and radio.
His radio career began in 2002 when he hosted a Sunday afternoon show. He got fired from it, for reading pornographic content on-air, but went on to host several other shows. He co-hosted three shows on BBC Radio 6 Music with Karl Pilkington and his show, The Russell Brand Show. He has also hosted a football talk show for Talksport, in 2009 and 2019.
As a presenter, he has worked as a video journalist for MTV, presented and hosted shows like Dancefloor Chart, Select, Big Brother's Eforum (later named Big Brother's Big Mouth). Other works in his presenter resume include 1 Leicester Square, a chat show that featured adult themes. He had guests like Boy George, Uma Thurman, and Tom Cruise on the show.
In a more serious tone, he presented the debate show, Russell Brand's Got Issues, later named The Russell Brand Show. The comedian/actor has also presented award shows like NME Awards, 2007 BRIT Awards, and 2008 MTV Video Music Awards, all producing controversial moments from the entertainer.
Furthermore, he has hosted Saturday Night Live, Comic Relief, and the UK leg of Live Earth.
Russell Brand, the Author
Russell Brand is an outspoken man, and he has put several of his thoughts and opinions in books. He released his first book, My Booky Wook, in November 2007. A follow-up, Booky Wook 2: This Time It's Personal, was released in 2010. Both books received favorable reviews and had modest sales.
Other books in his bibliography include Articles of Faith, and the children's book, Russell Brand's Trickster Tales: The Pied Piper of Hamelin. It was, however, poorly received. His book, Revolution, where he wrote about his political activism and spirituality was released in October 2014. It sold more than 100,000 copies, featuring on the New York Times Bestseller list.
So far, he has released more than thirteen books, selling several millions of copies.
He Has Been a Podcaster Since 2015
Most recently, Russell Brand has retreated from the spotlight into a tamer career as a podcaster. He launched a twice-weekly podcast, The Russell Brand Podcast, in February 2015. Brand released 24 episodes of the podcast before he ended it. Since 2017, he has been hosting another podcast, Under the Skin with Russell Brand.
On the podcast, he hosts guests across various works of life, in academia, arts, and pop culture. He has interviewed personalities like former Presidential candidate, Al Gore, filmmaker Naomi Klein, and the physicist, Brian Cox. The podcast has received favorable reviews, and he has released more than 140 episodes.
Take a Look at His Marital  Life
Russell Brand is a charming, outspoken and handsome man, and has had his fair share of flings and hookups. He has reportedly had sex with more than 1000 women, and at the height of his fame, he was having sex with up to five women a day. Some of them include famous names like Kate Moss, Kate Lawler, and Courtney Love.
When it comes to serious relationships, however, things are a lot tamer. He has only been married twice, to Katy Perry and Laura Gallacher.
His Marriage to Katy Perry Lasted Fourteen Months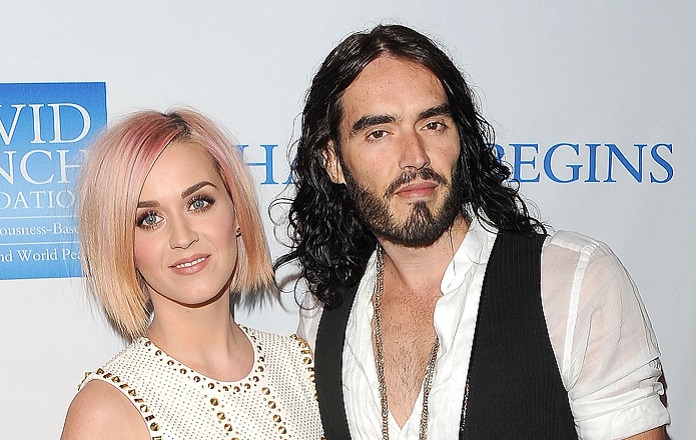 The duo first met on the set of the movie Get Him To The Greek. They met again at the 2009 MTV Video Music Awards in September 2009 and quickly established a romantic connection. They got engaged on December 31, 2009, while vacationing in India.
Within a year, on October 23, 2010, they exchanged marital vows in a beautiful, Indian wedding ceremony attended by close friends and family. Sadly, Russell and Katy's marriage only lasted 14 months as the comedian filed for divorce on December 30, 2011, citing irreconcilable differences.  He infamously told her he was getting divorced via an SMS. They finalized their divorce in July 2012.
He Has Been Married to Laura Gallacher Since 2017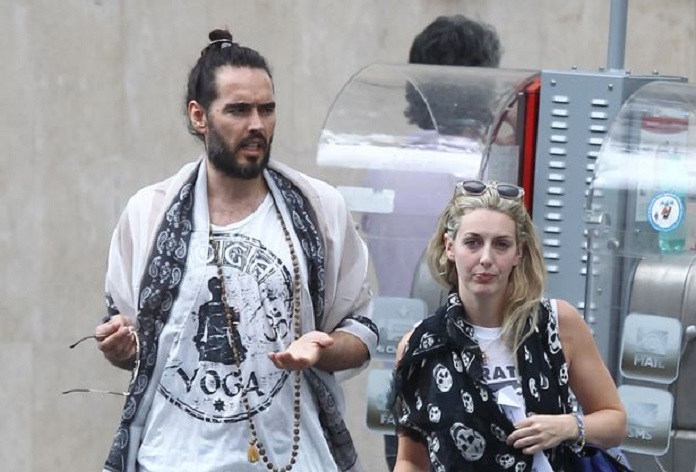 Before he gave marriage a second try, he dated Jemima Khan, an editor of the New Statesman. They dated for about a year between 2013 and 2014 before he moved on to a relationship with Laura Gallacher in 2015.
The two of them had been dating each other off and on since 2007 and rekindled their romance in 2015. Laura, who is a Scottish blogger and former restauranteur, is also the sister of the famed TV presenter, Kirsty Gallacher.
Russell Brand and Laura gave birth to their first child, a daughter named Mabel, in November 2016. About a year after, on August 26, 2017, they got married in Henley-on-Thames. Less than a year after the wedding, they welcomed another daughter, Peggy, in July 2018.