We have always been fascinated by celebrities and their mini-mes; Russell Simmons daughters are not left out. They gave us something to gush about when they were little adorable children walking the runway with their gorgeous mother, Kimora and modeling some of the fashion designs of Baby Phat, their mother's fashion company. Today, we will be getting up close and personal with these beautiful former child fashion models. Here's what we know about the two daughters of Russell Simmons and Kimora Perkins and where they are now.
Who Are Russell Simmons' Daughters?
Russell Simmons originally hooked up with fashion designer, Kimora Lee Perkins on November 1992. The record label boss and businessman who was birthed in 1957, crossed paths with the then seventeen years old model, Kimora during the New York's fashion show in 1992.
Six years after they met, they became husband and wife after a romantic ceremony at the Caribbean Island on 20th December 1998. Two years after their wedding, Russell Simmons first daughter Ming Lee Simmons was born on the 21st January 2000 and Aoki Lee Simmons came 19th August 2002.
However, the couple split up in March 2008 and in January 2009, their divorce was concluded with Kimora Lee having custody of their kids with Russell Simmons co-parenting the children.
Aoki Lee, the youngest of the two Russell Simmons daughters with former model Kimora Lee is almost the look-alike of her father. Since her birth, Aoki hit the spotlight not just as a celebrity's child but as a baby model at eighteen months old. She walked with her mum and older sister on the runway of Phat fashion in 2004.
In 2009, both sisters and their half brother, Kenzo Lee Hounsou, born on 30th May 2009, graced the runway for KSL and Baby Phat collections in September 2009. The girls over time learned how to balance their teenage years with their work as models and studies.
Aside from the fact that Russell Simmons daughters are each splitting image of their parents – with Ming looking like her mother's lost twin and Aoki, being the split image of her father – the girls are humble, smart, hardworking and responsible young adults who have not attracted bad media publicity since they started courting the spotlight.
While Ming shows a passion for fashion and has already modeled for brands like Galore, among others, her younger sister has become an active athletic student in her high school. She was part of her high school volleyball team and occasionally played golf on the golf course.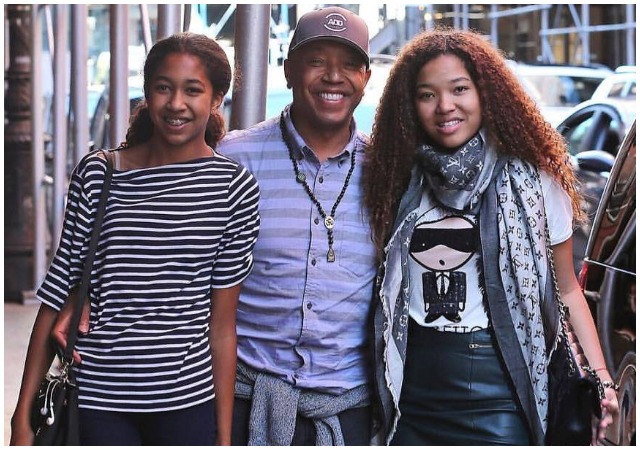 Aside from modeling, the Russell Simmons' daughters made their television appearances in their mother's own reality series titled Kimora: Life in the Fab Lane from 2007 to 2011. The show brought to fore the struggles Kimora faced in balancing her work, parenting and family life.
Ming and Aoki have also maintained close friendships with fellow celebrity children; top on the list are Chance, D'lila and Jessie, children of the award-winning rapper, Sean Diddy aka Puff Daddy. Some of their pictures together were shared in December 2018 on both their Instagram pages.
Ming Lee Simmons, on the other hand, can be referred to as a social media influencer with her over 1.1 million followers which her younger sister is closely trailing with her more than 500k following. Indeed these amazing girls have over time managed the spotlight and handled the pressures that come in being celebrity children.
See Also: Who Is Alaina Marie Mathers? Bio, Age, Parents, Grandparents, Siblings
Where Are They Now?
Both Russell Simmons daughters, Ming and Aoki, are college students (as at 2019). Aoki Lee Simmons became an undergraduate in March 2019 after she was accepted into the prestigious Harvard University at the age of 16. The beauty picked Harvard above colleges like Dartmouth, Barnard, and Vassar who also offered her admission.
The excited family shared their joy on Instagram with the happy Aoki reading out loud her admission letter in a video via her Instagram handle. She has since begun her integration process as a student, though she recently called out racist students in her class for their behavior. She is not just a smart young lady but a strong one with a good sense of what is right and wrong.
With their fashion supermodel mother finally getting back her Phat fashion company in 2019 from Kellwood Company, she is set to rebrand the same with her ever-helpful daughters. They are bound to have busy schedules ahead of them. The company was built from scratch in 1999 by Kimora but in 2010, she removed herself its management after Kellwood took over.