Ryan Coogler is an American director and screenwriter. He is not only known as the first black director to shoot a Marvel film but the Studios' youngest filmmaker who created the 2018 record-breaking blockbuster film, Black Panther.
With his Coogler Effect, this extraordinarily talented director has changed the status quo in Hollywood given the unprecedented acclaim the revolutionary superhero movie attracted in the history of cinema.
Biography/Early Life
Ryan Kyle Coogler was born on May 23, 1986, in Oakland, California, USA, to Joselyn and Ira Coogler. He has two brothers Keenan and Noah Coogler. Growing up in Oakland, Coogler was a comic-book fan and wanted to tell epic stories, stories that felt big and fantastic. He played football as a young lad and earned himself a scholarship at Saint Mary's College of California to play wide receiver. Though Coogler was simply a normal kid who wanted to play ball, become a doctor and be a positive influence in his community, while schooling at St. Mary's College one of his professors in creative writing class helped him discover that he wrote powerful words and thus his potentials in screenwriting and filmmaking. He later transferred to Sacramento State University where he specialized in finance but took elective courses in film. Coogler eventually pursued his dreams by enrolling at the University of Southern California (USC) School of Cinematic Arts to study filmmaking.
Career
Ryan's first works were on short projects which include Locks (2009), Fig (2011) and The Sculptor (2011). Locks won him the Dana and Albert Broccoli Award for Filmmaking Excellence. In 2013, Coogler collaborated with Oscar-winning actor Forest Whitaker and made a breakthrough with his debut full-length feature film, Fruitvale Station. The movie made for just $900,000 which he wrote and directed depicts the true story of Oscar Grant III, a young black man tragically killed by transit police in 2009. Its screenplay was developed at the Sundance Screenwriters Lab. It won multiple awards including Sundance, the National Board of Review, the Independent Spirit Awards, and Cannes. His Sophomore work a boxing drama – Creed (2015) was also a success grossing $174 million worldwide.
But Coogler was just a promising young filmmaker when he was called by Marvel to direct his third film, the 2018 blockbuster superhero movie Black Panther, which demolished box-offices worldwide and established him as a Hollywood icon. One of the highest-grossing films of all time in the United States, Director Ryan Coogler's Black Panther chronicles an origin story for a Marvel character who first made his debut in the comic books in 1966. It depicts the story of the titular superhero-king T'Challa of the mythical African nation of Wakanda, who returns home to inherit the throne as king. Featuring a predominantly black ensemble like Chadwick Boseman, Lupita Nyong'o, Danai Gurira and Michael B. Jordan (Coogler's constant star, who has appeared in all his three feature films). Ryan wrote the script for the film which displayed such cinematic sovereignty and became the second highest-grossing domestic superhero film of all-time. It ruled the box office for five consecutive weeks, grossing an astronomical $1.2 billion internationally in that very small window of time. It has already grossed over $700 million globally. Black Panther was a sweeping success beloved by critics and a cinematic proof that a black director with an all-black, gender-balanced cast can captivate audiences.
See Also: Danai Gurira Married, Husband, Boyfriend, Age, Height, Net Worth, Bio
With three films to his credit, Coogler and his characters have ascended to the throne as both fans and critics are hugely impressed with his projects and phenomenal track record. It is hoped that the game will change for black directors in Hollywood with Ryan Coogler's revolutionary landmark. Coogler's future can only get brighter after the success of Black Panther. The young filmmaker who is already being linked to Hollywood's biggest power players and oftentimes described as a next-generation Steven Spielberg will forever be known for Black Panther and so much more.
Is Ryan Coogler Gay or Married? Wife
Ryan Coogler is happily married to his high school sweetheart, Zinzi Evans, negating any rumors of him being gay. Both born and raised in Oakland, California, Ryan and Zinzi started dating when he was in college and tied the knot in May 2016.
Though not as successful as her husband, Zinzi is also a filmmaker, who has worked as an assistant director and producer on a few projects including some short films and TV commercials. She also worked on Coogler's short films, Locks, and Creed.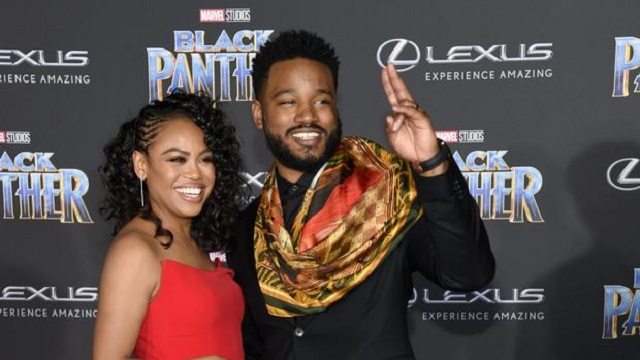 Ryan credits his wife who is a year older than him for having always invested in his dreams right from his college days. Ryan publicly thanked his beautiful wife for all her hard work and support following Black Panther's huge success, which he said the entire film crew did not expect would be so such a hit. The creative film director and his wife also wrote a letter to his fans on Instagram thanking them for the considerable support towards the success of the film.
The couple currently does not have any children, but in a recent interview, Coogler revealed that he was inspired in a special way to have daughters with his wife. According to Ryan, he realized that he actually wanted girls after working with powerful Wakanda women Angela Bassett, Lupita Nyong'o, Letitia Wright and Danai Gurira on Black Panther.
Quick Facts About Ryan Coogler – Net Worth, Height
Ryan Coogler is 5 feet 10 inches (1.78 m) tall.
His father worked in the juvenile justice system in San Francisco at a Youth Guidance Center.
Coogler worked as a former youth guidance counselor and a security guard at a juvenile hall in San Francisco.
His filmmaking was influenced by his experiences while working in the juvenile justice which eventually became themes of his first two movies Fruitvale Station and Creed.
Ryan's current net worth is estimated at $4 million.