Ryan Tannehill is notable as an NFL quarterback who currently plays for the Tennessee Titans. He was named to his first Pro Bowl and received the 'Comeback Player of the Year' award in January and February 2020 respectively after his impressive performance in the 2019 season.
Prior to joining the Titans, Ryan was with the Miami Dolphins which was the first team he played for after he was drafted in 2012. More so, the NFL star was marked for his talents right from his early years in high school up to his college years at Texas A&M University where he recorded very impressive stats that set the stage for his professional career in the NFL.
Ryan Tannehill's Early Days As A Potential Sportsman 
Tannehill was born Ryan Timothy Tannehill III on the 27th of July, 1988 in Lubbock, Texas, however, he grew up in Big Spring, another city in Texas. It was also at Big Spring that Ryan received his early education, attending Big Spring High School and during his days there, he took part in 3 different sports; football, basketball, and track/field events.
As a part of his high school track & field team, Ryan Tannehill notably placed 3rd in the 300m hurdles and 2nd in the triple jump event at the 2006 District 4-4A Championships. With the football team, he covered 2,510 passing yards with 922 rushes during his junior year.  In senior year, Tannehill recorded 5,258 passing yards, and 617 rushes to lead his team to the playoffs and he earned the District 4-4A honors for both his junior and senior year.
A Look At His College Career
Tannehill who graduated as a 3-star recruit from high school turned down offers from the University of Houston and the University of Texas at El Paso rather, he chose to attend Texas A&M University. This meant he had to redshirt his freshman year before joining the team in 2008. Tannehill found himself to be the third-choice quarterback on the team and so to get some playing time, he was moved to a wide receiver role where he broke his school's freshman record for receptions and receiving yards. He continued to play in the position for the 2009 season where he managed a team-high 46 receptions for 609 yards and 4 touchdowns to earn an All-Big 12 Honorable Mention honor.
In 2010, Ryan Tannehill played as both a wide receiver and quarterback and was honored with an All-Big 12 Honorable Mention. He then got to play his first full season as a quarterback in 2011. Ryan threw for 3,744 yards and 29 touchdowns, with 15 interceptions while also completing the requirements for a bachelor's degree in biology before heading to the NFL.
Ryan Tannehill Kicked Off His NFL Career With The Miami Dolphins
Ryan Tannehill was selected by the Miami Dolphins with the 8th overall pick in the 2012 NFL Draft. He became the team's starting quarterback in his first professional season and he went on to set the record for the most passing yards, attempts, and completions by a rookie quarterback in a single game. In the game against the Arizona Cardinals, he threw for 431 yards which is the highest the Miami Dolphins have recorded in a single game so far for passing yards made by a rookie quarterback. He also set the franchise record for the longest run by a quarterback in a single play before going on to finish the season with 3,294 passing yards, 12 touchdowns, and 13 interceptions.
The quarterback was able to better his rookie season stats by finishing the 2013 season with 3,913 passing yards, 24 touchdowns, and 17 interceptions. He also recorded great strides for the 2014 and 2015 seasons in which he finished with 4,045 passing yards and 4,208 passing yards respectively.
Dissecting The Quarterback's Injury Woes
Tannehill did not soar high during the 2016 NFL season like in the previous ones as he reportedly sustained an injury in his knee which meant he misses 3 games. He ended the season with 2,995 passing yards alongside 19 touchdowns and 12 interceptions which is the least he had recorded since he kick-started his NFL career with the Miami Dolphins.
During a practice session for the 2017 season, Ryan sustained an injury on the field which resulted in him limping off the pitch. Subsequently, it was revealed that he had torn his ACL and would have to go in for surgery. By August 11, 2017, the player decided to undergo surgery and the Dolphins recalled quarterback Jay Cutler – who retired that year – to replace Tannehill for the moment. Although Ryan returned for the 2018 season, he was only able to record 1,979 passing yards with 17 touchdowns, and 9 interceptions which marked the lowest points he has recorded so far.
His Move To Tennessee Titans Rebooted His Career
Ryan Tannehill was traded by the Dolphins to the Tennessee Titans on March 15, 2019, and he signed a deal for the 2019 season worth $7 million in addition to an incentive of $12 million. Tannehill recorded impressive statistics during the season, including leading the Titans to land their 35 -14 win against the Houston Texans during the season's finale in which he recorded 196 throws and 2 touchdowns. At the end of the season, Tannehill's total passing yards were 2,742, while his touchdowns were 22 and he had 6 interceptions.
He also performed very well during The Wild Card Game against New England Patriots in which he recorded 8 touchdowns in 15 attempts as well as 11 rushing yards. These statistics were very impressive as they were ranked as the shortest completions and rushing yards that have been recorded since the ones made in 2010 by Joe Flacco. More so, Ryan Tannehill set a new record during the Divisional Round game with the Baltimore Ravens as he was ranked alongside Terry Bradshaw, the only player in the era of the Super Bowl to win back-to-back playoff matches recording about one touchdown and less than 100 yards passing rushes.
The quarterback was then named for his first pro bowl in January 2020 and in the next month, he was dubbed NFL Comeback Player of the Year. Tennessee Titans also stepped up their contract with Ryan Tannehill as they offered him a four-year extension worth $118 million with $62 million as the guaranteed sum.
Ryan Tannehill is Happily Married To Lauren Tannehill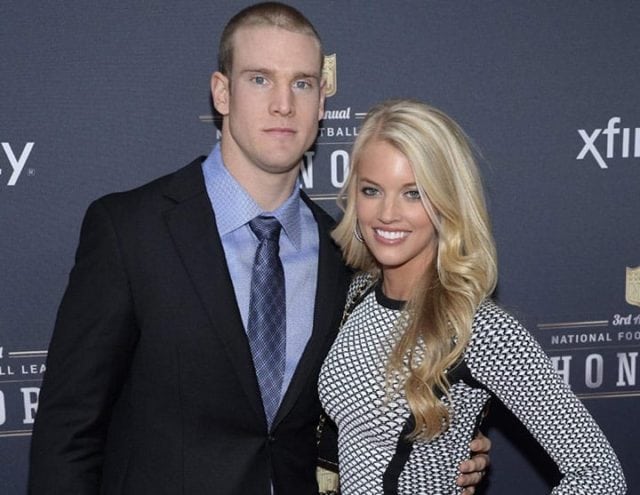 Ryan Tannehill is married to the beautiful Lauren Ufer. The couple, who attended the same university never crossed paths on campus until their first encounter in 2009 during Spring Break at Panama City, Florida. According to Lauren, they connected on the basis of their Christian faith and according to an interview with CBN News, Ryan is still a practicing Christian to date.
Reports also have it that about 3 months into their relationship, Lauren knew Ryan was going to be her life partner. They dated for about 2 years before getting engaged in May 2011 and subsequently exchanging vows on the 13th of January 2012.
The pair have been enjoying a very blissful marriage ever since then and Ryan does not fail to talk about how his wife has been supportive of his career right from the first time they met. The couple is also blessed with two kids, a son, Steel Ryan Tannehill, and a daughter, Stella Rose Tannehill.
Read Also: Aaron Hernandez Bio, Daughter, Net Worth, Wife, Dead or Alive, Is He Gay?
Lauren Had Worked As A Model
Lauren Tannehill, who was born Lauren Ashley Ufer is known to many on social media as a sweet and beautiful lady who has garnered a lot of following on her social media platforms. She has attained such popularity mainly by sharing details of her family life on her pages. More so, the elegant lady back in college had launched a modeling career and she had worked with the popular jewelry brand, Levinson Jewelers.
Prior to that, reports have it that she had a job as a cardiology nurse but that was short-lived. Currently, not much is known about her work life but from what is gathered, she is very busy managing the home-front and usually moves with her husband when the need arises.