The gorgeous Sabrina Siddiqui is a journalist who serves as a political reporter for The Guardian. She is based at Washington D.C and has gained the attention of a wide audience through her excellent coverage of the political happenings at Washington. Throughout her career, the widely known political reporter has covered two United States Presidential Campaigns along with up-to-date political stories in America.
Right from the age of 13, Sabrina Siddiqui nurtured the dream of becoming a journalist for which she has eventually actualized with the help of her parents. Before joining The Guardian in 2015, the skilled reporter had been working in Washington D.C as a political journalist for Bloomberg and the Huffington Post. She has gone ahead to attain quite a successful career in her chosen field over the years and in the process has become an idol for many young South Asians in the US. Read on for more captivating facts about the political journalist's life, earnings, and family.
Sabrina Siddiqui Biography
The Guardian political reporter was born on 8th December 1986 in the United States of America to her parents Jamir and Nishat Siddiqui. Her father was born in India but grew up in Pakistan while her mother is a native of Pakistan who works as a chef; she owns Nishat's Kitchen. Sabrina Siddiqui has an elder brother named Anwar who works as a medical practitioner. She spent most of her childhood in Rome, Italy, as her family resided in Rome for ten years while she was little.
The elegant television personality has always wanted to be a journalist since she was 13. During that time, she was in the habit of creating short stories and on one occasion, she made a wonderful display of her writing talent by creating a Bollywood movie review which she gave to her family members and friends.
Following the encouragement of her family, the adroit journalist started working as a freelance writer while in high school and equally served as their high school newspaper editor. In the pursuit of her dream, Sabrina Siddiqui enrolled at the Medill School of Journalism located at Northwestern University in Chicago where she earned a Bachelor's degree.
Siddiqui began her first job at Bloomberg News, serving as a freelance reporter and was among the members of the press that followed the former United States President, Barack Obama while working with the New Agency's White House team. A few years later, she gained an opportunity to work at the National Pharmaceutical Council as a research assistant and simultaneously served as a senior editor at Divanee, a South Asian News Network.
Later on, she moved her services to the Huffington Post where she worked as a White House reporter. While she was there, she toured around as a member of the press that followed Mitt Romney's Campaign and also covered the 2012 US Presidential election. After spending three wonderful years at the Huffington Post, Sabrina Siddiqui became a member of staff of The Guardian, working as a Washington D.C reporter.
Similarly, she was also among the traveling press members that followed Marco Rubio's campaign as well as Hillary Clinton's when she was nominated as the Democratic Presidential Candidate. Being among the few Muslims working as a White House reporter, Siddiqui has recounted her awful experience during the 2016 US Presidential election, however, the fearless political reporter has not relented in any way from executing her job.
She has also been featured as a political analyst on CNN, MSNBC, and Sky News and has been a contributor on CBSN as well as serving as a contributing host on The Bill Press Show.
Her Education
The gorgeous journalist has not disclosed much information with regards to her educational achievements. The only detail available regarding her education is that Sabrina Siddiqui is a graduate of Medill School of Journalism situated in Northwestern University, Chicago.
Net Worth
Having worked as a political journalist at several TV stations including Bloomberg, the Huffington Post over the years along with her recent stint at The Guardian, Sabrina Siddiqui has earned a fortune from her thriving career. Although her net worth is yet unknown some unconfirmed sources have it that she earns a salary of about $127, 644 per year.
See Also: Taryn Hatcher Biography – 5 Interesting Facts You Need To Know
Is Sabrina Siddiqui Married, Who Is Her Husband?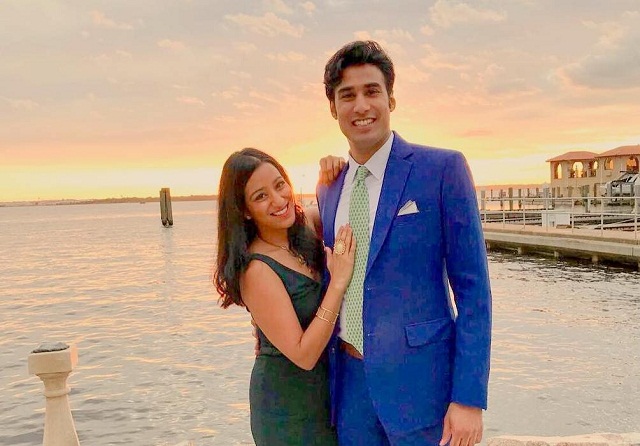 Sabrina Siddiqui got engaged to Ali Jafri who proposed to her in October 2018. The duo met on Bumble, a dating app and eventually kicked off a loving relationship in 2016. Ali Jafri is a senior research analyst at the National Security Innovation, Inc.