Sadhguru Jaggi Vasudev who is popularly called Sadhguru interpreted as the uneducated guru is an embodiment of many virtues. In his search for certain answers to life's many questions, Sadhguru dabbled into mysticism and a spiritual adventure that has given him immense knowledge which he has used to direct, teach, inspire, lead and bring hope to millions of people. His impact cannot be overemphasized as he has dished out books, seminars, public speeches and motivational quotes to a varying set of audiences ranging from attendees of the United Nation's World Economic summit, Universities like Oxford, Stanford, Harvard, Yale, and Wharton Universities. He has spoken at prestigious organizations like Microsoft and Google and in popular schools like London School of Economics and Massachusetts Institute of Technology.
Sadhguru is also a great Yoga master, his passion for Yoga and people made him start the Isha Foundation, which was a center for yoga and charity. He has also written several books many of which have been seen in the New York Times Best Seller list. His country India, which values his work has honored him with the Padma Vibhushan civilian Award.
Biography of Sadhguru
The spiritual master, Sadhguru is an Indian, he was named Jagadish Vasudev when he was born to the Family of Vasudev an eye doctor and his wife Susheela on the 3rd of September 1957. His birthplace was Mysore, Karnataka in India and his family was always on the move because his father was the ophthalmologist at the Indian Railway corporation. In effect, Sadhguru changed schools at intervals depending on how long the family rests at any particular place. He was a lover of nature, the greeneries, and animals as a child.
His life got was steered into direction after his first meeting with a great Yoga master. At age 11, Sadhguru came across Malladihalli Sri Raghavendra Swamiji who took time to explain some basic yoga principles to him. After this encounter with the yoga master, Sadhguru made sure he practiced his teachings every single day and with every new day, he became better at it.  He attended college at the University of Mysore where he studied Literature in English and graduated with a Bachelors degree.
Career
After his university education, Sadhguru opened up a number of mini ventures from which he tried to earn a living. Some of those include a poultry farm and a construction business. However, a remarkable event took place in his life when he was 25 that set him on the track he had abandoned years ago. On 23rd September 1982, Sadhguru took a trip on his motorbike to the Chamundi hill, there, he had a mystical experience as he sat on a rock that afternoon. In his description of the experience, Sadhguru says he could feel himself in the surroundings and although the experience felt like a 10-minutes something, he realized he had spent over 4 hours in the experience.
This encounter got him searching for answers to questions that arose from his time in the trance-like encounter. He knew there was more knowledge he needed to get and was so passionate about this adventure that he handed his businesses over to his companions so he could have the time he needed to research. This passion developed into the creation of Yoga classes which he started in 1983. Though Sadhguru started small, his classes grew from 7 persons to the multitude who now follow his teachings.
Those classes also gave birth to today's Isha Foundation which is concentrated on different Yoga training and charity. Over the years, the foundation has spread to several other nations in different continents. The foundation started an Initiative in 2003 to combat health and wellbeing challenges in rural communities. This initiative was named Action for Rural Rejuvenation. The foundation has also embarked on a Vegetation Recovery project with the aim of planting 114 million trees in Tamil Nadu. Through this, Sadhguru has been able to give hope to millions, many have their peace and wellbeing restored and Sadhguru lives a fulfilled life.
Family and Daughter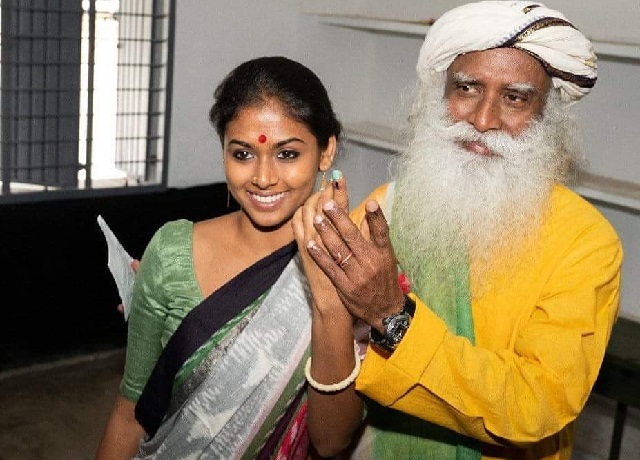 Sadhguru got to know banker, Vijaykumari, his late wife back at Mysore his birth town. The love birds wrote a series of love letters to each other while they dated and finally tied the knot in 1984. Six years into their Marriage, in 1960 they welcomed their first child, a daughter called Radhe. Unfortunately, Sadhguru lost his beloved wife to death on 23rd January 1997. Their daughter, Radhe is now a woman and has started a family with a musician named Sandeep Narayan. Sadhguru is not known to have remarried since the demise of his wife.
See Also: Nia Renee Hill – Bio, Age, Wiki, Facts About Bill Burr's Wife
Other Facts about the Author Sadhguru
The author's net worth is estimated to be $2.5 Million which is equivalent to 250 Crore Rupees.
He is a motorbike lover; Sadhguru has toured several towns in India with his Motorbike.
He did not accept payment for the classes he took as a Yoga Teacher, he handled the expenses from the revenue his poultry farm Generated.
He passed the Indian Hockey team through a Yoga course in 1996.
His foundation – Isha Foundation has its name in the Guinness book of records for planting 8,052, 587 trees in a day at Tamil Nadu.
Sadhguru is a philanthropist, he has headed several social welfare projects, Environmental health and charity work.