Sage Robinson is a Canadian born actress who made more headlines for her marital crisis than she made for her acting career. Her story went viral after her estranged ex-husband John Lynch sued her new husband, Anthony J. Mahavoric also known as Tony Robbins for indulging in an extramarital affair with Sage. What made her story truly remarkable was the fact that she was able to go through the entire ordeal and still remain married for almost two decades now and counting. Read on to know if what her ex-husband alleged was true and learn how she actually met her multi-millionaire new husband Tony Robbins below.
Who Is Sage Robbins?
Sage Robbins as she is popularly known and addressed was born originally as Bonnie-Pearl Humphrey on the 5th day of August 1972 in Canada. Her early life, family background, and educational attainment are largely unknown as of this moment. However, she was said to have served in a Health Food Store before making her debut screen appearance as an actress in her late forties. As an actress, she was a late bloomer, popular for her portrayal in the Comedy romantic film Shallow Hal in 2001.
Some of her other body of works include American sitcom Toby the Vampire Slayer (2013) where she appeared in 11 episodes and Stab 9: The Real Life Sequel (2013). She also starred in a movie titled Better Late Than Never and TV series Super Soul Sunday (2016) among other TV shows like the Oprah Winfrey show (OWS).
Aside from acting, Sage Robbins also practices phlebotomy acupuncture and as a motivational speaker travels around the globe with her wealthy husband holding seminars and life-changing talks. Fire/hot coal walking is one of the highpoints of their seminars.
Who Is Her Husband Tony Robbins?
Sage was formerly married to John Lynch, a man she wedded when she was 19 years. Lynch who was 11 years older than her is a Canadian businessman. They had a smooth marital relationship from 1992 until 1999 when Bonnie now known as Sage filed for divorce from him.
Their divorce was finalized in 2000 but things became very messy when John sued his estranged ex-wife's then-fiancee Tony Robbins of alienating Sage' affection. He consequently alleged that Bonnie (now Sage) was unfaithful in their marriage after he saw a picture of her and the self-help guru sharing a kiss on a Canadian News Tabloid. Amidst the back and forth of court appearances, the case went in favor of Tony Robbins who had in turn sued for character defamation against John and the Canadian Newspaper that bore the tale. In the end, he received $20,000 for damages.
A few months after the entire saga, Tony married Sage in Fiji on the 15th of October 2001. His first wife was Rebecca Becky Jenkins and they were married for fourteen years before the marriage ended in 1998.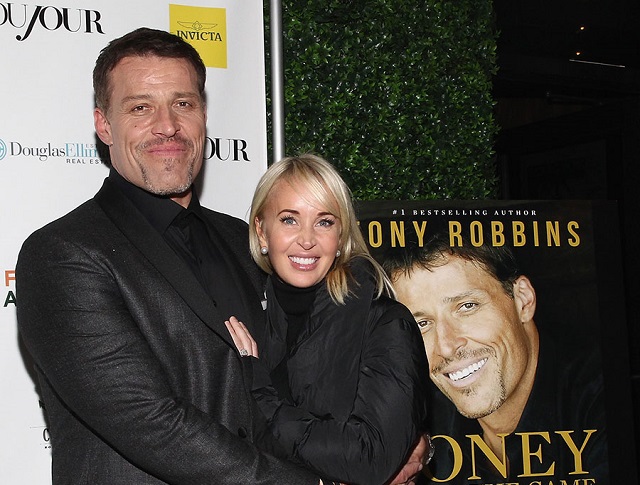 Tony Robbins is a famous American motivational speaker, four times best selling author, life coach, entrepreneur, and philanthropist born as Anthony J. Mahavoric on 29th February 1960 in Glendora, California. He is said to be worth about $500 million. He is also an actor who has made appearances in screenplays like Shallow Hal (2001), The Cable Guy (1996), Reality Bites (1994), 22nd episode of the Family Guy (2003), he also starred in a self-titled documentary Tony Robbins: I Am Not Your Guru in 2015.
He has through his works helped millions rebuild their broken relationships, emotional lives, financial capacity, and leadership abilities as well as improve their quality of life. Top on the list of those he helped is former president of the United States of America Bill Clinton, Serena Williams, among many others. Some of his books are Unshakeable: Your Financial Freedom Playbook which he co-authored with Peter Mallouk in 2017, Money: Master the Game published in 2014, Giant Steps (1994), Unleash the Power Within, Awaken the Giant within (1986) etc.
As a charitable person, Tony in 1991, founded the Anthony Robbins Foundation, a medium through which he gives back to society. He had in the past raised a million dollars for the support against child trafficking along with former CIA, and other security operatives like the Navy SEALs which was used in Underground Railroad operations. He is an active contributor to the X-Prize Foundation thanks to which he was named by Time Magazine as one of the 100 Most Powerful People In the World in 2015 and 2016 respectively.
The motivational Power couple has a series of outstanding podcasts and powerful life-changing seminars presented around the world. The couple does not have any kids of their own, but Tony has four kids; three kids adopted from his first wife Becky Jenkins and a son Jairek Robbins birthed in 1984 by his ex-girlfriend Liz Acosta who has towed his father's career path.
See Also: Who Is Ajiona Alexus? Here Are 7 Reasons You Need To Know Who She Is
How Did They Meet?
The pair were said to have met in the year 2000 at one of Tony's motivational seminars in Hawaii which Sage's ex-husband claimed was the beginning of the end of his marriage with Sage.
About a year after Sage's divorce, she found love in the strong arms of the 6 ft 7 inches tall American Self-help guru. They dated for few months before going ahead to tie the knot on October 15, 2001. They have been married for close to two decades now and they have been having the best of marriage ever since, traveling to various places together and helping others find a better life.