If you are a huge fan of the Impractical Jokers which has been running on TruTV since December 2011, then you must be familiar with Sal Vulcano. He has been on the reality series since its inception in 2011 alongside his high school friends – Brian "Q" Quinn, James "Murr" Murray and Joe Gatto.
The four friends make up the famous American comedy troupe, "The Tenderloins" and they are actually the originators, writers,  producers, and stars of the Impractical Jokers, which also airs on Comedy Central in Ireland, India, and the UK.
Like most celebrities, Sal Vulcano prefers to keep his private life, private. Although we have come to know some personal stuff about him from watching the hidden camera reality show, one thing everyone has been itching to know is the facts about his personal relationship and sexual orientation. This aspect of Sal's life has largely remained a mystery.
Is Sal Vulcano Married Or Gay?
The debate about this funnyman's sexuality was on for years with many assuming he's gay. In 2014, Sal Vulcano came out on a national television show (Daytime Talk Show). He made his confession before his three friends and comedy troupe members. After he admitted being gay, his friend and co-member James "Murr" Murray also came out as gay.
Following Vulcano's revealing of his sexual identity on the Sally Jessy's show, many actually thought he made up the whole thing and that it was all a joke, and guess what? They weren't far from the truth as Sal would later admit he is actually straight but had to come out as gay on the show to help his friend James come out of the closet.
So, if Sal is actually straight as he claims, who then has he dated and who is his girlfriend or wife? Well, we just have to wait for the funnyman to provide answers to those questions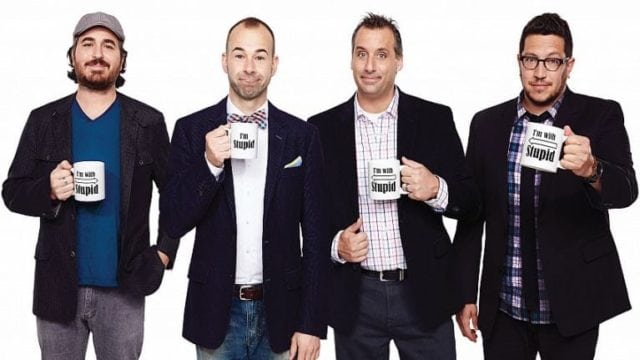 Facts You Need To Know About Vulcano
A Brief Bio
His full name is actually Salvatore Edward Anthony Vulcano Jr. and he was born in Staten Island, New York City, New York on November 6, 1976. His parents got divorced when he was still very young. He has one older sister named Kelly Ann, and two younger sisters Dana and Jenna. The latter has appeared on the Impractical Jokers show.
Sal is of Italian, Cuban, and Puerto Rican heritage. He is an alumnus of Monsignor Farrell High School, Staten Island and of St. John's University where he earned a degree in finance in 1998. Back in high school, Sal played various sports including football, basketball, and hockey.
How He Got Into Comedy
With a degree in finance, how on earth did he get into comedy? Well, comedy has always been Sal's passion. After school, he got a job as a pizza delivery man and later became a bartender at The Full Cup which he co-owned after some time.
He didn't give up his love and passion for stand-up comedy as he also performed across the country alongside other comedians like Big Jay Oakerson, Godfrey, and Chris DiStefano. He would later form The Tenderloins comedy troupe in 1999 alongside his high school friends.
After running the troupe successfully and winning a whopping $100,000 grand prize in NBC's It's Your Show competition, they decided to give their group a TV visibility and in 2011, they launched Impractical Jokers on TruTV. The show has aired on the network ever since and also on Comedy Central in Ireland, India, and the UK.
He Has Done A Few Acting Too
Although Vulcano doesn't consider himself much of an actor, he has actually appeared in a few movies like the 1998 movie Damned! In 2006, he appeared as Pinky in Just Another Romantic Wrestling Comedy and in 2015, Sal and Murray were cast as sanitation workers in an episode of Bones. In 2017, he and Joe Gatto played security officers in an episode of the sci-fi TV series 12 Monkeys. 
His Phobias
The funnyman suffers from acrophobia (fear of heights), germophobia (fear of germs), and ailurophobia (fear of cats). Many of the punishments meted out to him on Impractical Jokers are related to these phobias. One of his punishments on the show was to have a tattoo of Jayden Smith drawn on his thigh.
His Net Worth
As at 2018, Sal's net worth is believed to be somewhere around $5 million. The funnyman's earnings are majorly from his comedy shows and the sale of the book: Impractical Jokers. He co-authored the book with his friends and co- jokers.