The life of a WAG can be a glamorous and fabulous one. However, it can also be downright nasty. Fans may blame you when your spouse is not doing well while opponents can also drag you into their beef with your partner. If there is one person who is expertly navigating these highs and lows of the WAG life, it is Salina Deleon. Deleon is the gorgeous wife of Professional wrestler-turned-MMA fighter Daniel Cormier. The couple has been together even before fame and fortune came their way.
Salina Deleon Bio
Salina Marie Deleon was born in Fresno, California. Her ethnicity is Caucasian while her nationality is American. The media personality has not revealed specific details about her date of birth, early life, family background or educational history. It is however obvious that she is quite educated seeing how well-spoken she is. Meanwhile, her husband – Daniel Ryan Cormier was born on the 20th of March 1979 in Lafayette Louisiana. His father's name was Joseph while his mother's name is Audrey. The MMA fighter also has three siblings namely Joseph, Felicia, and Ferral. Cormier spent his formative years in Louisiana and began wrestling at an early age. He was quite outstanding all throughout his high school and college days, winning several honours and championships. They include three Louisiana state championships, LHSAA Division I All-State and NCAA Division 1 All-American. On leaving College in 2001, Cormier spent the next seven years wrestling professionally. He won several laurels including gold at 2003 and 2002 Pan American Championships.
Salina Deleon's Family
Salina Deleon first met her husband back in 2010. At that time, the fighter was just starting out in the MMA world and found it difficult getting fights. They thus had no money and lived in a one-bedroom apartment in San Jose, California. The couple lacked resources for their basic needs and had to rely on welfare. They also sustained themselves with the support of their family members. Deleon stuck by her man all throughout the trying period and now that he is a world champion, the couple is reaping the fruits of their labour.
The media personality and her beau got engaged on Independence Day, 4th of July 2014. They thereafter tied the knot on the 27th of May 2017 in California. The couple have since enjoyed a blissful, as well as a scandal-free, union. Deleon and her husband have two lovely kids together. Their first is son, Daniel Jr. who was born in Feb 2011. The second is daughter, Marquita, who was born in March 2012.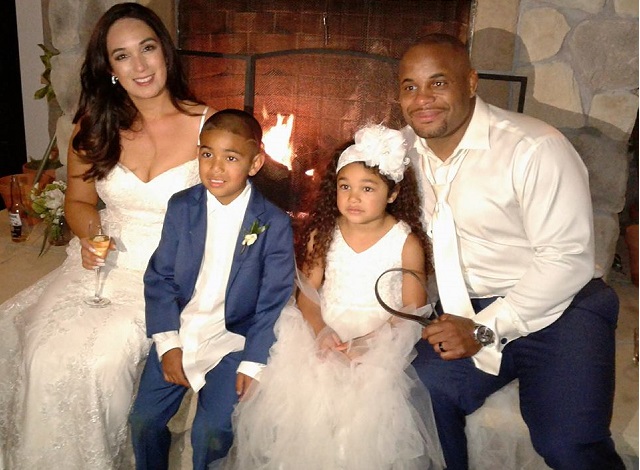 Salina Deleon's Net Worth
Deleon's net worth is still under review and is not yet available.  It may however not be much seeing as the media personality is primarily a homemaker. Meanwhile, her husband has a net worth of $4 million. His fortune has increased tremendously since making a switch to the mixed martial arts world. After the 2008 Olympics, Daniel Cormier took a year off during which he worked at an Oklahoma TV station. He spent his spare time playing video games and at some point, got fed up. A friend of his then advised him that he should try mixed martial arts as he would be good at it.
Cormier heeded the advice and started training at the American Kickboxing Academy. He thereafter made his Professional debut in September 2009. Cormier has since taken part in at least 24 fights; recording 22 wins, one loss, zero draws and one no-contest win. He has also won several titles including the UFC Heavyweight Championship, UFC Light Heavyweight Championship, Strike force Heavyweight Grand Prix Champion, KOTC Heavyweight Championship, and Xtreme MMA Heavyweight Championship. Cormier has won a world championship belt in every promotion he has fought in. He is also the first fighter to defend titles in two weight classes.
Other Facts about Daniel Cormier's Wife
– She previously worked as a waiter at a Hooters outlet in Fresno. Hooters is a restaurant that was popular for their skimpily-clad waitresses.
– Her husband proposed to her at the magnificent Chateau Gardens located in Las Vegas.
– Her husband was named 2018 male fighter of the year by several sources including CombatPress and MMAjunkie.
– Salina Deleon and her family are based in Gilroy, California.
– Her husband's father was murdered by the father of his second wife, back in 1986.