The society is often hypocritical about couples with significant age differences. When the man is much older than the woman, it is taken as being alright. However, when the reverse is the case, the lady is subjected to various unsavory labels including being called a cougar. One lady who has bravely shrugged off the negativity and is living life to the fullest is Sam Taylor-Johnson. Taylor-Johnson is an accomplished artist/filmmaker as well as the wife of popular English actor, Aaron Taylor-Johnson. The couple has been able to sustain their union despite the hullabaloo that greeted their 24-years age gap. Want to know more about Taylor-Johnson? Below are the facts of her life.
6 Things To Know About Sam Taylor-Johnson
1. Her Name Is Originally Sam Taylor-Wood
Samantha Louise Taylor-Wood was born on the 4th of March 1967 in Croydon, London. Her father's name is David while her mother's name is Geraldine. She also has two siblings namely, a younger sister named Ashley and a maternal half-brother named Kristian. Taylor-Johnson's parents divorced when she was nine and she subsequently grew up with her mom and later, her stepfather. The artist/director spent her formative years in East Sussex and initially attended Beacon Community College. She later attended Goldsmiths, University of London and obtained a fine art degree in 1990.
2. Sam Taylor-Johnson Is a Member of Young British Artists (YBA)
Taylor-Johnson is an accomplished fine art photographer and belongs to the famed visual artist group, YBA. The London native commenced her career immediately after college and her art style has since taken various forms such as portraits, murals, as well as multi-screen videos. Some of Taylor-Johnson's best-known works include a video portrait of a sleeping David Beckham (commissioned by the National Portrait Gallery) as well as the 2004 Crying Men series.
The latter featured popular Hollywood actors, such as Sean Penn, Clint Eastwood, Jude Law, Daniel Craig, Paul Newman, and Robin Williams, crying. Taylor-Johnson has received several awards for her work including the most promising young artist at the 1997 Venice Biennale. She is also the youngest artist to be given a retrospective at the Hayward Gallery and in 2011, she received an OBE for her services to art.
Her First Marriage Was to Jay Jopling
Sam Taylor-Johnson was previously married to a famed English art dealer, as well as the founder of the White Cube gallery, Jay Jopling. The son of a conservative baron, Jopling was born in June 1963 and grew up in Yorkshire. He studied at Eton and University of Edinburgh before delving into the art scene in the 80s. Taylor-Johnson and Jopling were initially brought together by their mutual passion for the arts. They subsequently commenced a relationship and tied the knot in 1997. The couple was married for 11 years during which they welcomed two daughters, Angelica and Phoenix. They later called time on their union in September 2008.
How She Met Aaron Taylor-Johnson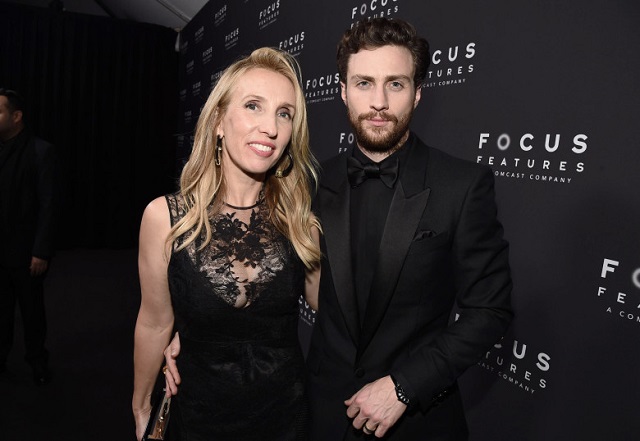 Sam Taylor-Johnson is currently enjoying marital bliss with Aaron Taylor-Johnson. Aaron Perry Johnson was born on the 13th of June 1990 in Buckinghamshire, England. He started acting on stage at the age of six before going on to nab a handful of small TV and film spots. He finally got his breakthrough in his late teens, thanks to a bunch of starring roles in movies such as Angus, Thongs and Perfect Snogging, Nowhere Boy and Kick-Ass.
Aaron Taylor-Johnson has since gone on to appear in blockbusters such as Avengers: Age of Ultron and Godzilla. He has also received several awards including the 2016 Golden Globe for Best Supporting Actor. Taylor-Johnson first met her husband on the set of the 2009 biopic, Nowhere Boy, which she directed and he featured in. They took a fancy to each other and commenced a relationship in 2009.
The couple's romance sparked several negative comments as the director was 24 years older than her man. The loved-up pair were however unfazed and got engaged in 2009. They later tied the knot at Babington House, Somerset, in June 2012. The couple now has two daughters together, namely Wylda Rae and Romy Hero. Both have also merged their surnames together and now officially go by the surname, Taylor-Johnson.
Sam Directed The First Installment of Fifty Shades of Grey
Taylor-Johnson is also a budding director. She has directed several short films as well as music videos. She has also directed some feature-length movies including Nowhere Boy, A Million Little Pieces, and Fifty Shades of Grey. Fifty Shades of Grey was a commercial success, grossing $85.1 million at the box office. Despite the success of the movie, Taylor-Johnson announced that she would not return for the sequel and that she regrets directing the first one. Her sentiments were as a result of the conflicting creative visions that she and the author, E.L. James, had. This was further complicated by the fact that James was not willing to give her some creative freedom.
She Is a Two-time Cancer Survivor
Sam Taylor-Johnson has bravely fought cancer on two occasions. The first was in December 1997 when a tumor was found in her colon. She had a foot and half of her intestine removed and eventually made a full recovery. In 2000, the artist-cum-director discovered a lump in her armpit and it later turned out that she had cancer in her left breast. She had to undergo a mastectomy, breast reconstruction, as well as six months of chemotherapy. Taylor-Johnson has been clear of cancer for several years now and only embarks on routine check-ups. She also watches her diet closely and exercises regularly.