You will be hard-pressed to find a football fan, especially in Africa, who doesn't believe that Samuel Eto'o is the greatest player from the continent. His reputation comes not just from his exploits on the international stage, but how he stamped his feet on global club football.
From Spain to Italy to England and Russia, Eto'o's journeyman career was a trip around major footballing leagues, wowing millions of fans with his prolific finishing and work ethic. That in turn, not only made him a global superstar, but also made him rich, with a family he is proud to call his own.
The Humble Beginning of Greatness
He was born Samuel Eto'o Fils on March 10, 1981, at Douala, Cameroon. He joined the Kadji Sports Academy at the age of 11, where he spent four years training between 1992-199. Later, Eto'o was originally moving to a French soccer club, but the transfer failed due to his young age and lack of proper identification. In turn, he joined Real Madrid, where he completed his youth career the following year.
Samuel was nicknamed "Little Milla" in his younger days because of his talent in football. The name is also a reference to his admiration of the legendary footballer, Roger Milla.
Football Career and the Teams Samuel Eto'o Lined Up For
Samuel Eto'o was a professional footballer for 22 years from 1997 till 2019. Real Madrid was the first club he played for (1997 to 2000), but was loaned to multiple clubs throughout the period. In all, he has played for 13 different clubs and the Cameroonian National Team. The clubs include Real Madrid, Espanyol, Leganes, Mallorca, Barcelona, Inter Milan, Anzhi Makhachkala, Chelsea, Everton, Sampdoria, Antalyaspor, Konyaspor and finally Qatar SC consecutively.
His Unfulfilling Real Madrid Career
Although he lists joining Real Madrid as one of the seven best moments of his footballing career in 2006, he only had just seven senior appearances for the Spanish giant. He played majorly for the Real Madrid B team, who relegated and loaned Eto'o out. First to Leganes then to Espanyol in January 1999, where he only had one appearance in a Copa del Rey match against Real Valladolid. In the Summer for the beginning of the next season, he was out to Real Mallorca. Although Real Madrid was a dream move for Eto'o, he never got the opportunity to fulfill his potentials with the team.
Revelation Stint at Real Mallorca
After joining Real Mallorca on loan, he was signed permanently from Real Madrid for a fee of 4.4 million pounds after he scored six goals in 19 games. In the second season, he scored 11 goals and began to gather attention among top football clubs. By the time Eto'o was leaving Mallorca, he was the all-time leading league scorer of the club with 54 goals. He also won the Copa del Rey with the club scoring the two late goals in a 3-0 victory over Recreativo de Huesca. For 24 million euros, Samuel Eto'o joined Barcelona in his upward career journey.
Samuel Eto'o's Explosive Career at Barcelona and Fall out with Guardiola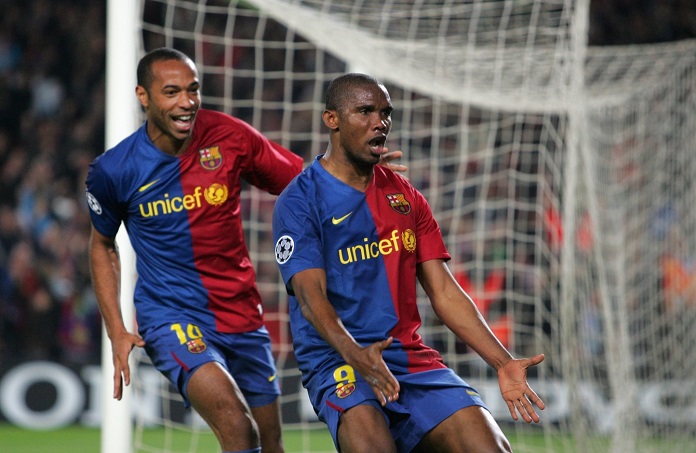 Eto'o joined Barcelona in 2004 after lengthy, three-way negotiations with Mallorca and Madrid. Eto'o made his Barcelona debut in the season opener at Racing de Santander on August 29, 2004, and won the Spanish La Liga title in his debut at the detriment of Real Madrid.
The Cameroonian, who played 234 games for Barca, scored 152 goals, figures that helped him become the top scorer in the 2004/05 league season – 25 goals tied with Forlán – and in 2005/06 – 26 goals.
With 108 goals in 144 games, Eto'o remains one of Barça's top scorers in the league. The Cameroonian won 10 titles in total at Barça: two Champions Leagues (2005/06 and 2008/09), three leagues (2004/05, 2005/06 and 2008/09), one Copa del Rey (2008/09), two Spanish Super Cups (2005/06 and 2006/07) and two Catalan Cups (2004/05 and 2006/07).
On October 25, he recorded the fastest hat-trick in club history after netting three times in 23 minutes in a victory over Almería. Only two games later, on November 8, 2008, Eto'o scored four goals in the first half of Barcelona's game against Real Valladolid, which ended 6–0.
Pep Guardiola and Samuel Eto'o's relationship was a fractious one. The forward forcibly left the club at the end of Pep's first season in 2009. Eto'o revealed details of one early exchange between the pair. Samuel Eto'o said he told Guardiola that he was never a great player. He also said that as a coach, he had proven nothing because he didn't know the dressing room.
The former Barcelona boss won his first Champions League as a coach in 2009, with Eto'o scoring the opener in the 2-0 win over Manchester United in the final.
Victory in Italian Football with Inter Milan
In July 2009, Barcelona's then-President confirmed that there was an agreement in Principle between Inter and Barcelona for the Transfer switch of Samuel Eto'o to Inter and Zlatan Ibrahimović to Barcelona with an added 46 million Euros. On August 8, Eto'o scored on his competitive debut in the 2009 Supercoppa Italiana as Inter lost 1–2 to Lazio. Eto'o won his first silverware with the club on May 5 as Inter defeated Roma 1–0 at Stadio Olimpico to lift the Coppa Italia. His 12 Serie A goals helped Inter claim another championship.
On May 22, 2010, Eto'o played in the third Champions League final of his career, as Inter won 2–0 over Bayern Munich to win the first title in 45 years; Milito scored both goals, with Eto'o setting up the second. With Inter's triumph over Bayern Munich, he became the only player to win the treble in consecutive seasons with two different teams.
Money Spinning deal with Anzhi Makhachkala and a Career Reviving Move to Chelsea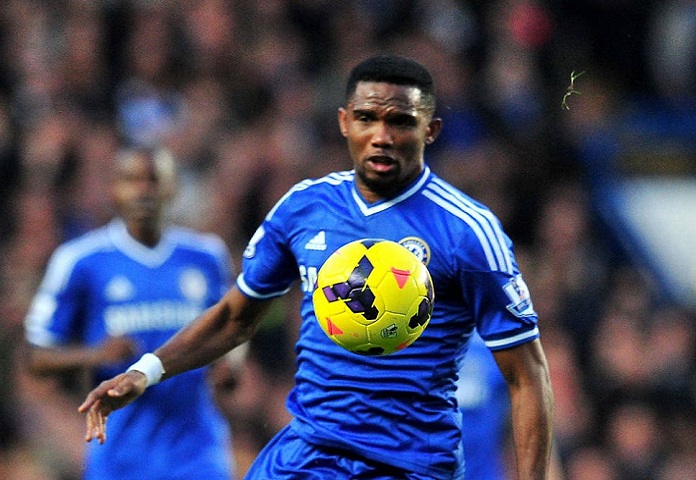 On August 23, 2011, Russian club Anzhi Makhachkala reached an agreement with Inter to sign Eto'o in a three-year deal that made him the world's highest-paid player, with a salary of €20 million (after taxes) per season. Eto'o made his debut for Anzhi on August 27, 2011, against Rostov when he came on as a substitute with 30 minutes left in the game, later scoring an equalizer in the 80th minute. Anzhi's billionaire owner Suleiman Kerimov shocked the Russian football world by deciding in August 2013 to scale down the club's ambitions and drastically shrink its budget. As a result, almost all of the star players left, including Samuel Eto'o.
On August 29, 2013, Eto'o signed a one-year deal with English Premier League club Chelsea for an undisclosed fee. He scored his first goal for Chelsea on October 19, 2013, against Cardiff City, in which he gave Chelsea the lead. His one-year deal expired, and he joined Everton football club on a 2-year contract and scored on his debut against his former employers, Chelsea. He left halfway through his first season to return to Italian football joining Sampdoria.
Career Achievements
The former Chelsea player is the most decorated African footballer of all time, having won the African Player of the Year award four times: in 2003, 2004, 2005, and 2010. He was third in the FIFA World Player of the Year award in 2005. As one of soccer's most lethal strikers, Eto'o earned the Pichichi Trophy as La Liga's leading scorer in 2006 and topped all competitors in goals at the 2006 and 2008 Africa Cup of Nations.
In 2010, he became the first player to win two European continental trebles following his back-to-back achievements with Barcelona and Inter Milan. He is the second player in history to score in two UEFA Champions League finals and the fourth player, after Marcel Desailly, Paulo Sousa, and Gerard Piqué, to have won the trophy two years in a row with different teams.
Samuel Eto'o is one of only three players who played for Real Madrid, Barcelona, and Inter Milan. The other two are Luis Figo and the Brazilian legend Ronaldo. He is also Cameroon's all-time leading scorer and third most capped player, with 56 goals from 118 caps.
He announced his retirement from international football on August 27, 2014, but finally announced his retirement from professional football in September 2019 at the age of 38 and has an ambition to coach the Cameroon Team someday.
How Samuel Eto'o Grew His Net Worth
When Eto'o started earning as a footballer, he was paid $200 per week to the amazement of his father, who never knew one could make so much just by playing football. In 2011, Eto'o became soccer's highest-paid star after signing with FC Anzhi Makhachkala, with an annual salary of €20 million. His current net worth is a whopping $95 million.
His annual Salary in Barcelona for five years was under $8 million. When he moved to Inter Milan, his yearly salary grew to over $10 million. His annual salary with Anzhi was worth $27 million, and his total earning in 2012 grew to a total of $54 million plus endorsements.
Out of the multiple brands Eto'o endorses, his two biggest money-makers are Ford and Puma, from whom he reportedly made more than $3 million every year.
A Look at Samuel Eto'o's Personal Life
His Family
Eto'o has two brothers, David and Étienne, who are also building their careers in football. Like Samuel, both brothers attended Kadji Sports Academy, and have become professional players.
His brother, David, plays for Edin Sports Football Club in Cameroon. Etienne is a retired player who played for Mallorca B and FC Lustenau. Eto'o's father is named David.
See Also: Mohamed Salah – Bio, Age, Height, Daughter, Facts About The Footballer
His Marriage
Samuel Eto'o got married to Georgette Tra Lou, his longtime sweetheart, on July 6, 2007. He proposed to Georgette in July 2014 with a €500,000 diamond ring, according to reports.
Before they got married, the US-born Georgette was a hairstylist working in France where Eto'o, too, was struggling to get his career started in Nantes.
There are conflicting reports about the number of Samuel Eto'o has and the mothers of his kids. The dominant narrative so far is that he has five legitimate children, his wife Georgette Tra is the mother of four out of five children, namely; Maelle, Etienne, Sienna, Lynn. Samuel Eto'o's last-child, Annie, was born by his lover Barranca, an Italian Hairdresser.
However, there is another lady, namely Adileusa, do Rosario Neves that claims Samuel Eto'o is the father of her 19-year-old daughter, Erika. She claimed to have been with Eto'o when he was at Real Madrid, and the paternity case is in court.