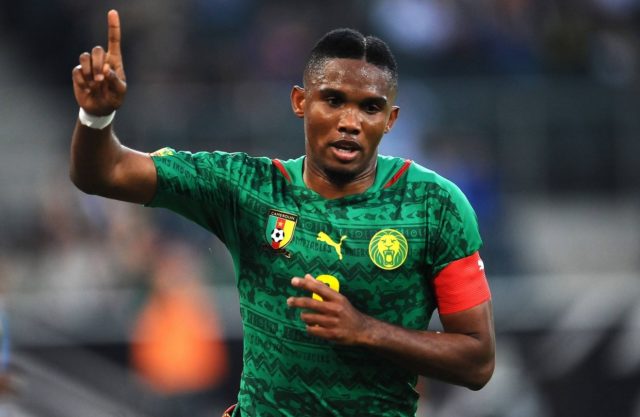 Eto'o Samuel is one of the most famous as well as richest African footballers. He is a Cameroonian professional footballer who plays as a striker for Turkish club Antalyaspor, and formerly for the Cameroon national team. He is popular for being an extremely fast, energetic, strong, and powerful forward, usually preferred above his fellows for his stamina, work-rate, and his accurate finishing ability in the air and with his feet. He is also a highly skilled footballer and prolific goal scorer. The aforementioned facts are some of the things that gave Eto'o his fame, but there are a whole lot more you never knew about this iconic footballer which are quite fascinating and interesting.
Here are 10 things you must not fail to know about Samuel Eto'o:
Samuel Eto'o Biography
He was born Samuel Eto'o Fils on 10th March 1981 at Doualla, Cameroon. He joined the Kadji Sports Academy at the age of 11. He trained there from 1992-1996, and then moved to French soccer club but was rejected due to his young age and a lack of proper identification. He instead joined the Real Madrid where he completed his youthful career the following year. He was nicknamed "Little Milla" in his younger days because of his talent in football. The name is also associated to the fact that he so much admired the legendary footballer, Roger Milla, and once caught his shirts thrown into the crowd during a match back in his childhood days.
See Also: These Are The Richest Footballers Africa Has Ever Seen
Football Career
Samuel Eto'o has been a professional footballer for the past 18 years since 1997 to date. Real Madrid was the first club he played for (1997 to 2000), but was loaned to multiple clubs throughout the period. In all, he has played for 11 different clubs and the Cameroonian National Team. The clubs include Real Madrid, Espanyol, Leganes, Mallorca, Barcelona, Inter Milan, Chelsea, Anzhi Makhachkala, Everton, Sampodria, Antalyaspor consecutively.
Fortune, Net Worth
When Eto'o started earning as a footballer, he was paid $200 per week to the amazement of his father who never knew one could earn so much just by playing football. In 2011, Eto'o became soccer's highest-paid star after signing with FC Anzhi Makhachkala, with an annual salary of €20 million. His current net worth is a whopping $80 million.
See Also: 7 Most Expensive Cars Owned By African Footballers
Career Achievements 
. The former Chelsea player is the most decorated African footballer of all time having won the African Player of the Year award four times: in 2003, 2004, 2005, and 2010.
. He was third in the FIFA World Player of the Year award in 2005. As one of soccer's most lethal strikers, Eto'o earned the Pichichi Trophy as La Liga's leading scorer in 2006 and topped all competitors in goals at the 2006 and 2008 Africa Cup of Nations.
. Eto'o scored over 100 goals in five seasons with Barcelona and two consecutive hat-tricks for different clubs – for Barcelona in 2010 and Inter Milan in 2011.
. In 2010, he became the first player to win two European continental trebles following his back-to-back achievements with Barcelona and Inter Milan. He is the second player in history to score in two UEFA Champions League finals and the fourth player, after Marcel Desailly, Paulo Sousa, and Gerard Piqué, to have won the trophy two years in a row with different teams.
. The Konyaspor forward is one of only three players who played for Real Madrid, Barcelona, and Inter Milan. The other two are Luis Figo and the Brazilian legend Ronaldo.
. He is also Cameroon's all-time leading scorer and third most capped player, with 56 goals from 118 caps.
. He announced his retirement from international football on 27 August 2014 and has an ambition to coach the Cameroon Team someday.
Family, Wife 
Eto'o has two brothers, David and Étienne who are also building their career in football. He got married to Georgette, his longtime sweetheart on 6 July 2007 and has four children, Maelle, Étienne, Siena and Lynn.
See Also: Top 10 Football Clubs in Africa
Relationship with Georgette
Eto'o proposed to his long time partner and mother of his kids, Georgette Tra Lou in July 2014 with a €500,000 diamond ring, according to reports. The couple has been traditionally married and been together for a decade, but decided to have another and more grand ceremony at the church in Stezzano, Milan. Georgette is also regarded as one of the most beautiful wives of a sportsman on the African continent.
Racism Experience
Eto'o has been faced severally by racial discrimination. Among others, here is one of his recount of a typcal experience which he disclosed in an interview with CNN. He says he has experienced racism on and off the field, most famously during his time playing for Barcelona. In 2006, during a game against Real Zaragoza, Eto'o was subjected to "monkey chants" — and the forward came close to walking off the pitch. He says it was only because of persuasion by his teammate Fran that he stayed on and helped his side to a 2-0 victory.
He believes there has been progress within the game in recent years and has decided that it is safe enough for his children to return to stadiums. In 2007, he said he did not want his kids having to watch him being booed and subjected to racist abuse.
See Also: Top 20 Most Expensive Sports Stadiums In Africa
Other Accomplishments
In 2006, he established The Samuel Eto'o Foundation which is geared towards helping the poor and less privileged, especially Africans to make it in life. The non-profit organization's goal is the protection of children and young people, providing emergency aid and encouraging education, basic health and social inclusion for the disadvantaged in order to help them create opportunities for the future. Subsequently, in 2006, he also founded a football Academy named Samuel Eto'o Laikipia Unity Football Academy, School and Environmental Education Centre.
Samuel Eto'o has written nine different graphic novels about his life. His target readers are majorly children whom he intends building up their dreams seeing they are the future leaders.
Eto'o has a fashion brand that involves shirts, caps and sneakers in a premium line of clothing targeted at a global audience. The brand is named 'Samuel Eto'o 9', and the main focus of the fashion line is menswear. The clothes are designed and manufactured in Turkey, and an initial shipment was produced and released into the local market in February.
Also, he owns a mobile telephone company called as 'Eto'o Telecom', which runs in Cameroon with the ambition of providing job and business opportunities for locals and to encourage other footballers and wealthy Cameroonians abroad to come home and invest.