It is impossible to name firmly established black actors who know how to break box office records without mentioning Samuel L Jackson, and this is not changing soon. Famous for his signature "mean glare", he is highly regarded as an actor and a producer for many reasons. One, he takes up roles and nails them in the most incredible way in film history. Secondly, his ways of unleashing his talents usually allow movies more screen time than usually anticipated. These outstanding streaks have also scored him numerous movies roles as well as loads of awards and nominations. Additionally, they have left him a great fortune with one of his works winning the highest-grossing film total of all time in 2012 generating about $7.4 billion. We've highlighted more of Jackson's achievements throughout his over four decades career below. Check them out.
Who Is Samuel L Jackson?
Jackson spent his early days in Chattanooga, Tennessee under the care of his mother, maternal grandparents and other extended family members from his maternal side. But he was born in Washington DC. He's fond of his mother who worked at a factory and later at a mental institution as a supplier but his father was not in his life while growing up. His parents Elizabeth and Roy Henry Jackson lived separately from each other when he was much younger. His alcoholic father whom he met just twice during his life lived in Kansas City, Missouri away from the family. As agonizing as this glimpses of Jackson's early life may be, it has been a source of inspiration for the power actor.
Jackson attended various schools for colored kids before completing his high school at Riverside High School in Chattanooga. He was a member of the school music group where he played trumpet and French horn in the school.
In the late 1960s, Jackson became a college student in Morehouse College situated in Atlanta, Georgia. The actor joined the school with an initial plan which was to get a degree in marine biology and never considered acting. But he later changed his mind to study architecture and while he makes a pitch for extra points in class, Jackson ended up in an acting group. From that moment, his interest in acting grew and he eventually changed his major to drama.
After reading so much about Martin Lurther King Jr., Samuel L Jackson started to adore him and immediately turned into a big supporter of the civil rights movements. At the time of his death, he served as an usher during his funeral held in 1968 after the activist's assassination. Perhaps he wanted to stand in for his icon when he and other students engaged in a protest demanding for the reform of school government, policy and curriculum a year later. The protest ended successfully but he got two years suspension for his role in the protest – which saw him and other students take hostages including the school 's board members and his hero's father, Martin Luther King Sr. It turns out the suspension couldn't bend Jackson who got more involved in black power movement. This continued and at some point, FBI warned his single mother against his son, predicting that he would lose his life if he continued walking on the razor edge. Being his mother's only child, Elizabeth was forced to move the now veteran actor to Los Angeles.
Career As An Actor
In 1972, Jackson finally graduated with a Bachelor of Arts in Drama. After his graduation, he became more focused on his career and the vision to accomplish his dream through the black power movement. This got him participating in a host of stage plays. He continued to play this genre of acting for over 15 years. Some of the plays he did include, Home, Together For Days and A Soldier Play. Sadly, in the late 80's, he stopped being hands-on to his career and began following his father's footstep indulging in alcohol, heroin, and worse still cocaine. Yet his skills continued to earn him small roles and around that time, he played in Coming to America, Do The Right Thing and Goodfellas. He also worked as a substitute for Bill Cosby in The Bill Cosby Show for three years. His addiction exacerbated in the 1990s before the actor with the help of his wife and family eventually conquered his weak points – alcoholism – through a successful rehab in New York.
Samuel L Jackson became the acting powerhouse after this, appearing in Jungle Fever which tells the story of a crack cocaine addict. The movie according to Jackson had a soul-cleansing effect on him, as it gave him a psychological relief from his past addiction.  He did an excellent job and earned a Supporting Actor award that was particularly designed for him at 1991 Cannas Film Festival. This made him become more relentless appearing in Strictly Business, Juice, and Patriot Games. However public opinion went against him when he played in Losing Isaiah which failed to impress the public. The actor immediately gained back his reputation with roles in movies like Die Hard with Vengeance and A Time to Kill which topped the box office. The new Millennium swung by and became even more rewarding as he immediately earned a star honor on the Hollywood Walk of Fame at 7018 Hollywood Blvd. Some of his brightest endeavors include; Freedomland and Resurrecting the Champ, Rules of Engagement, Star Wars: Episode II – Attack of the Clones, Black Snake Moan, 1408 and The 51st State. He also appeared on Pulp Fiction & Jackie Brown.
More impressively, Jackson has been involved in other projects outside acting and producing. The actor has appeared in different television shows, audiobook ( e.g Go The Fuck To Sleep), music videos (e.g 911 is a Joke by Public Enemy released in 1990) and a video game (Grand Theft Auto: San Andreas). He has also voiced various TV characters in anime series such as Afro Samurai and Boondocks. Jackson was a host at 1998 MTV Movie awards a guest star in BBC/HBO sitcom Extras.
Meet His Wife And Family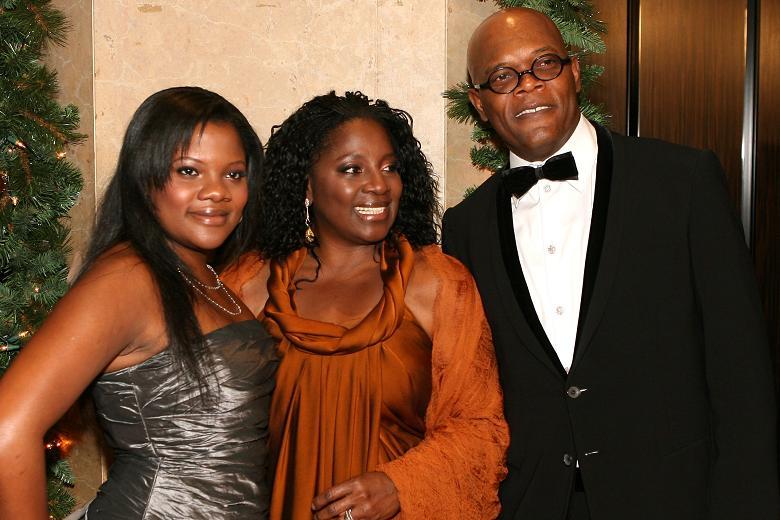 Samuel L Jackson has a family which includes a wife La Tanya Richardson and a daughter named Zoe. These two women have been a source of strength to him since the start of his career. He married La Tanya Richardson, his college sweetheart, in 1980 which means they have stayed married for about 38 years now so you can tell it's been quite a journey for the two. La Tanya is also an actress and is best known for her roles in When a Man Loves a Woman (1994), The Fighting Temptations and Losing Isaiah (1995).
Read Also: 10 Popular Hollywood Actors Who Are Actually Africans
What Is His Height?
What many do not know about Jackson is that he is bald in real life and always wear wigs in some of his movies. That said, the actor towers at a height of 6′ 2.5″ (189cm). He weighs 83kg and wears shoe size 11(US)/44 (EU).
What Is His Net Worth?
The American actor Samuel L Jackson is one of the old fellows on the big screen having started in the early 1970s and as expected he has made enough proceeds from his career as well as some gainful endorsements. The actor's yearly income is said to be around $13 million while his personal investment is about $105 million including a house in Califonia worth $8.35 million and a SOHO apartment in New York valued at $4,350,000. He also has a fleet of 9 expensive cars worth $3 million such as Range Rover valued at $225,000, Maybach 57 S ($366,934), Mercedez, Bugatti and Rolls Royce. In total, Jackson's net worth is estimated at $220 million.